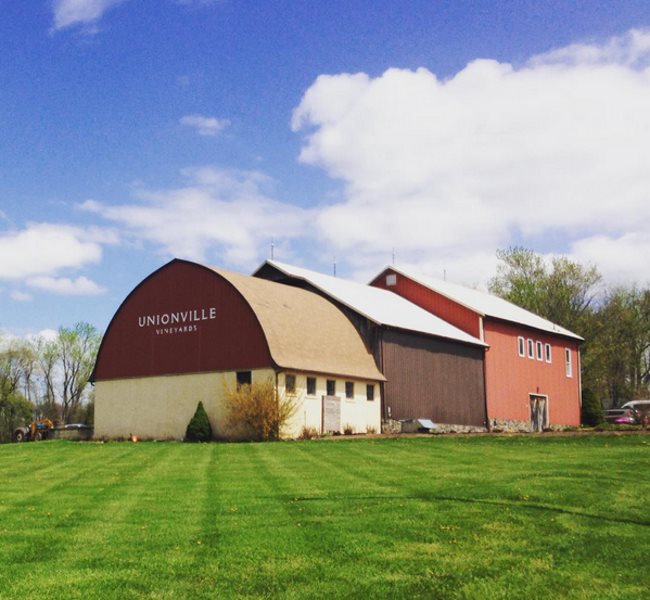 Welcome to Unionville Vineyards

Unionville Vineyards sits atop a hill overlooking the scenic Amwell Valley. Getting there is no easy feat. Those seeking the finest wines in New Jersey must drive up Linvale Road, a winding one-way path surrounded by trees. Although the winery is only minutes from NJ-31, it is surrounded by sprawling green hills and wide-open skies. This setting gives visitors the impression that they have traveled to a location much farther than Hunterdon County.
Unionville Vineyards actually consists of five separate estate vineyards. The staff of FunNewJersey.com had the opportunity to visit the Unionville Home Vineyard in Ringoes, NJ. You can recognize it by the cheery red barn and gorgeously maintained property. We entered the winery through the upstairs tasting room and were greeted by Stephen Ruffin. Although his official title is sommelier, he informed us that he wears many different hats at Unionville. He good-naturedly told us that he is "sommelier, sales, worker bee…a little bit of everything."
From talking to him, you would think that Stephen has been in the business of growing wine since birth. To our surprise, Stephen informed us that he only started about five years ago. Hailing from Dallas, TX, he retired from a career in property management and was inspired to take up viniculture after he had, in his words, "a killer glass of cabernet." He started volunteering at a local liquor store to learn everything he could about wine.He originally enrolled in the Enology program and is currently enrolled in the Viticulture program at Washington State University. He is also a level three sommelier who is incredibly passionate and knowledgeable about all aspects of wine. During our trip, he was more than happy to educate us about everything from Unionville Vineyards' history to its winemaking process.
History: From Peaches to Port

Stephen took us on a tour of the entire grounds. Unionville Vineyards was originally one of the largest peach orchards in the United States. Its first owner divided the land to pay for his daughters' dowries in the mid 1800s. Construction on the winery as we know it today started in 1858 with the main house and oldest section of the barn.
Throughout its long history, Unionville was also an apple orchard, a dairy and a grain field. The winery's first vines were planted in 1987, and opened its doors to the public in 1993. Since then, Unionville has won countless awards from The Beverage Tasting Institute, The San Francisco Chronicle Wine Tasting Competition and others. How does Unionville do it? It all starts out back on the vines.
Viniculture: The Science Behind Your Favorite Glass of Chardonnay

Stephen gave us a grape-growing crash course. We were lucky to tour the vineyard in mid-April, because the plants start "waking up," when the weather consistently experiences a median temperature of 50 degrees Fahrenheit. According to Stephen, "the plants have been storing their carbohydrates in the roots and trunk and the rise in temperature during the spring signals growth up and out from the roots to the buds. Leaves are then formed from these buds which then starts the process of photosynthesis. The plants have been storing their carbohydrates in the roots, and the rise in temperature during the spring signals growth up and out from the root to the leaf via photosynthesis."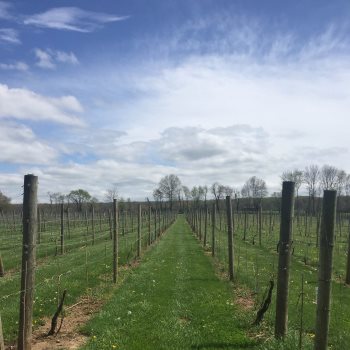 The Unionville Home Vineyard in Ringoes, NJ sits on over 80 acres of land.
Photosynthesis brings energy into the plant, causing it to flower and fruit set. This ultimately stimulates the process of veraison, or the onset of the ripening of the grapes.
At this stage, the grapes begin to change change colors and start to accumulate sugars. This is a critical step in the wine-making process, because the wine maker needs to decide how long to keep the grape on the vine. The longer the grape stays on the vine, the more sugars the grape has. The grapes' sugar content becomes crucial during fermentation, since it affects how the wine will taste.
"If the winemaker wants a bone dry wine, he will allow the fermentation to continue until all the sugars are converted into alcohol," explained Stephen. "If he wants some residual sugar in the wine, he will arrest the fermentation early. If the grapes are meant for a dry, low alcohol wine, then the grapes will be picked early."
Grapes that are left on the vine longer produce a sweeter wine. Stephen then explained to us the concept of late harvesting, which means that the grapes aren't picked until winter, when the median temperature reaches about 18 degrees Fahrenheit. The slightly dehydrated grapes are usually coated in ice crystals at this point and frozen in a vat before fermentation, producing a refreshing, sweet nectar which is then fermented into wine. Since New Jersey lacks the proper climate for extended cold temperatures during the winter, the winemakers at Unionville Vineyards get creative when making their rendition of ice wine. They start by making a sweet wine and then freezing the entire vat. The vat is then allowed to thaw. Since the alcohol thaws faster than the water, they catch the wine as it melts. About 40% of the vat ends up being their version of ice wine called the Cool Foxy Lady, which goes great with fruit tarts and pies.
As stated previously, Unionville Vineyards consist of five separate estate vineyards scattered across Northwestern NJ. Each vineyard has its own unique terroir that affects how the wine will eventually taste. The rain patterns, wind, shadow effect, soil composition and even the year gives each parcel of land its own unique character. This means that wines from each of the five vineyards will be distinctly Unionvillian, but still have their own unique personality.
After strolling the vines, we toured the entire wine-making facility. The stainless steel vats are kept in the old section of the barn and stand beneath rafters wrapped in fairy lights. We even had the opportunity to taste a wine that wasn't fully finished yet. It can take up to 18 months for a wine to be produced from start to finish, and some have aged even longer. We sampled the beginning stages of the Eureka, a white blend of Riesling, Pinot Grigio and Gewürztraminer grapes. This batch of grapes was picked in September of 2015, and is described as "bone dry, with fruit character and bracing acidity and a slight green tinge." After sampling this version, I couldn't wait to taste the finished product.
Tasting Our Way Through Unionville Vineyards

Never ask a level three sommelier what his favorite wine is if you want a simple answer. When I asked Stephen this question, he just smiled at me. "Well, what's for dinner? Am I having steak? Sushi? What time of year is it?" He then gave us some insight on the complex relationship between wine and food.
He coined the term "oralize," a useful concept when pairing food, drink and imagination. Visualize that you are in a nice, warm, mahogany-paneled room next to a roaring fireplace on a winter night. You have a batch of dark chocolate chip cookies fresh from the oven. As soon as the cookies are ready to bite into, pour yourself a full-bodied glass of Unionville Vineyards' port wine. Absolutely delicious.
According to Stephen, you want the wine to compliment the meal. He used the example of steak. If you are having a barbecue sauce that is more sugary than tangy, you will want to pair it with a wine that is has a higher sugar content and brings out the sauce's sweetness. But at other times, you might want the wine to be different from the food so that it stands out, thus highlighting the fact that you are a pro at selecting fine wines for a dinner party.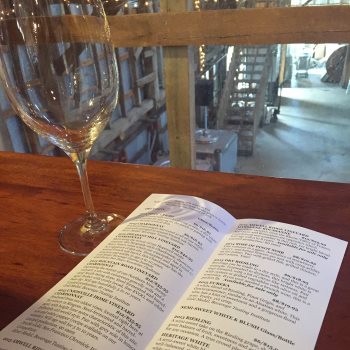 Unionville Vineyards proudly produces over 20 artisanal wines.
We put our sommelier skills to the test in the tasting room, which is located in the barn's rustic loft. We stood at a counter overlooking the production room while Stephen poured us sample after sample of delicious Unionville Vineyards wines.
Top Picks

When we first arrived, Stephen asked me what types of wine I liked best. I nervously told him that I knew nothing about wine and was partial to craft beer. At the beginning of our experience, I challenged him to convert me into a wine lover, and he did not disappoint. It was fairly easy, given that Unionville Vineyards has a great selection of over 20 artisanal white, red and dessert wines.
Although my first Unionville Vineyards love was the Eureka, I quickly fell for several of their other wines. My favorite was the 2012 Pheasant Hill Vineyard Chardonnay. This wine was crisp and refreshing, with notes of green apples and lemon meringue. The Mountain Road Vineyard Chardonnay was floral on the nose and smelled amazing.
Stephen made sure to offer his wine pairing expertise with every glass. For example, the 2013 Amwell Ridge Vineyard Viognier would go great with a white coconut milk curry dish. The Rose of Pinot Noir is "like summer in a glass," and its notes of strawberry cherry and lemon flower go great with grilled chicken or fish served on an outdoor patio in the warm weather. Lovers of cabernet sauvignon will want to try The Big O (2012), which is a Bordeaux-style blend with a hint of vanilla.
More Than Just a Vineyard

Unionville Vineyards offers more than just wine tasting. They are a popular destination in Hunterdon County, NJ for weddings, corporate parties and other private events. The folks at Unionville Vineyards also know how to party. Join them on Saturday, April 30 for their Swirling Wine with the Swine Pig Roast, which will feature a roast succulent pig, food and live music. On May 7th, they are hosting their 23rd Annual Spring Wine Festival, complete with food trucks, performances and kids' activities.
It doesn't matter if you are a novice wine drinker or an expert sommelier- you will be impressed with the fine wines, hospitality and atmosphere of Unionville Vineyards. Whether you're in the area or are planning a day trip, everyone in New Jersey should make the trek to this winery, because the experience will not disappoint.