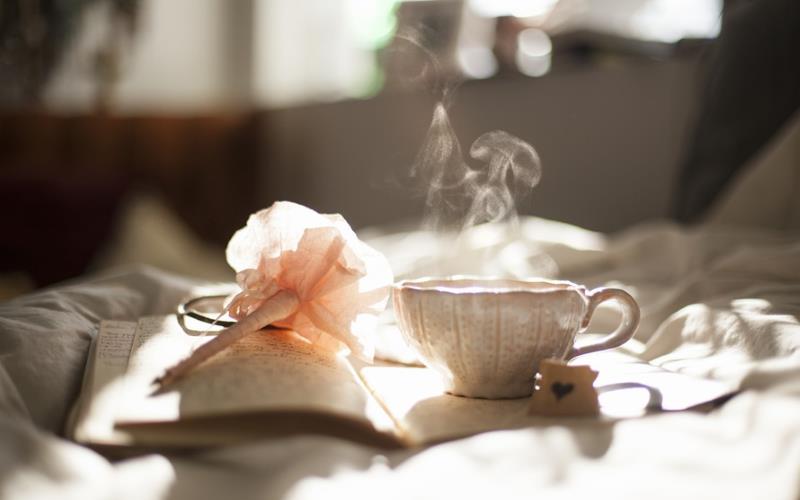 Historic New Jersey
In terms of our state's history, there's nothing "new" about New Jersey. During the pre-colonial era, New Jersey was populated by the Delaware Native Americans, who settled the land over 10,000 years ago. Once Henry Hudson sailed through Newark Bay in 1609, he claimed this land for the Dutch. After the colonies rebelled from British rule in 1776, New Jersey was officially founded in 1787, becoming the third state of the newly formed United States of America.
A unique romantic getaway idea
Although New Jersey is home to major metropolises and modern suburbs, it hasn't entirely slipped into the 21st century. There are many places in New Jersey that proudly maintain their historic charm. New Jersey is home to many quaint country inns and seaside bed & breakfasts that are rich in NJ history. These locations are also perfect spots for a romantic winter getaway. Why not check out some of these places for a romantic Valentine's Day weekend retreat? Many of these places were established long before New Jersey was even a state. The owners would be proud to tell you about their hotel's rich history. Before booking your Valentine's Day dinner and room reservations, learn the history behind some of NJ's most historic inns.
Journey to colonial NJ
Central NJ is rich with colonial history. New Jersey experienced a lot of action during the American Revolution. It was here that George Washington crossed the mighty Delaware River on Christmas Eve, and of course, fought in the famous Battle of Trenton.
Many New Jersey inns and taverns were established before New Jersey was even a state. Although some are now official historic buildings, many of these places still operate as restaurants and inns today. This Valentine's Day, stay at one of these old-fashioned inns for a cozy retreat. Nothing is more romantic than sitting with your loved one beside a stone hearth fireplace beneath rustic wooden beams. Although these places are rich in history, they are also equipped with modern amenities and luxury.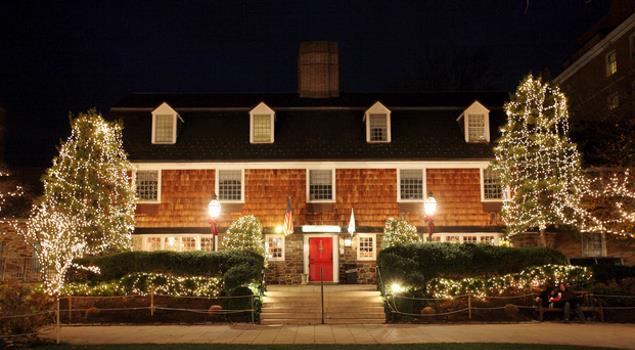 The Nassau Inn is located in Princeton, NJ's historic Palmer Square. The building was originally established as the Nassau Tavern in 1756 by Judge Thomas Leonard, who wanted to live close to Princeton University during the last years of his life. Upon Leonard's death, proprietor Christopher Beekman christened it the College Inn. It quickly became the social hub of colonial Princeton. This Valentine's Day weekend, stay at this historic getaway spot. The Valentine's Day Love package includes a stay in one of their luxurious rooms, turn-down service and late checkout. They even offer special dinner accommodations and in-room champagne.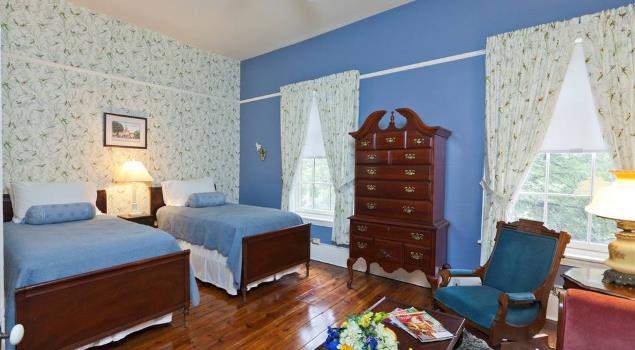 Burlington, NJ is one of New Jersey's oldest settlements, settled by a group of Belgian settlers in the mid-1600s. Burlington was an incredibly popular port-of-call along the Delaware River. It is also home to The Lily Inn. An example of Georgian/Federal architecture, this historic bed & breakfast is over 300 years old. Brothers Francis and Daniel Smith constructed two buildings on the property, which were later turned into one large residence in 1767 by prominent Quaker Samuel Allinson. Today, the décor is in keeping with the original building style. Guests will reside among exposed-cedar floors, antique furniture and four-poster beds. It is a perfectly quaint country bed and breakfast. Treat yourself to a relaxing in-room massage, or enjoy one of Burlington, NJ's many restaurants and shops.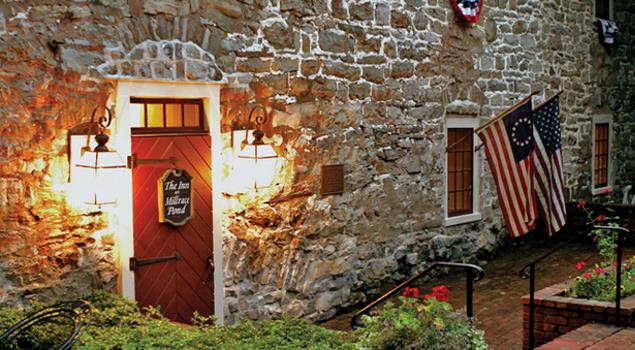 Head north to Hope, NJ's The Inn at Millrace Pond. This building was constructed as the Moravian Grist Mill in 1769. In the modern era, it has gained a reputation as a delightful bed and breakfast, fine dining restaurant and wedding venue. Guests can still see hints of rustic charm throughout the establishment. Guests will enjoy eating in the main dining room, which used to be the main milling floor. Don't let the knotty pine floor and exposed wooden beams fool you- their restaurant was voted by Zagat as one of NJ's top restaurants for décor. Downstairs, guests can enjoy drinks at the Fireside Tavern. Complete with authentic brick floors, thick stone walls and the skeleton of the mill's last water wheel adorning the wall, this underground pub is filled with artifacts from the old gristmill. Guests will also enjoy overnight accommodations in one of 17 quaint rooms.
Victorian elegance on the Jersey Shore
Founded by whalers and fisherman, Cape May is one of New Jersey's most historic towns. Throughout the decades, it has maintained its classic Victorian charm. Many of the historic buildings have been meticulously maintained or restored for 21st century guests.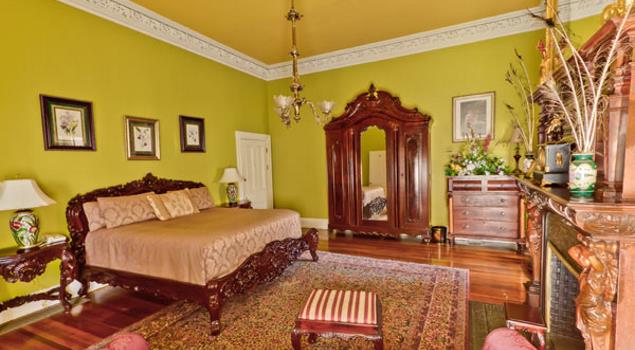 The Southern Mansion, for example, was built circa 1860 by the Philadelphia industrialist George Allen. In 1946, it was converted into a boarding house and quickly fell into disrepair. It was purchased in 1994 by a prominent Philadelphia family and restored to its former glory. Today, it offers southern-style hospitality on the Jersey Shore. It is surrounded by beautiful, award-winning gardens in Cape May's historic district. The Willow Creek Winery, a preferred Southern NJ vineyard, is located close to the Southern Mansion. Guests can tour the 9,500 square foot villa and visit the tasting room every day of the week. This is a perfect Valentine's Day getaway for wine lovers.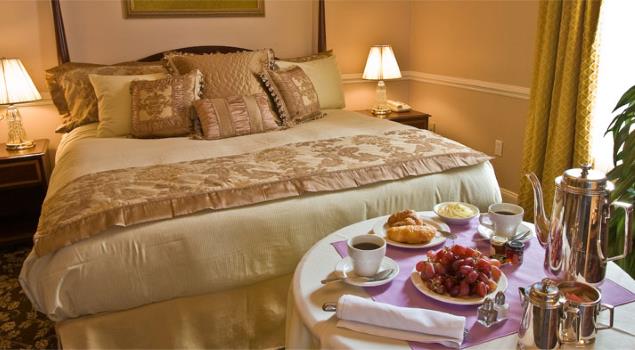 When Cape May nearly burned in the great fire of 1878, The Hotel Alcott survived the inferno that wiped out almost thirty blocks of town. The Hotel Alcott is the second-oldest operating hotel in Cape May, and has seen a number of distinguished visitors in its unique history. During the 19th century, Cape May was known as the "President's Playground," because all of the US presidents liked to vacation here. The Hotel Alcott was one of the "painted lady" Victorian buildings that witnessed a century of elegant dinners, garden parties, yachting excursions and promenades along the seashore. Today, guests can experience Victorian charm with modern amenities at this Southern Shore Region hotel. For dinner, visit La Verandah- Cape May's best-kept secret inside The Hotel Alcott.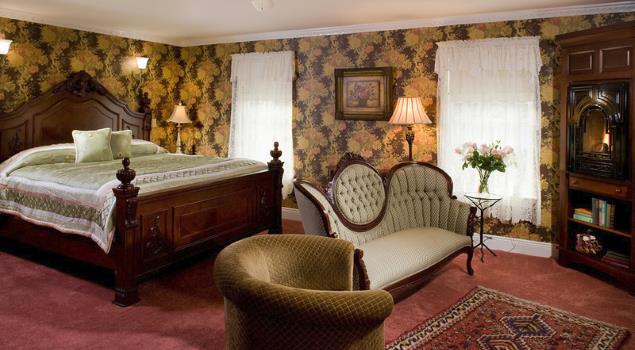 The Wilbraham Mansion bed and breakfast was built in 1840, yet it remained a private residence until 1988. Joe Wilbraham, the hotel's namesake, was a wealthy Philadelphia industrialist. He purchased this establishment and made it his permanent residence. He expanded it to its current proportions in 1900. Today, the Wilbraham Mansion is a 24-room bed and breakfast just ten minutes from the beach. Although it's too cold for the beach in February, guests will enjoy the gorgeous indoor pool. For Valentine's Day, make your stay special by having flowers, artisan cheeses, fresh fruits or dessert delivered to the room. This bed & breakfast also offers in-room spa services.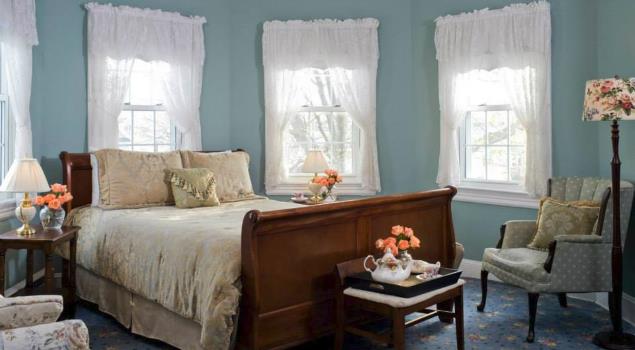 Formerly known as Timothy Hurley's Grand Central Stables Carriage House, The Spring Lake Inn was established in 1888 as a stagecoach stop and hotel. Today, no horses will be found at this bed & breakfast located blocks away from Spring Lake Beach. The European-style decor surrounds guests with classic comfort. Each guest room is uniquely decorated for a luxurious overnight stay. This Jersey Shore hotel is perfect for a Valentine's Day retreat because they offer lavish packages to create a special getaway experience. The Ultimate Romantic Getaway package includes roses, chocolates, reservations at a hand-selected romantic Spring Lake restaurant, wine or champagne and a gourmet breakfast in bed. Other in-room indulgences that this hotel offers includes in-room massages, cheese and fruit trays and chocolate truffles.
A charmingly quaint Valentine's Day
A wild weekend in Atlantic City or a night at Hoboken's hottest bars could be a great way to spend Valentine's Day. However, there are plenty of NJ couples looking to have a quiet and intimate Valentine's Day weekend. There are so many inns, bed & breakfasts and hotels that are filled with New Jersey history. These quaint New Jersey inns are perfect for a romantic Valentine's Day weekend with your loved one. Have you stayed at one of these inns? Let us know in the comments below. Be sure to check out these other Romantic Getaways in NJ. If you don't want to make a whole weekend of it, see our list of the Top 10 Most Romantic Restaurants in NJ. Happy Valentine's Day!