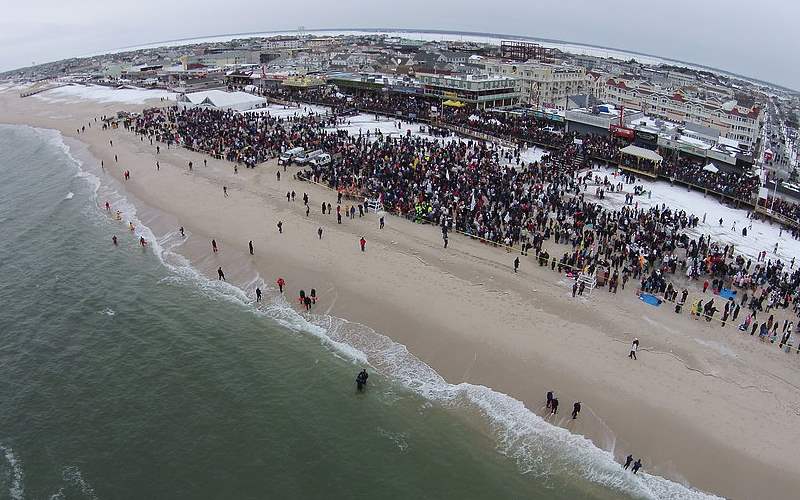 Take the plunge!
People love swimming at New Jersey's beaches. It's the perfect way to keep cool on a hot day at the Jersey Shore. Beach-goers spend hours wading, swimming, boogie-boarding and surfing New Jersey's beaches during the summer. Once winter rolls around, most people say goodbye to the ocean until next season. Unless, of course, you plan on doing a polar bear plunge!
What is a polar bear plunge?
A polar bear plunge is wintertime challenge where participants take a nice quick dip in the ocean- during the winter! No fancy wet suits needed; most people take the plunge in only their bathing suits.
Polar bear plunges have been practiced for over a century throughout the world. It comes from an ancient Scandinavian ritual of diving into icy waters as a way to cool down after spending time in a hot sauna or hot spring. January 1st is Polar Bear Swim Day, because many cultures believe that swimming in icy water has many restorative health benefits and is the perfect way to (literally) plunge into the new year. In the Netherlands, for example, it is estimated that over 30,000 people participate in Niewjaarsduik, or "New Year's Dive." Ten thousand people dive into the ocean at the seaside resort town of Scheveningen alone, and have been since 1960.
The first recorded polar bear plunge in the US took place in Boston, MA at Dorcester Bay in 1904. Given that Boston has a reputation for brutal winter weather, it is surprising that over 1,000 people participate in this event every year. Polar bear plunges happen all over the world wherever it's cold enough to shiver!
Why would anyone do that?!
Polar bear plunges are a common winter fundraising event for towns near the beach. The requirements of the event vary by location and charity. Some organizations ask that you donate a minimum amount in order to participate. Others say that you can generate a list of sponsors (probably consisting of friends and family who can't wait to see you jump into the freezing cold ocean).
Take the plunge in NJ
Given that New Jerseyans never back down from a challenge, what better way to show how tough we are than by jumping into the Atlantic Ocean in the middle of winter? Here is a list of the best polar bear plunges happening at the Jersey Shore.
————
1) Brigantine Polar Bear Plunge: Although their annual New Year's Day event has already passed, the Brigantine Polar Bear Plunge was a huge success this year. The event had over 1,000 swimmers and 9,000 spectators. This NJ charity raises money for Fisher House Foundation, which provides low-cost housing for military families when their veteran has been hospitalized due to an injury, illness or disease. For over 25 years, Fisher House has generated $282,000,000 in savings for military families. If you live in the Southern Jersey Shore area, be sure to sign up for this New Year's Day polar plunge next year!
Date: January in 2019 (To be announced)
Brigantine Polar Bear Committee
P.O. Box 1131
Brigantine, NJ 08203
————
2) Polar Bear Plunge at Wildwood: Are you ready to get freezin' for a reason? The Special Olympics New Jersey invites you to head out to the beach this winter for a day of winter beach fun. Registration is $25 and each plunger must raise $100 to participate. Earn some cool Plunge gear (and bragging rights!) as you help the Special Olympics New Jersey support over 25,000 special needs athletes. Register as an individual or as a team and get your plunge on!
Date: January 29, 2019
Polar Bear Plunge at Wildwood
Wildwoods Convention Center
4501 Boardwalk
Wildwood, NJ 08260
————
3) Super Plunge Sunday: Most people will be spending Super Bowl Sunday camped out in front of the TV. The brave souls of LBI will be participating in the 12th annual Super Plunge Sunday at Brant Beach, NJ. Sponsored by the St. Francis Community Center, all proceeds will go towards the center and Southern Regional High School's swim teams. This event only costs $30 to participate, and $15 if you are a student.
Date: 2019 date to be announced
Super Plunge Sunday
48th Street Beach
Brant Beach, NJ 08008
4) Polar Bear Plunge at Seaside Heights: If you can't make it to the Special Olympics New Jersey's polar bear plunge at Wildwood, don't worry! They are hosting another polar bear plunge at Seaside Heights in February. Or, if you're feeling extra daring, sign up for both events! The event at Seaside Heights has an added bonus. Students can take the Cool School Challenge. Teams of ten students minimum can band together to take the plunge while representing their school. The school who raises the most money will be crowned "Coolest School" and take home a trophy! Last year, the Polar Bear Plunge at Seaside Heights raised over $1.6 million. Let's see if we can top that this year. NJ 101.5's Big Joe Henry will be the official "voice of the plunge." Even though Seaside is typically reserved for summer fun, hit this famous Jersey Shore beach this winter and raise money for a great cause.
Date: February 23, 2019
Polar Bear Plunge at Seaside Heights
63 Grant Avenue
Seaside Heights, NJ 08751
————
5) La Costa Lounge Polar Bear Plunge Weekend: Most charity events last one afternoon. The Polar Bear Plunge at La Costa Lounge in Sea Isle City lasts the whole weekend! Don't worry, you don't have to spend three days submerged in the ocean. During the second weekend in February, La Costa Lounge is sponsoring a weekend of fundraising activities. All weekend long, enjoy live music and drink specials at La Costa's Lobster Loft. Want to be considered Polar Bear royalty? People will be entered to be crowned the Polar Bear Plunge King or Queen. Participants 21 and older must wear a bathing suit or costume to the plunge, ride on a throne of ice, donate to the Walk/Run for Autism and raise pledges throughout the weekend. Applicants must complete an application form prior to entering.
Date: 2019 date to be announced
La Costa Lounge Polar Plunge Weekend
400 Landis Avenue
Sea Isle City, NJ 08234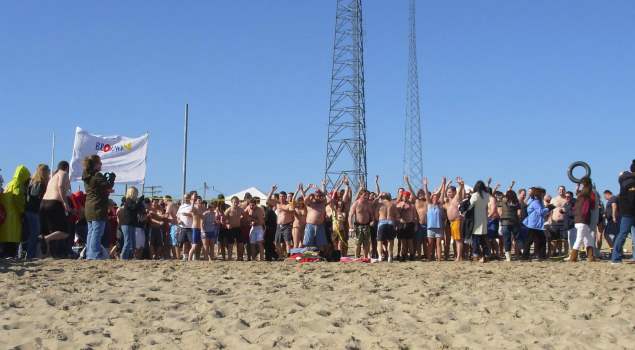 6) The Valentine Plunge: Almost everyone has done the infamous ALS ice bucket challenge in their driveway or backyard. This year, take the ultimate ice bucket challenge by doing The Valentine Plunge in Manasquan, NJ. Participants must raise at least $100 for the privilege of dunking into the freezing Atlantic Ocean. Proceeds go to the Joan Dancy & PALS Foundation, which aims to provide a better quality of life for people with ALS and their families in local NJ communities. There will be a pre-plunge party at Leggett's Sand Bar & Restaurant on Friday, February 12 from 6-9pm. After the race, head back inside to Leggett's for a buffet and drink specials.
Date: 2019 date to be announced
The Valentine Plunge
Main Street Beach
Manasquan, NJ 08736
Are you brrrrrrave enough?
New Jersey's beaches aren't just for the summer.
This winter, put on your bathing suit and jump in the ocean at any one of these great polar bear plunge charity events.
Whether you are climbing the leaderboard or doing your small part, every donation counts towards some great NJ charities.
Are you tough enough to take one of these NJ polar bear plunges?
Let us know in the comments below! For New Jerseyans who can't get enough of the cold, check out our list of places to camp in the winter in NJ. Looking for a winter retreat?
Find the best places for a NJ winter getaway.