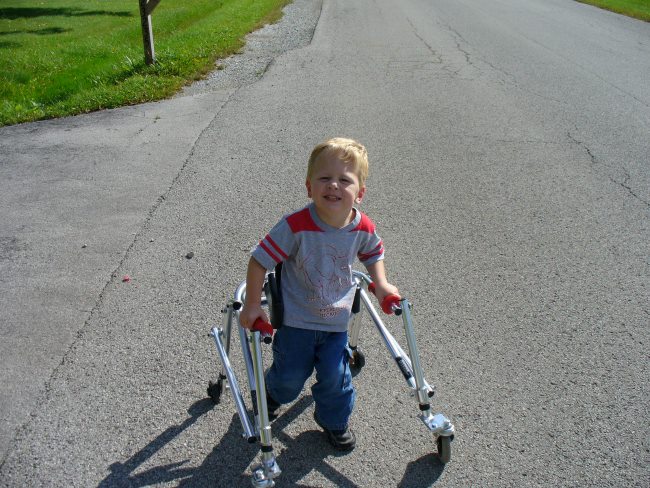 What is cerebral palsy?
CerebralPalsy.org states that "Cerebral palsy is considered a neurological disorder caused by a non-progressive brain injury or malformation that occurs while the child's brain is under development." In other words, cerebral palsy (CP) is a disorder that occurs either prior to birth or immediately after birth and does not get worse. While there are varying severities of the disorder, each child's case can only be improved.
But what exactly does cerebral palsy mean?
In broad terms, cerebral palsy means paralysis of the brain. Children affected with this disorder primarily suffer from an inability to use one, or multiple, limbs because a section of their brain is paralyzed and cannot send the signal to the nerves that assist with muscle movement. Although their muscles and limbs are physically fine, their brain hinders, or weakens, any active movement of the affected arm(s) or leg(s).
Signs of cerebral palsy:
Considering CP is typically diagnosed within the first few years of life, before a child can clearly tell their parents what symptoms they feel and how their movements are being affected, doctors often rely on physical signs that CP might be present. The eight signs you might want to watch for if you believe your son or daughter might have the disorder include:
1. Muscle tone
2. Coordination and control of movement
3. Reflexes
4. Posture
5. Balance
6. Gross motor function
7. Fine motor function
8. Oral motor function.
In order to fully understand these signs, it is important to break each one down further. Beginning with muscle tone, and working through each sign individually, CP should become clearer.
Muscle Tone
As a broad definition, muscle tone is first the ability to move muscles and second, the amount of resistance those muscles have. Abnormalities in muscle tone are a classic sign of CP and can be further dissected by analyzing the variety of muscular abnormalities that could occur.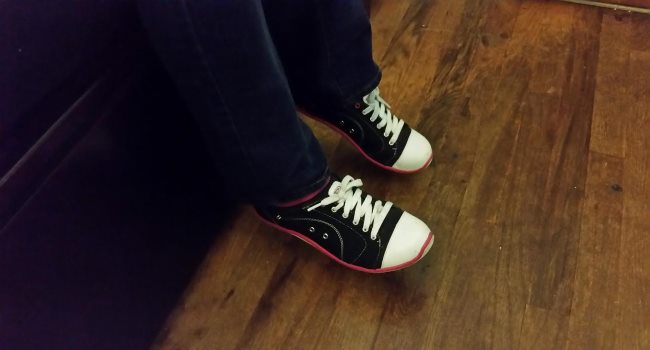 1. Hypotonia: This is when the child has less muscle tone and tension. Hypotonia presents itself in a way that makes limbs, either feet or hands, appear relaxed and almost floppy.
2. Hypertonia: As the opposite of hypotonia, hypertonia is when the child has increased muscle tone and their arms or legs appear rigid.
3. Dystonia: When a person has dystonia, their muscles fluctuate between an increased and decreased level of muscle tone. One day the muscles could be loose and the next, they'll be tight and stiff.
4. Mixed muscle tone: When a child has mixed muscle tones, one part of their body, such as their trunk, could be hypertonic, while their limbs are hypotonic.
5. Muscle spasms: These are uncontrollable, and sometimes painful, contractions of muscles.
6. Fixed joints: In this case, joints are fused together and incapable of moving freely
7. Abnormal neck or truncal tone: Either hypotonic or hypertonic muscles depending upon a child's age and type of CP.
8. Clonus: These are regularly occurring muscle spasms in either the ankle or wrist.
Movement Control and Coordination
As a result of increased or decreased muscle tone, all people living with CP have some degree of difficulty when it comes to coordinating and controlling movements. The signs and types of movement problems you will want to watch for include:
1. Muscle spasms: The occasionally painful and always involuntary hypertonic movements of arms or legs. Gestures to watch for include clonus, over-flexed joints, or fixed joints.
2. Dyskinetic or athetoid movements: These two movement issues are caused by fluctuating muscle tones (dystonia), and lead to involuntary and uncontrollable movements that can worsen when stressed.
3. Ataxic movement: Having an ataxic movement problem means the child has difficulty balancing and completing tasks that require finer motor skills.
4. Combination or mixed movements: A child with a mixed movement issue means that they are living with a combination of issues such as ataxic and athetoid or spastic and ataxic.
5. Disturbances in gait (walking): A gait disturbance means that the child with CP has difficulty moving their leg muscles in such a way that walking is steady and easy. These disturbances can be further broken down into subcategories such as: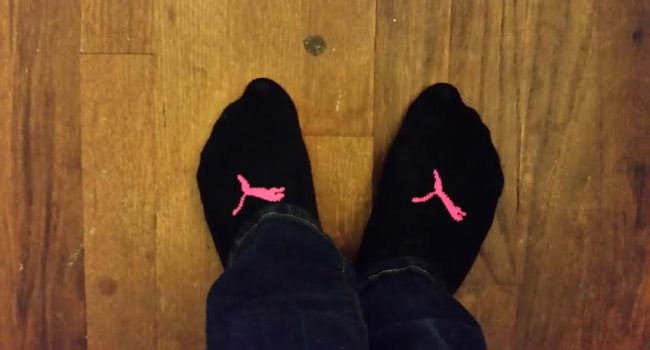 A. Out-toeing: Rotation of toes in an outward facing position
B. In-toeing: Toes naturally rotate into an inward facing position
C. Spastic gait: Due to spasticity, one leg drags when walking
D. Spastic and scissor gait: Due to hips flexing slightly, a child's stance may appear crouched, with their thighs and knees gliding past each other, much like scissor blades do
E. Propulsive gait: Walking in a hunched over and stiff position with their head and neck bent forward
F. Steppage gait: In this instance the toes drag when walking as a result of the foot dragging
G. Waddling gait: Walking in a waddle like fashion as a result of muscle tone problems. This could develop later in life
H. Limping: A wavy stride that results from a child placing more weight on one side than the other
I. Toe walking: Unevenly placing weight on toes while walking
Balance
As a result of movement control and coordination problems, children with CP almost always have difficulties in terms of balance. Although signs of these issues do not present themselves until the child is old enough to sit, stand, and crawl, once these milestones are met, issues should become clear.
While sitting, the primary sign you should watch for is the use of hands for support. If your child is unable to sit without using one or both hands as a supporter, they likely have a balance related issue.
The signs that may become apparent when a child walks include:
1. A swaying motion while standing
2. Walking with an abnormal gait
3. Unsteady walking
4. Incapable of making quick movements
5. Needing the support of hands when walking someplace that requires balance (staircase, balance beam, etc.)
Reflex
Due to the disconnection between brain signals and muscle movements, reflexes may never
exist, or persist where they should have disappeared, in a child with CP. These primitive reflexes, which should disappear at regular developmental stages, could be a sign that your child has CP and should be tested.
1. Asymmetrical tonic reflexes: As the head is turned to one side, the limbs on that same side will extend, while the limbs on the opposite side contract. This should disappear after the child turns six months old.
2. Moro reflex (Startle reflex): If the child's legs are lifted above their head, their arms will automatically extend out. This disappears after six months of age.
3. Spinal gallant reflexes: While lying on their stomach, a child's hips will turn towards the side of the body that is touched. You can expect this reflex to disappear between three and nine months of age.
4. Symmetrical tonic neck reflex: Should the head be extended, an infant will assume a crawling position. This reflex should disappear between eight and eleven months.
5. Palmer grasp reflex: The hand reflexes in a grasping motion if the palm is stimulated. This will disappear between four and six months of age.
6. Placing reflex: If the back of the foot touches a surface while the infant is being held in an upright position, the leg will flex. This should disappear around five months.
Posture
As an expected response when a child is placed in a certain position, atypical responses could be a sign of CP. One sign of a postural problem could be asymmetrical hip joint movements or limb movements that do not mirror one another. If your child's legs do not move in the same way when sitting or lying down (i.e. one leg faces outward while the other faces inward), they could have a postural problem.
Additionally, responding in a way that does not resemble the following, could signify a problem.
1. Beginning at four months of age, the head should remain straight if the child is swayed back and forth.
2. After eight months of age, a child should resist the force and/or use the opposite arm for support if they are pushed to one side.
3. Around four or five months of age, pushing a child's head down, or pulling the head up (when in a lying position) should result in the legs dropping or rising accordingly.
4. Around 10 months of age, a child should instinctively reach out to brace themselves if they are standing and have their trunk positioned towards the ground.
Gross Motor Skills
The inability, delayed ability, or weakened ability for a child to complete larger tasks that require coordination and the syncing of muscles, could be a sign of CP. If your child is having difficulty with any of the following, they may have a form of CP.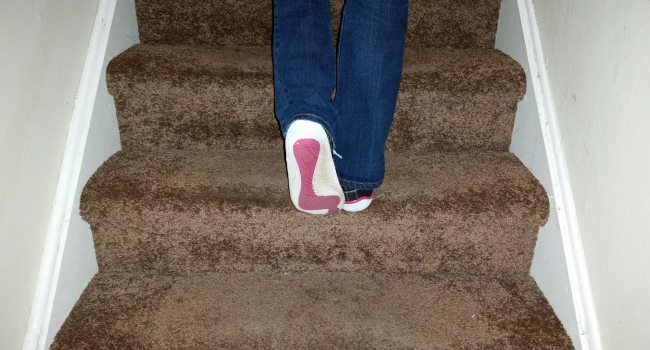 1. Rolling over
2. Crawling (favoring one side over the other)
3. Sitting up
4. Standing up
5. Balancing
6. Walking
Fine Motor Skills
Where gross motor skills are associated with large movements such as walking, fine motor skills encompass more precise movements. Having trouble with the following signal difficulties with fine motor skills.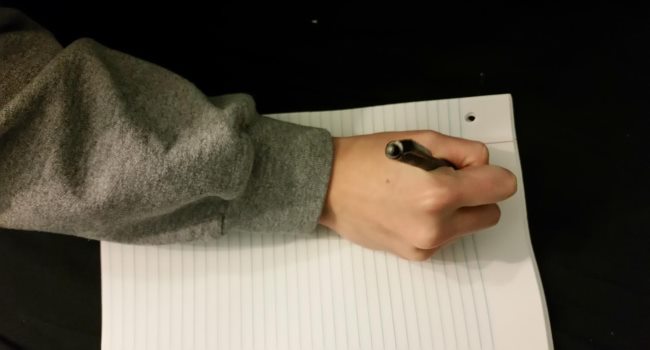 1. Grasping a pencil, crayon, or pen
2. Grasping a small object between the thumb and pointer finger
3. Turning pages in a magazine or book
4. Gently setting objects down
5. Tying a knot
Oral Motor Skills
Difficulty with oral motor skills means that the child cannot move their mouth in the same way as a child without CP. Signs of an oral motor skill impairment include:
1. Drooling
2. Trouble swallowing
3. Trouble speaking
4. Chewing and/or eating properly
5. Breathing
6. Voicing
7. Articulation
Broken down further, a child with an oral motor skill impairment may suffer from neurological impairments which affect mouth movement. Such conditions include:
1. Verbal apraxia: The inability to clearly articulate words due to weakened brain signals to the muscles in the mouth
2. Oral apraxia: The inability to move the mouth in non-speaking ways. Examples include licking lips, puckering lips, puffing out cheeks, or moving the tongue
3. Ataxic dysarthria: slower, more erratic, and inarticulate speech caused by poor muscle and breathing coordination
4. Flaccid dysarthria: Whiny and/or nasally speech caused by the vocal chords not opening and closing properly
5. Spastic Dysarthria: Strenuous and slow speech where the person affected typically has trouble with consonants
6. Mixed dysarthria: A combination of two, or in some cases all three, dysarthria conditions
Although this list of CP signs may be long, it is important to remember that your child, if you think he or she is affected by CP, will not present with all impairments. While some signs such as reflexive issues and balance may be present, your child may never present with significant speech or posture impairments.
Types and classifications of CP
Once you receive information from your doctor and, if you learn that your child does indeed have cerebral palsy, you may get told that he or she has this or that type of the disorder. Since CP is such a broad diagnosis and can affect children in many different ways, it might be helpful to have the diagnosis broken down further.
The initial information the doctor, likely a neurologist, should give you is the degree to which the brain and body are affected. If you are told that the CP is mild, it means that your child should be able to move without limitations and their daily activities should not be limited. A moderate case of CP means that specialty braces, medication, and various technological devices will be needed in order for the child to complete everyday tasks and lead an independent life.
In a worst case scenario situation, you may be told that your child has a severe case of CP, meaning that they will require a wheelchair for mobility and will need assistance with daily activities however, that is not where the initial classification ends. Another thing you could be told is that your child has no CP. Although this may seem relieving, that your child has no problems, that may not be the case. In a no CP diagnosis, your child presents with the signs of CP, but since the effect occurred after brain development, it would better be diagnosed as a traumatic brain injury or another disorder.
When you are given the classification based on topographical distribution, you may be overwhelmed. This portion of the diagnosis will tell you the parts of the body affected and give you insight into future treatment options. Before attempting to understand the topographical distribution, it is important to know that paresis means weakened and plegia/plegic means paralysis.
The nine types of classification for topographical location are:
1. Monoplegia/Monoparesis: CP only affects one limb
2. Diplegia/Diparesis: CP primarily affects the legs and lower body, not the arms
3. Hemiplegia/Hemiparesis: CP affects the arm and leg on one side only (i.e. the left arm/left leg)
4. Paraplegia/Paraparesis: CP affects the lower body, meaning both legs are either weak or paralyzed
5. Triplegia/Triparesis: CP affects three areas of the body, meaning both legs and an arm or vice versa. It could also affect two limbs and the face
6. Double hemiplegia/double hemiparesis: CP affects both arms and both legs, but one side is more affected than the other
7. Tetraplegia/Tetraparesis: CP affects all four limbs, but one of the four is less affected than the rest
8. Quadriplegia/quadriparesis: CP affects all four limbs
9. Pentaplegia/Pentaparesis: CP affects all four limbs as well as the head and neck, occasionally making it hard to eat.
Following the classification based upon severity level and topographical location, your doctor will likely provide you with a classification based upon gross or fine motor function. If your child is diagnosed at an early age, such as eight months old, you will likely not receive this type of classification for a few months and, you will likely receive it from a recommended physiatrist, not your network neurologist.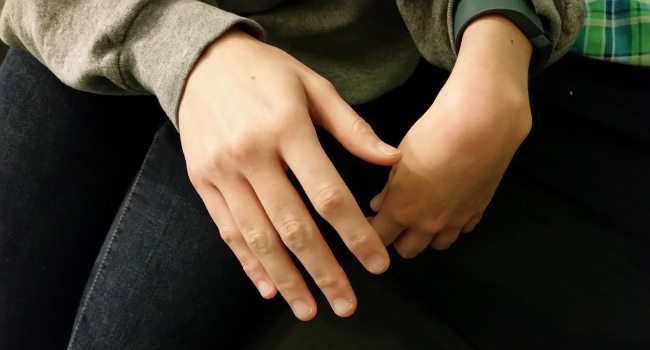 The classification based on motor function first looks to the type and severity of muscle tone impairments your child has. The determination of whether your child has hypotonia or hypertonia will help in figuring out the level of your child's gross motor function. If they have a significant impairment of muscle tone and gross motor function, they could require a walker or wheelchair. The levels and descriptions of gross motor function include:
1. Level 1: Walks without limitations
2. Level 2: Walks with limitations such as not being able to walk long distances, run, or jump
3. Level 3: Can walk indoors with hand-held mobility equipment, but requires a wheelchair outdoors
4. Level 4: Requires the use of a wheelchair
5. Level 5: Severe impairments and limitations of the trunk and head, requiring the use of a wheelchair, physical assistance, and communication technology.
Treatment of CP
Although there is no cure for CP and the condition does not get worse with age, children living with the condition can experience drastic improvements if they are placed in the appropriate therapies at an early age. After your doctor has told you the type of CP your child has, he or she will likely recommend the specific therapies that will best benefit your child's needs.
The two most common types of therapies prescribed to children with CP are occupational and physical therapies (OT and PT respectively). While PT is well-known to improve the mobility of people who have incurred an injury and, in the case of CP, help optimize function and movement of limbs, OT is lesser known. OT is a type of motor skill therapy where dexterity, coordination and the ability to function normally in everyday life are the core focus.
Depending upon the severity level of your child's CP, you may need to utilize other therapies as well. In addition to OT and PT, you might be advised to get your little one speech therapy, behavioral therapy, acupuncture, aqua therapy, or even hippotherapy. There are a multitude of therapies available to children with CP, each geared towards optimizing the full ability of each individual and teaching them to lead independent lives, if conceivably possible. Through fun and play, your child will receive the treatment they need, without ever having it feel as though they are working.
Quality of life and life expectancy
Through the treatment of your child's CP symptoms, they should be able lead a happy, healthy and full life. Although CP is a brain injury, most cases do not present with life-threatening abnormalities. While each case is different and some extremely severe cases could be fatal, the majority of children diagnosed with CP live well into adulthood.
CP resources available in New Jersey
Equipped with all of the basic knowledge you need to know about your child's case of CP, it should be comforting to know that New Jersey has useful resources and support groups so you can be sure your little one receives the help they need.
One place you can turn to is Cerebral Palsy of North Jersey (CPNJ). This organization, which is headquartered out of Livingston, NJ, has been assisting parents of children with CP since 1963. They provide services to children in all stages of life, from infancy all the way up to senior citizens and, whether you need initial help understanding your child's exact diagnosis, in-school OT and PT, or assistance regarding the transition from one level of education to another, CPNJ has a team who will gladly assist you.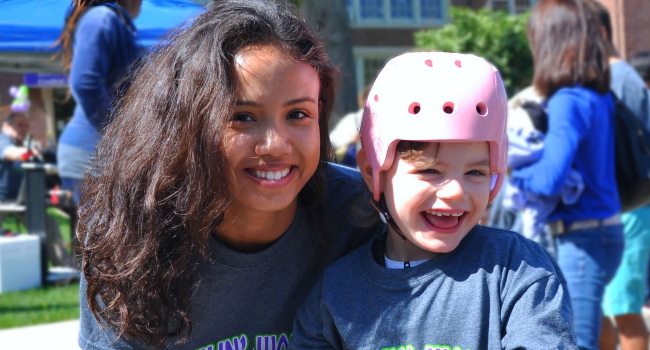 Since CPNJ operates out of Northern NJ, they can provide their clients with localized assistance and the best resources in their area. They strive to give all NJ residents living with CP a chance to thrive, live independently, and form relationships with people that are just like them. They do more than just provide the services children may need, they look to make their lives as enriching and full as possible.
Another organization you can contact is United Cerebral Palsy (UCP), an international nonprofit organization that provides assistance to families in all regions of the world. This organization, now one of the largest nonprofits in the world, actually opened their doors in 1948 because they felt that families of children living with CP, and those individuals living with CP, needed more information and community support. As the years passed and their affiliations continued to grow, UCP opened several locations in the tri-state area.
Their location in Hudson county NJ offers almost every service you may need, or want, to know about. They have affiliations and partnerships with child care centers, summer camps, and adult programs such as in-home respite programs and personal assistance programs. Additionally, the UCP organization provides families of children with CP with a network of support groups so they can create friendships and become a part of a community.
While it may be overwhelming to hear that your newborn may have suffered a brain injury before or during birth and could potentially have cerebral palsy, the diagnosis is not a death sentence. Every child living with CP has a different degree of severity and since no two diagnoses are the same, there is no definitive way of pinpointing the exact path that your child will take in life. What is known is that CP is generally non-life-threatening and only ever improves with time and therapy.
Through the guided assistance of your team of medical and health professionals and New Jersey organizations such as CPNJ and UCP, you will be given expert advice regarding treatment options, resources, and the best ways that you can help your child succeed and be independent. Simply take each day as it comes and know that each milestone that is hit signifies improvements of the condition and steps in the right direction.
Does this article help you in seeking treatment for your child? If it does, and you would like additional information about special needs services in NJ, click here.