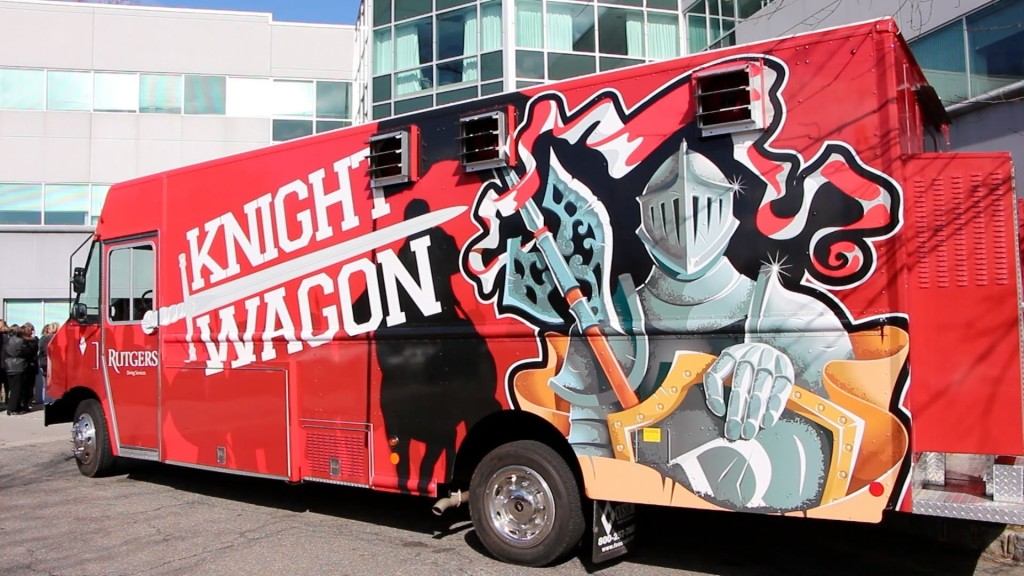 My senses are on overload. I don't know whether to pay attention to the colors around me or heed the scent rising to meet my nostrils. The air is almost palpable and every fiber of my being is electrified with anticipation as the line shuffles forward. A knot is working itself up in my stomach and I bounce on the balls of my feet to release some of the energy building in my body. I'm getting closer. Just a little bit longer. Almost there. Yes! It's my turn.
Finally, nothing stands between me and the impressive beast before me. Tall, sturdy, welcoming and with so many titillating choices. The crowd behind me presses in on all sides to get a closer look as molten gold is passed through the window into my eager, outstretched hands. The smell is heavenly and I hunch over my prize to protect it from clumsy passersby as I weave my way out of the throng to a safe haven on the other side of the field.
I set "my precious" down on the picnic table to take in all of its glory. The steam rising slowly in the breeze, the gooey goodness dripping over the sides of its vessel, the smell of toasted potato chips lightly browned over a bed of white cheddar mac n' cheese….
This is the stuff I live for. Not just food, but gourmet cuisine from a food truck. I always get excited when I see my favorite truck at festivals. Mac Mart Cart has never let me down and their mac n' cheese creations are bar-none the best meal to be had at any food truck gathering. Dare I say (gasp!) it's even better than my momma makes?
I'm not the only one who feels the gravitational pull of food trucks. Lately, they're all the rage. You can barely step foot into a festival without a line of them pedaling their voodoo magic to the hearts, minds and stomachs of consumers. Whether you're at a street fair, a beer festival, a carnival or winery, food trucks have become a fixture in our lives.
The History Of Food Trucks
A cowboy named Charles Goodnight was one of the people responsible for the food revolution we are enjoying today. Back in 1866, Goodnight was well known in the Texas Panhandle for herding cows. He paved the way for travel between Texas and Colorado on his many expeditions to bring cattle further west. It was a long and arduous trip and he needed a way to sustain himself.
In order to stay well-fed during his journeys, Goodnight bought a military surplus Studebaker wagon and turned it into a portable kitchen customized to his own specifications. It was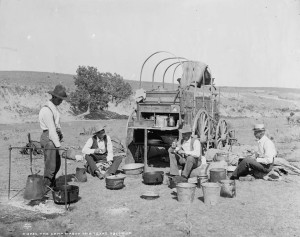 built with a box the width of the wagon that had a hinged lid which folded down into a table and revealed drawers for utensils and shelves for food. He and other cattle herders enjoyed eating "chuck"—a cut of beef that is chewy and most people considered to be unfit for a meal. Since the chuck was stored in the box on the wagon, the name "chuck wagon" came about.
Around the same time period, a young man in Providence, Rhode Island named Walter Scott started selling sandwiches and coffee from a horse-drawn wagon that he would park outside of the Providence Journal newspaper building. The businessmen came to him every day for lunch. Scott made so much money that eventually other men wanted to follow suit, prompting new companies to pop up that specifically manufactured elaborate lunch wagons to fill the demand.
At this point in history, the evolution of food trucks slowly gained momentum.
Over the course of the next 80 years, only a couple of variations gained popularity. In 1894, "dog wagons" started parking themselves outside of Yale, Harvard, Cornell and Princeton universities and sold sausage to students. During WWI, mobile "field kitchens" were being used by the U.S. Army to feed troops. In 1920, a New York City man named Harry Burt took his brick and mortar ice cream shop mobile with Good Humor bars. Then came the iconic Oscar Mayer Wienermobile that burst onto the mobile food scene in 1936 with its hot-dog-in-a-bun shaped cart. It was scandalous and ridiculous at the same time, but people loved buying hot dogs from the cart just so they could say they did.
From this point forward, a multitude of food trucks hit the streets. Nearly every decade since the Oscar Mayer Wienermobile, new food on wheels became available in major cities and suburbs alike. Mr. Softee Trucks swirled around Philadelphia in the 1950s, aluminum sided "roach coaches" scuttled across Manhattan in the 1960s feeding ravenous construction workers and, in the 1970s, Raul Martinez spiced up the streets of L.A. with the nation's first taco truck.
But where does New Jersey fall in all of this?
Perhaps our greatest food truck legacy is the Rutgers University grease trucks and their "Fat Sandwiches." Since the early '80s, the trucks were a staple on the College Ave. campus and a favorite late-night stop for inebriated college students looking to sink their teeth into something so epic, no amount of Keystone Light and cheap vodka could make them forget the flavor by morning.
I type this with goose bumps on my skin and an intense hunger in the pit of my stomach even though I just ate lunch. If you've never had the honor of chowing down on one of R U Hungry's gloriously monstrous creations, you haven't truly lived.
I still remember my first time seeing the grease trucks on campus when I was visiting friends back in 2009. I noted the flat tires, the dirt caked onto the exteriors, and the oil stains on the pavement that looked like they'd been pooling there since the dawn of time. These trucks obviously hadn't moved in years.
Yup, I noticed all of those things and I still walked right up and ordered a "Fat Knight," which came complete with cheesesteak, chicken fingers, mozzarella sticks, marinara sauce, and French fries all on one roll. Can you feel your arteries clogging just reading this? Trust me, it was worth every bite! People drive from hours away just to get their hands on one of these.
Sadly, in 2013, Rutgers disbanded the merry ring of food trucks because the lot they occupied was going to be redeveloped. Some trucks, like R U Hungry, are still staples on campus and continue to draw a loyal following from 7am until 2am daily whereas others, like Mr. C's weren't as lucky.
Food Truck Revolution
Food trucks have definitely come a long way since their days out on the range with cattle. 2010 was a huge year for food trucks. After the housing bubble burst in 2008, the economy took a nosedive and construction in cities ground to a screeching halt. Roach coaches got squashed and pockets were empty.
However, within a couple of years, people were looking for something that felt upscale and exclusive without breaking the bank (again.) Taking note of trucks like Kogi Korean BBQ in Los Angeles that offered delicious Korean-style tacos for only $2.00 apiece, other trucks started sprouting up. Customers loved the idea of innovative local and international cuisines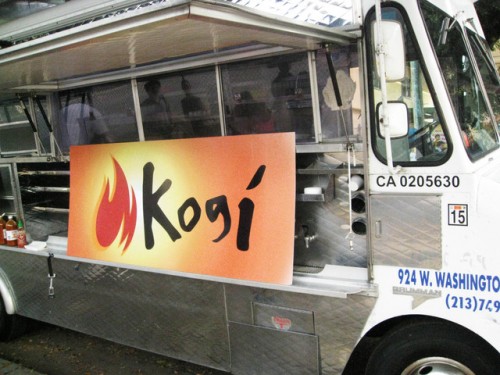 at a price that allowed them to keep coming back for more.
Food trucks began making a permanent mark on society with a slew of pop-culture references and a number of accolades from prestigious institutions in 2010 as well. That year, the National Restaurant Association designated a space for food trucks for the first time at their annual convention in Chicago. The Southern California Mobile Food Vendor's Association was created to protect the rights of gourmet food truck owners. The Great Food Truck Race (now gearing up for its 6th season) was televised, glamorizing the industry and Business.gov added "Tips for Starting Your Own Street Food Business" to its resources for potential small business owners.
The next year, Zagat released their food truck guide, giving ratings and reviews to the best trucks in the country and President Obama took to Twitter to announce that his favorite Washington food truck is D.C. Empanadas. In 2012, food trucks made their Super Bowl debut at Lucas Oil Stadium in Indianapolis and in 2014 the National Food Truck Association was formed.
It's certainly safe to say that the popularity of food trucks is still on the upswing. They are increasingly being seen on popular television series such as Showtime's Shameless, where character Fiona Gallagher is seen in one episode buying food from Chicago based food truck "Haute Dog" and Fox network's Bob from the hit cartoon Bob's Burgers, decides to take his restaurant mobile at a food truck festival.
Maybe Bob is on to something there. Is this what's next for the burgeoning industry?
The Future of Mobile Food
In the last couple of weeks, Olive Garden launched test trucks in New York, Orlando, Philadelphia, Phoenix and Salt Lake City in order to take a bite out of the competition. The mobile units have been serving free samples from the chain's new menu, including Chicken Parmesan Breadstick Sandwiches and Meatball Breadstick Sandwiches.
Even food companies with no restaurant at all are hitting the road. Hidden Valley brand launched its food truck on June 16, 2015 to test new flavors of ranch on gourmet burgers. The truck will be making 180 stops in 6 states and will have fun with customers by hosting giveaways and games.
Despite Olive Garden and Hidden Valley attempting to wiggle their way into the gourmet food truck market, there is also a trend heading in the opposite direction. Korilla BBQ in New York City opened its first brick and mortar location in the fall of 2014 because the owner believed it was better for business. He thinks that customers can now find him more easily when they want his burritos or rice bowls. Plus, he doesn't have to worry about the truck breaking down anymore.
Some food trucks have been so successful that they are building their own empires. Seattle based Skillet began in 2007 and since then, they've added two more trucks, 3 restaurant locations and a catering company. If you fly on Alaska Airlines, you can find their bacon jam on the snack menu and if you walk into a Whole Foods in Washington State, you might stumble across their pumpkin ketchup.
The direction of the food truck industry seems to be pretty clear. Trucks will continue rove around cities and make their presence known at festivals while potentially saving up for a permanent location. We will probably see more companies like Olive Garden sending out fleets of trucks into test markets in an attempt to garner the attention of a younger demographic. Overall, I only see demand going up for more choices and more international cuisine in the future.
In A Perfect World
Forget ice-cream trucks! One thing that I'd like to see happen in the industry is food trucks meandering through my neighborhood around dinner time. I'd be just like a little kid again. I'd hear the music and my head would immediately snap towards the sound. Bouncing on one foot, struggling to get my shoes on fast enough, I'd excitedly grab my wallet and burst through the front door to crane my neck down the street, waiting for the truck to turn the corner.
As it approaches, all of the other adults will start to gather at the end of their driveways, money in hand, and impatiently squirming while they wait for the truck to come to a stop. As soon as the wheels come to a rest, a friendly face peers out of the window and starts handing out bowls of white cheddar mac n cheese with baked potato chips on top to everyone. The Mac Mart is what's for dinner.
One can hope, right? Here's to dreaming!