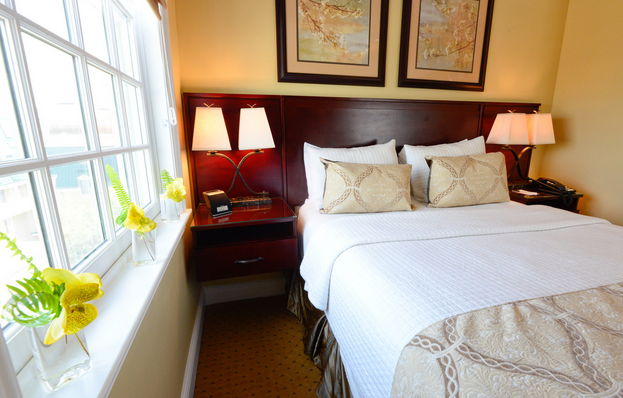 Best Romantic Hotels in NJ
Cool, charming and one of a kind, those are three words that are often used to describe historic hotels. When you are vacationing in a new location such as New Jersey, you certainly don't want to stay in a drab and mundane hotel, filled with cookie cutter rooms, decor and ambiance. The state is filled a number of historic hotels complete with American history and regional charm, but not all are well-known and you may end up overlooking the best locations as a result. Below you will find a guide to the top 5 historic hotels in NJ; places you will want to stay at, not only because they have a good story, but also because their service throughout the years has only improved and guests remain their number one priority.
1. Nassau Inn – Princeton, NJ: This gem of a hotel, currently situated in Palmer Square, was once located on Nassau Street and wasn't always named Nassau Inn. Judge Thomas Leonard originally opened the Nassau Tavern in 1756 so he could spend the last years of his life catering to the needs of Princeton University students. Upon his death in 1759, the new owners, keeping his intentions in mind, opened College Inn. This hotel provided a much needed place for visiting friends and families to stay, and even a few Revolutionary War veterans such as Paul Revere, Thomas Paine and Robert Morris!
In 1937 it became evident that the town and University needed a much larger and more comfortable accommodation for guests, but not wanting to destroy the establishment and rid the town of the history, the College Inn owners simply moved the hotel from Nassau Street to Palmer Square, renaming it Nassau Inn in the process. This move proved to be successful because after its relocation, and continuing today, the Nassau Inn was/is able to accommodate more people and provide the best service possible….something much needed in Princeton since so many people flock there due to its recognition.
If you stay at the Nassau Inn today, you can expect to enjoy luxurious rooms, the quaint Princeton, NJ setting and a plethora of fun shops, relaxing spas and scenic outdoor areas. Your stay here will also afford you the opportunity to learn about the area's rich history because, while this hotel is a landmark in itself, the entire town of Princeton has a history that is waiting to be uncovered.
http://www.nassauinn.com/
2. The Inn of Cape May – Cape May, NJ: At 110 years old, it is safe to say that the staff at The Inn of Cape May know what they are doing and have always sought to provide guests with everything they need. This Victorian inn has always been a place of grand accommodations and relaxation. Located right near the beach, guests in the late 1800s and early 1900s used to stay at this establishment because it was a place of luxury.
The hotel, while only four stories high and housing 60 rooms, has always been admired by guests because there is a breathtaking view of the Atlantic Ocean that will never face obstruction. Guests have always been able to sit out on the roomy porches of The Inn of Cape May, protected by the shade of the French rooftops, and watch as the waves crash upon the NJ Shore.
When you stay at The Inn of Cape May today, all of the historic charm can still be found. While rooms have all of the modern day technology often found in hotels, with the exception of landline phone service, they come off as simplistic, relaxing and a true escape…..exactly what you want if you are looking for a true beach escape! Additionally, if you are looking to find a little bit of history, a local company offers horse carriage rides that will take you around the Historic Cape May district at night.
http://www.innofcapemay.com/inn.html
3. The Grand Summit Hotel – Summit, NJ: Open since 1868, The Grand Summit Hotel of Northern NJ has always prided themselves on their ability to provide quality service and sophistication to their guests. 1868 was a time of many things, horse-drawn carriages, elegance and top hats, all classy and prestigious aspects of society that The Grand Summit Hotel wanted to provide their guests with when they stayed at this now historic hotel.
Always acting as a boutique hotel, this landmark has often been referred to a spot for tranquility and luxury. When it was first opened, guests could always expect to find the most luxurious of rooms, an attentive staff and an idyllic setting where they could walk around (or take a horse and buggie!) and enjoy the peace of the surrounding area.
Today, guests can still expect to find the tranquility that made the hotel charming from the start. If you are a fan of old-timey traditions and ways of transportation, this hotel still offers horse and buggie rides during the spring and summer seasons and there are still plenty of peaceful streets, walks and outdoor areas within close proximity to the hotel. While times have changed, the historic charm of this hotel has not.
http://www.grandsummit.com/
4. The Chalfonte – Cape May, NJ: In operation since 1876, The Historic Chalfonte Hotel holds the record for being the longest continuously operating hotel in Cape May….and it isn't giving that title up anytime soon! It was constructed during the Civil War era, changed owners a few times over the years, but has never losing its historic feel.
Since day one, The Chalfonte has provided guests with the joys of seaside lodging. When it originally opened its doors in the late 19th century, it offered something that very few other hotels could give, a Southern US feel, right here in New Jersey. Everything about the hotel, its luxurious suites, hospitable staff and even the warm feel of the surrounding area, has always brought guests to a simpler time where there was less stress and more room for fun!
In the nearly 140 years of service not much has changed and guests continue to take pleasure in all of the luxuries a stay here can afford. If you happen to be in Cape May for an extended period of time and decide to give The Chalfonte a shot, you can still expect to receive the Southern-style treatment that is not likely expected in NJ, as well as the opportunity to relax in a spot that makes you feel as though you've stepped back in time.
http://www.chalfonte.com/
5. Lambertville House Hotel – Lambertville, NJ: When you stay at the Lambertville House Hotel, you can expect to receive high quality service that has been perfected with over 200 years of service. When it was originally constructed by John Lambert in 1812, this hotel, then referred to as The Lambertville Inn, was simply meant to be a resting point for travelers making their way from New York to Philadelphia.
Today the hotel, although renovated due to necessity, continues to hold sentimentalities and feels of its first day of operation. If you choose to lodge at this hotel, there is no doubt that you will experience a step back in time. You won't have to worry though! Even though Lambertville House Hotel is listed on the National Register of Historic Places, it still has all of the modern conveniences you won't want to give up!
Without giving up your cell phone, wifi or any of the technology that people are so accustomed to in the year 2015, the Lambertville House Hotel allows you to step back to a less stressful time, admire the historical beauty that can be found within their building and simply relax on your vacation.
http://www.lambertvillehouse.com/
See our choices of other great hotels, bed & breakfasts, resorts and inn's in NJ.
Also see some awesome romantic getaway ideas in NJ.