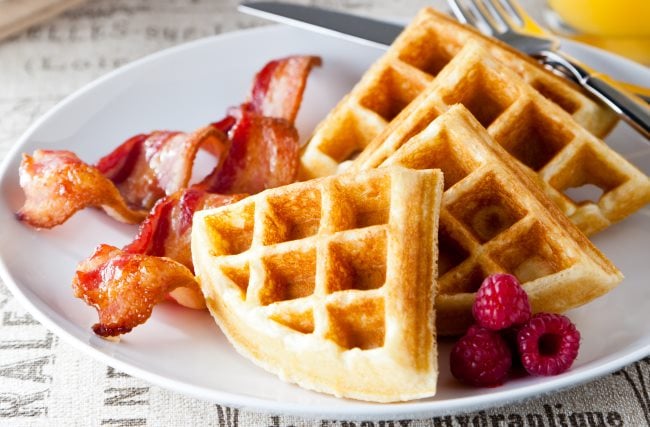 The Top 27 Places to Grab Breakfast at the Jersey Shore
Jersey Shore locals who live by the beach year-round know the pain of having their favorite breakfast place close for the season. Who wants to live without their favorite pork roll or pancakes all winter? More importantly, who has the time and energy to cook a diner-style breakfast for themselves?
During the wintertime, many Jersey Shore restaurants close due to potential profit loss during the off-season. This leaves the locals high and dry (and hungry). Well, there is hope for those who want to go out for breakfast on the NJ Shore. In each Shore Point region, there are a few breakfast and lunch joints that cater to the food needs of locals by staying open all year round.
These twenty-seven restaurants, all located a short distance from the beach, if not directly on the boardwalk, are open year-round, serve delicious breakfasts and lunches and are guaranteed to offer you warm and welcoming service any time of the year.
1. The Buttered Biscuit: This gourmet breakfast café in Bradley Beach serves an excellent selection of high-quality breakfast dishes, including fresh fruit bowls, biscuits, scones and muffins as well as oatmeal and omelets. All of their menu items are made with wholesome ingredients that are sure to fill you up and leave you satisfied with what you are eating.
One of their most unique dishes, the Hot Off the Grill Crumb Cake, is a simple but delicious item. It is an expertly prepared homemade crumb cake that, unlike other crumb cakes, is grilled in butter! Because of this, your mouth will be watering and you won't be able to get enough! Another dish that many patrons love is the Copenhagen. This delectable dish consists of caper cream cheese, red onion, smoked salmon, baby spinach and two poached eggs. Like many of The Buttered Biscuit's dishes, these two dishes are made with simple ingredients that will make you say "more please!"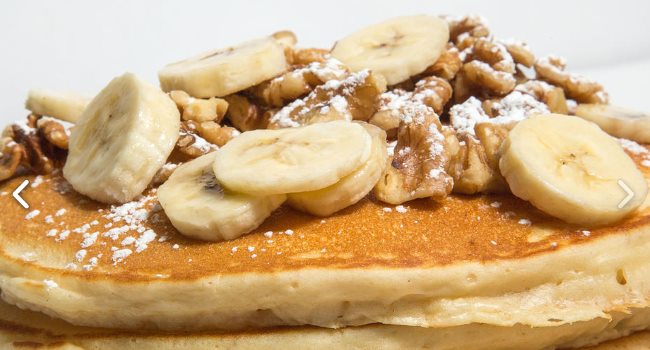 The Buttered Biscuit
700 Main St., Bradley Beach, NJ 07720
732-807-4069
2. Mariner's Cove: This local favorite is located just blocks from the Manasquan River and just about 7 minutes by car from the beach. Come hungry because the portions are huge! What makes Mariner's cove so special is their omelet list which boasts over 200 different types of omelets! Some of the more outstanding dishes include their Roma Pizza omelet, s a 9″ pizza topped with a huge plain omelet, tomato sauce, ricotta cheese, peppers and onion, mushroom, sausage, pepperoni and mozzarella cheese. Trust us, it's delicious! The Italian Stallion comes with sweet Italian sausage, potatoes, peppers, onions, provolone, mozzarella over a country style omelet
Other curiously amazing concoctions include the Oriental Omelet which comes loaded with water chestnuts, broccoli, onions, mushrooms, sprouts, cheese, and potatoes served country style. The Denmark boasts eggs, sardines and scrumptious seafood covered with Hollandaise. These are just 4 samples of the hundreds that they offer! Come hungry and be prepared to bring more than 50% of your plate home with you! The restaurant is a truly enjoyable NJ shore infamous institution with a fun and inviting unique classic diner atmosphere. This should be on the top of your breakfast bucket list if you haven't experienced Mariner's Cove already.
Mariner's Cove
712 Union Ave., Brielle, NJ 08730
732-528-6023
3. Shore Good Pancake House: While not located directly on the Jersey Shore, Shore Good Pancake House is only a short drive away in Brick, NJ. They serve, as their name suggests, excellent pancakes as well as waffles and eggs prepared in any way you would like. Their breakfast meals are classic and simple. You will have your choice between an honest short stack of pancakes or fried eggs on a hard roll. Shore Good Pancakes also features a number of specialty pancakes; pancakes containing M&Ms, peanut butter and jelly, oatmeal and raisins and even pigs in a blanket! You won't believe all of their specialty pancake options!
At this NJ Shore breakfast joint, you also have the option of creating a small plate for yourself with just the one or two items you want, or you can create a combination platter and get a plate of all your favorite foods.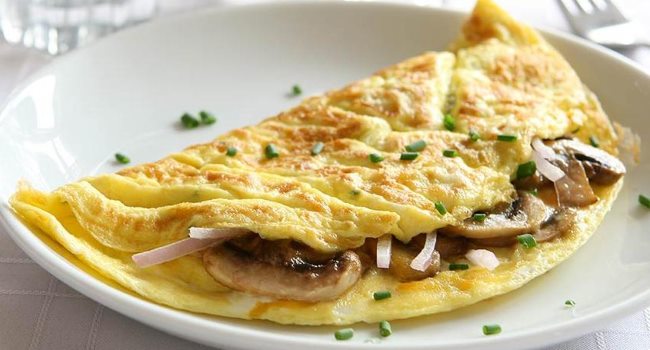 Shore Good Pancake House
34 Lanes Mill Rd., Suite 1, Brick, NJ 08724
732-840-4100
4. Amy's Omelette House: At this breakfast place in Long Branch, you are guaranteed to get home-style cooking that will leave you full, satisfied and longing for the meals you ate at home as a child. Amy's Omelette house is also noted as one of the best NJ brunch spots because they have a huge menu and serve over 30 variations of pancakes and French toast. Additionally, despite their huge selection of omelettes, you are welcome to have yours made exactly to your specifications.
One thing many people like about Amy's Omelette House is that if you order a full entrée but you want to add another item, they will let you add an extra pancake or waffle to your meal. Also, pancakes can come in the form of Mickey or Minnie Mouse, bringing a smile to every child's face!
Amy's Omelette House
444 Ocean Blvd. N., Long Branch, NJ 07740
732-222-1206
5. Local Urban Kitchen: Serving freshly made, hearty and delicious organic breakfast dishes, Local Urban Kitchen is one of the popular breakfast spots along the Point Pleasant Beach, NJ Shore. Their environment is always warm and welcoming making everyone, local or tourist, feel comfortable and as though they are a part of the family.
Local Urban Kitchen is one of the only organic restaurants on the Shore. They serve unique and healthy dishes, such as parfaits, oatmeal, and quinoa bowls. Why not make your first meal of the day delicious and healthy?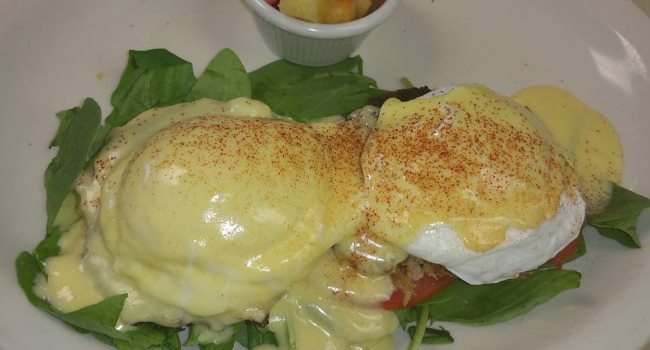 Local Urban Kitchen
1805 Rt. 35, Point Pleasant Beach, NJ 08742
848-232-3451
6. Seed to Sprout: With locations in Avon by the Sea and Fair Haven, Seed to Sprout is a vegan brunch institution, sure to satisfy your tastes with their decadent smoothies and their famous Cinnamon Bun French Toast. If you are looking for a new and perhaps more adventurous option for your weekend brunch, this is your spot.
The clean, inviting, modern interior serves as a springboard for the perfectly seasoned food. Whether you are a tofu fan or not, Seed to Sprout is one of our favorite shore experiences. Be sure to grab the counter spot to watch them make their fresh juices, smo and wheatgrass shots from scratch.
Seed to Sprout
410 Main Street, Avon by the Sea, NJ 07717
732-774-7333
560A River Road, Fair Haven, NJ 07704
732-268-7533
7. Whipped Creperie: For both savory and sweet crepes and waffles, the choice by the shore is Whipped Creperie in Red Bank. The menu features challah French toast, gluten-free crepe options, and a cookies & cream crepe with oreos!
With a full coffee menu and crepes available all day, it is great for breakfast, lunch, dinner, or dessert. The ambiance, chandeliers, and chocolate and pink walls will take you to a Paris cafe any day of the week.
Whipped Creperie
6 Monmouth St, Red Bank, NJ 07701
732-747-0076
8. Meg's Grill: Located between New Brunswick and Brooklyn Avenues in Lavallette, NJ, Meg's Grill is the breakfast place you should hit up if you are in the mood for classic meals with a beachy, fresh twist. On their menu, you will find everything from bagels and eggs to fruit bowls and delicious parfaits.
People can rarely ever say anything bad about Meg's Grill. Their food is always prepared to perfection, the wait staff is knowledgeable and always happy to help with meal selections and it always seems like each visit was better than the last!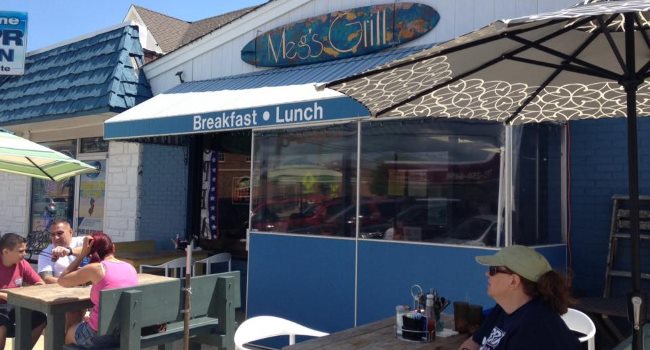 Meg's Grill
1403 Grand Central Ave., Lavallette, NJ 08735
732-830-6700
9. The 3 C's Luncheonette: This is the Seaside Park, NJ breakfast spot you should dine at if you are planning a full day of activity and you need a meal that will keep you satisfied for hours. They are located just down the road from Island Beach State Park and serve every classic American breakfast food imaginable.
A few things set this breakfast spot apart from the others in the area. First, they are family owned and operated, giving patrons a true sense of community when they dine at The 3 C's LunchenLuncheonetted, their location, which is not on the boardwalk but rather a short drive away, gives patrons a sense of peace and quiet while dining. They can enjoy the beach atmosphere and environment, without having to withstand the hustle and bustle of the Seaside boardwalk.
The 3 C's Luncheonette
1001 S.W. Central Ave., Seaside Park, NJ 08752
732-830-4077
10. Uncle Bill's Pancake House: This pancake house in Wildwood, NJ is sure to please everyone in the family. In addition to serving an enormous variety of pancakes, Uncle Bill's Pancake House serves classic eggs, omlettes and hot breakfast cereals. Come by after breakfast and check out their lunch menu.
Their prices are unbeatable and many people who dine at this establishment are impressed with the quick service and meal selections. One favorite is the Wildwood plate, a meal that comes with hash-browns, eggs, toast and a choice of meat. Other dishes include the Iowa Corn Pancakes, peach pancakes, and their strawberry or apple crepes.
Uncle Bill's Pancake House
4601 Pacific Ave., Wildwood, NJ 08260
609-729-7557
11. Key West Café: Wildwood, NJ locals love eating here because the restaurant is family owned and operated, serves exceptionally good breakfast food and has regular specials. Whether you are just passing through Wildwood on your trip to another NJ town or you are someone who has dined at this breakfast joint multiple times, you will be treated like family and leave satisfied.
They are a kid-friendly breakfast food joint, making it the perfect place for families to grab a bite to eat before heading to the beach. Where some restaurants may frown upon the noise and nuances of having children being children, Key West Cafe welcomes it! They want everyone, young and old, to have the chance to get a good bite to eat!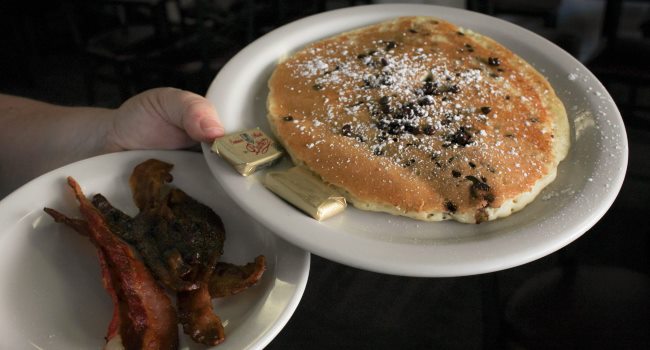 Key West Café
4701 Pacific Ave., Wildwood, NJ 08260
609-522-5006
12. George's Place: This quaint Cape May, NJ breakfast place serves meals that are guaranteed to make your mouth water. All meals are prepared to gourmet standards and you can find everything from simple, light dishes to combination plates that are sure to please.
One of their noted, and most delicious, dishes is the Meat Lovers Pita, served with two eggs, bacon and sausage is topped with American cheese and served on a grilled pita with a side of hash browns. Another favorite, one for vegetarians, is the Vedge which has peppers, mushrooms, broccoli, tomatoes and cheddar cheese.
George's Place
301 Beach Ave., Cape May, NJ 08204
609-884-6088
13. Saltwater Café: With both indoor and outdoor seating, breakfasts at Saltwater Café can be enjoyed any time of the year. They serve delicate and light breakfasts that are still satisfying and filling, making everyone in the area a loyal patron.
This breakfast establishment in Southern NJ puts an interesting twist on all of their dishes by leaving selections open to alteration. Hash browns instead of fruit? Why not! Additionally, they add new and exciting twists to twists to classic favorites.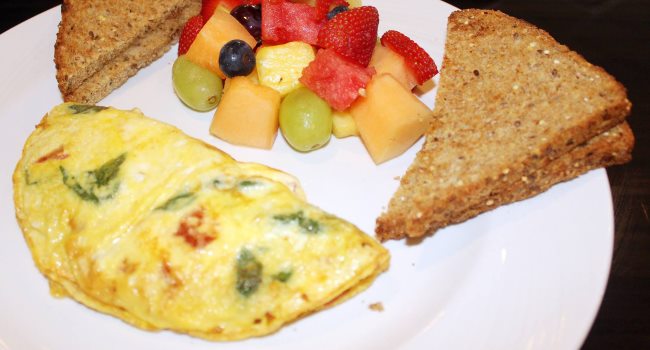 Saltwater Café
1231 Route 109, Cape May, NJ 08204
609-884-2403
14. Maria's Luncheonette: Located in Atlantic City, NJ Maria's Luncheonette is one of the best breakfast places to visit on the NJ Shore after a long night of gambling and casino fun. They serve hearty, classic breakfasts and lunches, preparing the dishes to your satisfaction each and every time.
Formerly an old-fashioned emporium, this breakfast establishment maintains its authenticity and personality by keeping their tin style ceilings and decor to match. It is a breakfast hotspot that both locals and visitors love because they know they will be getting good quality meals and the chance to dine in a unique setting that cannot be found elsewhere.
Maria's Luncheonette
2319 Atlantic Ave., Atlantic City, NJ 08401
609-347-9300
15. Lenox Café: Lenox Café is an Atlantic City restaurant that not only serves exceptional breakfast food but will prepare it right in front of you! The service at this establishment cannot be surpassed and guests always leave with a full belly and smile on their face.
In addition to seeing their food being prepared before their eyes, guests love the fact that they are always greeted with a smile, seated quickly and can enjoy a hearty breakfast in this cozy local restaurant.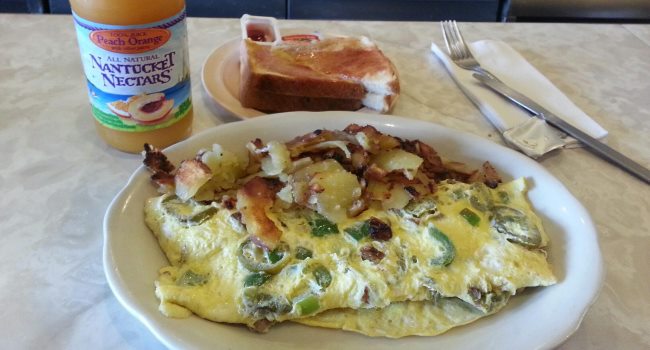 Lenox Café
2730 Atlantic Ave., Atlantic City, NJ 08401
609-347-3000
16. Sandbox Cafe: Everyone knows about deep dish pizza, but the Sandbox is famous for their deep dish pancake called The Sizzler. This pancake is poured into a deep dish, topped with a sweet filling, and baked until it sizzles. It is truly a decadent and new experience for anyone who tries it.
For those looking for a more standard fare, the Sandbox offers a full menu of other breakfast favorites from omelettes, eggs, and waffles, and the eclectic decor really brings some fun to your weekend. Just remember that this fun spot is cash only.
Sandbox Cafe
1403 Long Beach Blvd., Surf City, NJ 08008
609-361-2524
2604 Long Beach Blvd, Ship Bottom, NJ 08008
609-361-2525
17. My Kitchen Witch Cafe: This is one of the breakfast spots along the NJ Shore that many people might not know about. My Kitchen Witch Cafe is located in Monmouth Beach and serves eggs, omelettes, pancakes and other food off the griddle. They also serve cereals, breakfast sandwiches and a great variety of breakfast sides.
What brings customers back to this Central NJ breakfast restaurant time and time again is their unique decor, welcoming atmosphere and guarantee for fun whenever they walk through the door. Everyone knows that when they walk into My Kitchen Witch Cafe, they are going to be satisfied not only with their food but also with their experience as a whole.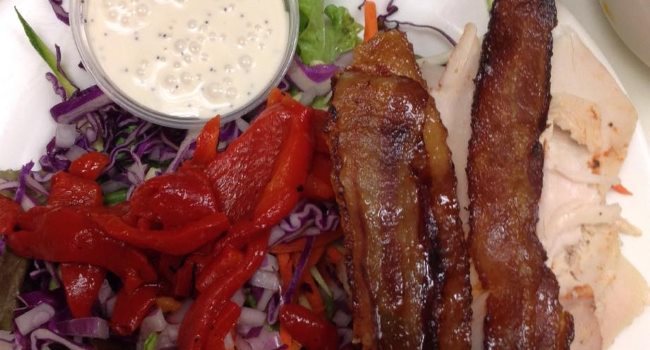 My Kitchen Witch Cafe
29 Beach Rd., Suite 101B, Monmouth Beach, NJ 07750
732-229-3033
18. The Turning Point: This breakfast, brunch and lunch hotspot in Long Branch, NJ never serves dinner and is, therefore, the Central Shore's go-to destination for breakfast cravings. Their menu has every type of classic breakfast item you can imagine, but that is not what makes the restaurant special. Making The Turning Point truly unique is their great selection of coffees, smoothies, and shakes.
They try to make the ordinary extraordinary by enhancing the flavor and only using the finest ingredients. You won't just get a simple plate of pancakes and eggs at this joint; instead, you will get an elegantly plated meal that reminds you of the homemade breakfasts you had as a child. Additionally, they don't just make coffee or tea, The Turning Point makes gourmet quality coffees and teas with unbelievable flavor and unexpected delight.
The Turning Point
92 Ocean Ave., Long Branch, NJ 07740
732-923-1104
19. Toast: As an Asbury Park breakfast-time favorite, you can expect that Toast will be serving more than just bread and butter. In addition to the American classic meals, this Jersey Shore breakfast place serves gourmet-style dishes such as eggs benedict, carrot cake pancakes and even stuffed French toast.
Toast also serves up gourmet-style soups and sandwiches for lunch. Whether you are making the trip for breakfast, brunch or even lunch, Toast is sure to have an entrée that satisfies your taste palate and doesn't empty your wallet.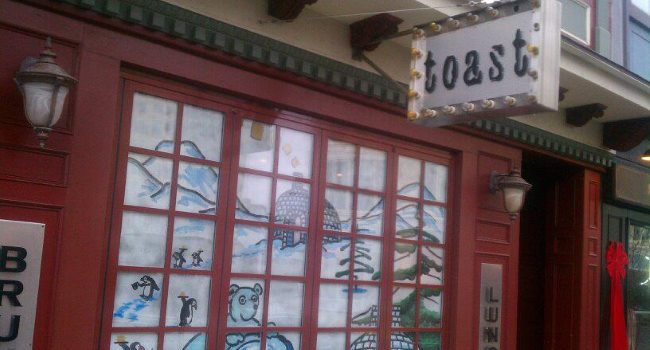 Toast
516 Cookman Ave., Asbury Park, NJ 07712
732-776-5900
20. Chat and Nibble: Another Asbury Park, NJ breakfast time classic restaurant is Chat and Nibble. At this Jersey Shore dining establishment, you can always expect to be treated to wholesome meals with good coffee and exceptional service.
While the establishment is small, the environment is friendly and guests always feel welcomed. Between the good food, cozy, family-oriented environment and the opportunity to dine inside or outside depending upon weather and preference, Chat and Nibble is the breakfast many locals choose when they want to chat….and nibble on a great meal with good friends and family.
Chat and Nibble
932 Asbury Ave., Asbury Park, NJ 07712
732-775-5100
21. Augie's OC NJ Omelette Waffle House and Grill: This Ocean City, NJ Shore restaurant serves breakfast all day long. That means that you will be given the opportunity to enjoy items such as all-time classic pancakes, waffles, omelettes or even breakfast burritos. Whether it is 7 in the morning or 2 in the afternoon, come in and grab some breakfast.
No wonder this Ocean City breakfast joint is so popular. No one can beat Augie's OC NJ Waffle House and Grill's prices, their selection of food or their portion sizes. If you visit this establishment expecting to finish your meal in one sitting, you may be sitting there for a while! Almost everyone leaves with a doggy bag because they want to save their leftovers for later.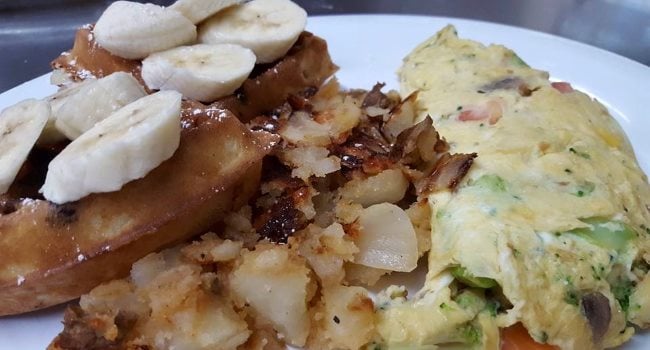 Augie's OC NJ Omelette Waffle House and Grill
709 E. 9th St., Ocean City, NJ 08226
609-391-0222
22. OC Surf Café: At this truly NJ Shore breakfast destination in Ocean City, you will be able to find something the entire family can love. With countless varieties of waffles, pancakes, French toast, and omelettes, you will have trouble deciding what you want to eat!
The staff at this restaurant is also extremely accommodating. They strive to help every guest make the mealtime decision that will satisfy them the most and, if a guest happens to have an allergy, the kitchen staff will ensure that their food is prepared separately and not contaminated with the allergen. The only downfall of OC Surf Café is that they are only open Thursday through Sunday and their food cannot be enjoyed other days of the week.
OC Surf Café
715 E. 8th St., Ocean City, NJ 08226
609-391-9555
23. Jon and Patty's: Located in the beautiful Ocean City, NJ area, Jon and Patty's is a breakfast and lunch place where the atmosphere is fun, inviting and friendly. However, they know you aren't simply visiting their establishment for the ambiance, and that is why they make it a point to serve breakfast and lunch options that will leave your mouth watering.
This restaurant has unique menu selections. The "Uncle Buck" Omelette, made with pork roll, sausage, bacon, ham and American cheese, is for the meat lovers in your group.  Patty's Baked Apple Pie Oatmeal, which is made with baked whole oats, apples, cinnamon, brown sugar and topped with whipped cream, is for patrons who want something savory and sweet.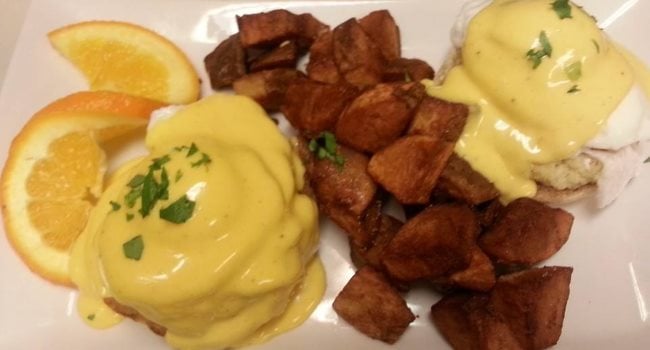 Jon and Patty's
637 Asbury Ave., Ocean City, NJ 08226
609-399-3377
24. Positively 4th Street: As one of the friendliest cafes along the Southern NJ Shore region, Positively 4th Street is a go-to breakfast establishment for locals and tourists alike. Favorite menu items of loyal customers at Positively 4th Street include their expertly prepared breakfast paninis and pastries. The paninis are a great way to get everything you want in one bite, while the pastries allow you to have a light, and slightly sweet, first meal of the day.
In addition to their delicious breakfast items, this restaurant also serves lunch and dinner items that are unexpectedly delicious. The food is made with love by the passionate chefs who make the restaurant a great option any time of the day, even if you miss the breakfast rush.
Positively 4th Street
400 Atlantic Ave., Ocean City, NJ 08226
609-399-8400
25. Ray's Café: This restaurant located along Sea Girt, NJ's Shoreline is a great place to stop by if you are looking for breakfast food that will blow your mind. They serve all of the classic dishes, have Jersey-centric sandwiches on their menu and offer specials every day.
The restaurant is family-oriented, welcoming of children and offers great plates of food at reasonable prices. If you aren't able to make it to their Sea Girt, location, you can also check out their Spring Lake location!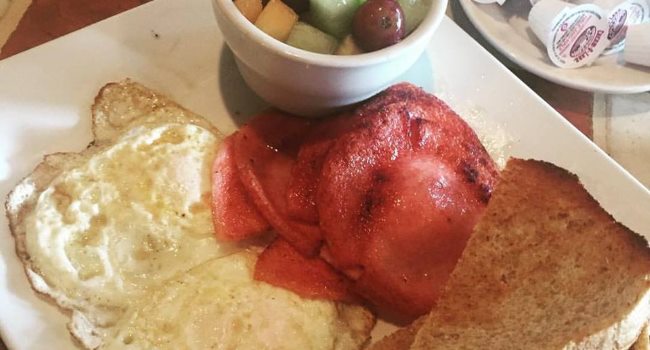 Ray's Café
523 Washington Blvd., Sea Girt, NJ 08750
732-449-1717
26. Max Devros: As the breakfast time favorite restaurant in Manasquan, NJ, Max Devros makes it a point to serve those near the Shore high-quality breakfast and lunch items that are sure to leave your eyes popping out of your head in amazement.
Every meal at this restaurant is made-to-order, ensuring that patrons get the freshest and most delicious meal they could imagine to start their day. Because of this, guests are often pleased with their meals and many of them are repeat customers. They cannot resist the temptation of freshly prepared and tasty dishes!
Max Devros
144 Main St., Manasquan, NJ 08736
732-528-1414
27. I'm A Local Beach House Café: Catering to the breakfast needs of locals year-round and always welcoming tourists during the prime time summer season, I'm A Local Beach House Café serves delicious breakfast items all day long and lunch selections after 11:30am. Their food selection is timeless, including slow-cooked oatmeal paired with berries, omelettes that can have any filling you please and pancakes or waffles that are always cooked to perfection.
While their location is not considered "prime real estate" because it is not in a highly trafficked area for tourists, the locals love this breakfast spot nonetheless. They know that they can show up anytime during the restaurant's operating hours and be seated almost immediately. There is hardly ever a wait and if there happens to be one, chances are it won't be long before you have a hearty plate of food placed in front of you!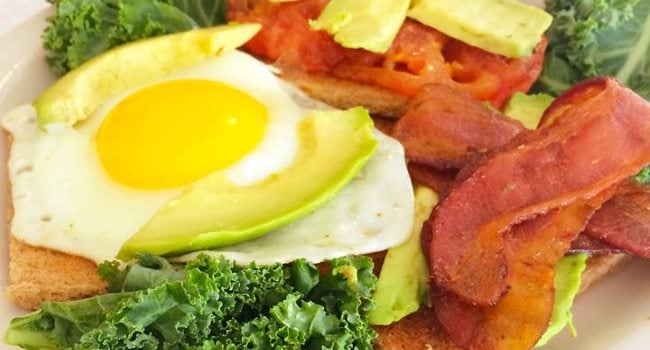 I'm A Local Beach House Café
300 Broadway, Point Pleasant Beach, NJ 08742
732-899-0600
Are you one of those people that hate cooking on the weekend and would make your way to one of these Jersey Shore breakfast joints? Which one do you think you would want to visit? Let us know in the comments!
If you are not exactly an early bird and would rather learn about the late night restaurants in your area, check out this guide to the top 5 restaurants in NJ that are open 24 hours! It doesn't matter whether it is 2pm or 2am, you'll be sure to get a great meal any time of the day at the Jersey Shore!
Check out our NJ Beach Guide for all things to do by the shore!