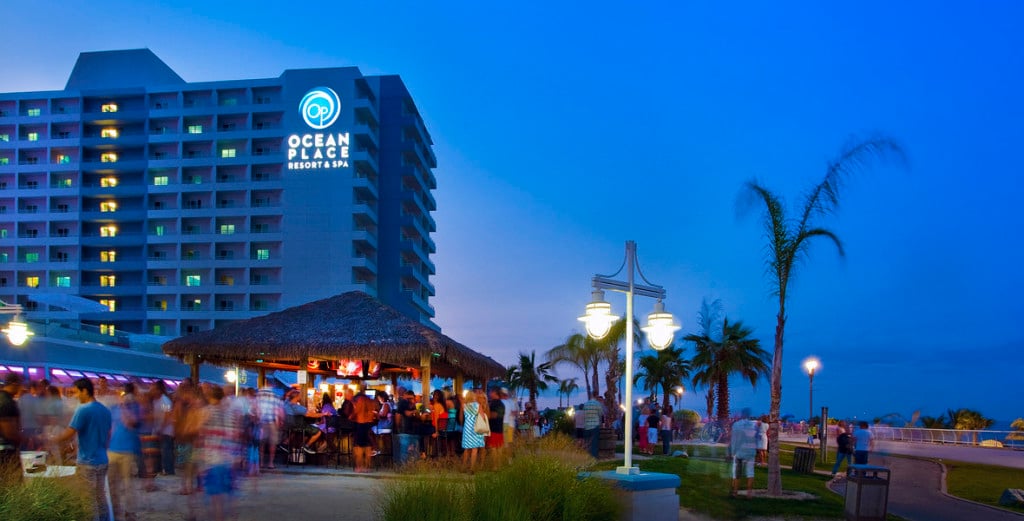 Right on Long Branch's beach in the illustrious section of Pier Village is one of the most popular resorts in all of New Jersey. Locals may know is at Ocean Place, but for some, it's more commonly known as "our wedding venue." It's true – very few places in or around Long Branch host as many weddings, events, and upscale resort brunches as Ocean Place. If you're looking for a place to lie in the lap of luxury, this is a great choice. Here's what you should know…
Rooms To Adore 
The Ocean Place resort is one of the largest resorts in the area, and has a towering hotel visible from about ½ mile around. There are currently over 100 rooms in the hotel, many of which have special amenities to add yet another layer of luxury to your resort experience.
Currently, the Ocean Place boasts eight different kinds of rooms…
The Luxury Partial View Room – Is a cozy yet upscale room that has a gorgeous morning view and a South Beach-inspired décor theme. Each room in the hotel comes with wifi, pet friendly room options, a refrigerator, a private bath, and a wall-mounted 42-inch HD TV.
Two Queen Beds Luxury Partial View Room – For families traveling together, or friends who don't mind bunking in luxury, this upgrade two-bed version of the Partial View room is the best choice.
King Luxury Coastline View Room – Wake up to a beautiful morning of watching waves lapping on the beach in this gorgeous room. This room has a work area, a walk in show, an iHome Docking Station, a king bed and a work area.
The Luxury Ocean Front View Room – This room offers two massive queen beds with luxury bedding, direct ocean views, a private bath, ample closets, and a gorgeous view of the ocean front.
The King Luxury Ocean Front View – If you want to have a king bed with all the amenities of the Luxury Ocean Front View Room, this is a great pick.
The Luxury Coastline View Suite – This suite comes with a king bed, a walk-in shower, a parlor area with a living room, kitchen and dining table set for four. Did wee mention the perfect coastline view that comes with it?
Luxury Oceanfront Suites – These massive suites come with up to three bedrooms, a living room, a dining table, and king beds in each room. Wow!
The Presidential Suite – These rooms are available on the top floor of the hotel, and come with up to three different bedrooms. It has a dining table for 8, panoramic views,
Logistics Are Taken Care Of
Its close proximity to Pier Village and its breathtaking beachfront views make it an ideal hotel for those who want to get married, offer people a way to unwind when festivities aren't taking place, and also opt for an easy to reach destination. While parking in Long Branch can be difficult at times, visitors don't need to worry, since parking is free with your room – and there's plenty of it to be had.
The Spa
A large portion of the resort's fame is their spa, which features luxury treatments that cater to a wide range of people. The hotel has a indoor pool and whirlpool for all hotel guests to enjoy, but the fact is that there's just so much more to their spa than just that. After all, you don't become one of New Jersey's top spas for nothing. In fact, the Ocean Place is where Long Branch, NJ locals go to be fabulous.
Spagoers get to enjoy treats like spray tans, salt scrubs, massages, facials, foot therapies, and detoxifying masks – all in private treatment rooms. The spa has gotten critical acclaims for their excellent services, including their prenatal packages. To make things even better, in-room spa services are also available for those who want to stay in and chill out.
Dining And Drinks
Pier Village restaurants aside, the Ocean Place has quite a few choices for guests to enjoy nearby. The Seaview Restaurant and Lounge is known for delicious seafood, decadently grilled steaks, and incredible upscale service. The Sirena regularly ranks as one of the best bars in NJ.
They may be most famous for their champagne brunches, which feature an omelette station, champagne, steak, and a variety of mouthwatering foods in an all-you-can-eat buffet style spread. However, brunches are only available once in a while, but it's always worth it!
Drinks are also served in two separate bars. Aquaviva Bar offers an elegant getaway for folks who love poolside drinks and bonfires. The Tiki Bar is more well known for being a great casual outdoor bar with ice cold drinks and a nice array of different choices of entertainment.
Weddings And Events
The Ocean Place has a lot of experience in holding events in and around the resort building. It's very likely that you will be able to get a bonfire going at your wedding, a DJ, and house catering if you ask them. So, holding an event here is never an issue.
The Bottom Line
It's been a Long Branch landmark for a long, long time, and it's been working wonders in both private and public events for years. If you're lucky and wealthy enough to hit up the Ocean Place, you're sure to be pleased!
Information:
Address: 1 Ocean Blvd, Long Branch, NJ 07740
Phone:
(732) 571-4000
Site