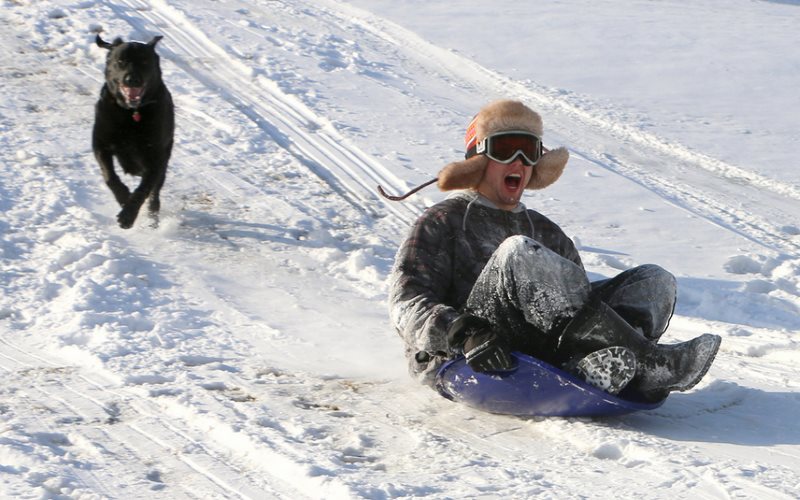 When thinking of the Jersey Shore, you normally imagine sunny, sandy beaches. The truth is, winters can be brutal in New Jersey, with cold weather and heavy snowfall. Rather than sitting inside all winter, why not grab a sled and hit the slopes? Parents probably remember being able to go sledding just about anywhere without getting chased away. Now, many parks and public areas have banned sledding for trespassing and safety reasons. Check out our guide of the best parks and public places on the Jersey Shore that allow sledding. See you out there this winter!
State and County Parks
New Jersey takes great care of its park systems. Recreation areas are a fun and safe place to go sledding because parents don't have to worry about cars or oncoming traffic. Take advantage of these parks during the cold weather for wintertime fun!
Monmouth Battlefield State Park: Guests are welcome to check out this Manalapan park every day from 8am – 4:30pm. Cross country skiing is also allowed on the premises.
Monmouth Battlefield State Park
16 New Jersey 33 Business
Manalapan Township, NJ 07726
Cheesequake State Park: The hill adjacent to Hooks Creek Lake is perfect for sledding. Come by for winter fun every day from 8am – 4:30pm.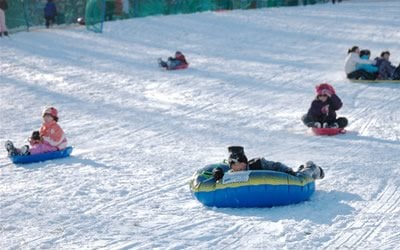 Kids enjoy a winter day at Holmdel Park.
Cheesquake State Park
300 Gordon Road
Matawan, NJ 07747
Holmdel Park: This park in Monmouth County is famous for sledding. It is a supervised sledding area that opens up when two or more inches of snow cover the ground. Come by from 8 AM – 7 PM on Sunday through Thursday, or 8am – 9pm on Friday and Saturday.
Holmdel Park
44 Longstreet Rd.
Holmdel, NJ 07733
Wolf Hill Park: When a park has "hill" in its name, you know it has to be good for sledding. This recreation area opens daily at 7am. It closes at 5:30pm until January 13, 6pm until February 8, and 6:30pm until March 9.
Wolf Hill Park
3 Crescent Pl.
Oceanport, NJ 07757
Oak Glen Park: The sprawling fields of Oak Glen Park in Howell are perfect for snowball fights when the snow falls. There is also a large hill between the library and the police station that many people love to use in the winter for sledding.
Oak Glen Park
275 Old Tavern Rd.
Howell, NJ 07731
Ocean County Park: Ocean County doesn't have too many sledding places, but the Ocean County Park in Lakewood is available for sledding when there's snow on the ground.
Ocean County Park
700 Ocean Ave.
Lakewood, NJ 08701
Windward Beach Park: This Brick, NJ sledding hill is right on the beach. In the summer, guests can go crabbing and fishing. In the winter, you might want to trade in your fishing pole for a snow tube.
Windward Beach Park
265 Princeton Ave.
Brick, NJ 08724
Veterans Memorial Park: Hazlet, NJ's Veterans Park features several sledding spots. The best place to go sledding is behind the Swim and Tennis Club.
Veterans Memorial Park
1766 Union Ave.
Hazlet, NJ 07730.
Schools
Who wants to go to school on a snow day? Sledding is still a pretty good reason to show up at school, even when class isn't in session for the day. These campuses in the Jersey Shore area are known by students and their parents for great sledding.
Aldrich Elementary School: Aldrich Elementary School may be Library Hill's rival for best sledding spot in Howell, NJ.
Aldrich Elementary School
615 Aldrich Rd.
Howell, NJ 07731
Central Regional High School: This is a large regional high school with even larger sledding hills. Residents of Ocean County often head to this Bayville, NJ high school for some of the best sledding in the area on snowy days.
Central Regional High School
509 Forest Hills Pkwy.
Bayville, NJ 08721
Atlantic Highlands Elementary School: The Atlantic Highlands is one of the hilliest towns on the Jersey Shore. No wonder they have such good sledding. The hill behind the Highlands Elementary school is perfect for sledding.
Atlantic Highlands Elementary School
140 1st Ave.
Atlantic Highlands, NJ 07716
Lillian Drive School: This elementary school in Hazlet, NJ has a great hill in the woods behind the buildings. Come test them out!
Lillian Drive School
28 Lillian Dr.
Hazlet, NJ 07730
Miscellaneous Spots

There are some great places on the Jersey Shore that aren't parks or recreation areas, but still allow sledding. Even though these are well-known sledding grounds, please remember to exercise caution and go sledding with a parent or friend.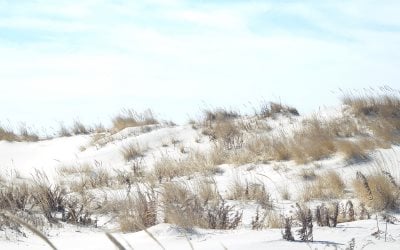 Cemetery Hill: is a great sledding hill off of Route 36 in West Long Branch located behind the Aldi Supermarket. Parents can do some quick grocery shopping while their kids play on the slopes!The hill overlooks the Glenwood Cemetery and Shore Regional High School.
Cemetery Hill
200 State Hwy. Rt. 36
West Long Branch, NJ 07764
Point Pleasant Canal: This small but fun hill near the bridge in Point Pleasant, NJ is great for younger kids who might not be ready for the big slopes.
Point Pleasant Canal
Intersection of Route 88 and Bridge Avenue
First Energy Park: The home of the Blue Claws in Ocean County, NJ isn't only for baseball spring time fun. When they did construction on the stadium, they piled all the excess dirt in one spot. This hill is huge!
First Energy Park
2 Stadium Way, Lakewood, NJ 08701
Castle Park: This playground has little sledding hills that are perfect for preschoolers and kindergartners.
Castle Park
N Bay Ave.
Toms River, NJ 08753
Even though you can't lay out on the beach when it snows, that doesn't mean the fun ends on the Jersey Shore. When the weather turns cold and the snow starts to fall, grab a sled and head to the nearest sledding hill. Did we miss your favorite sledding spot? Let us know!