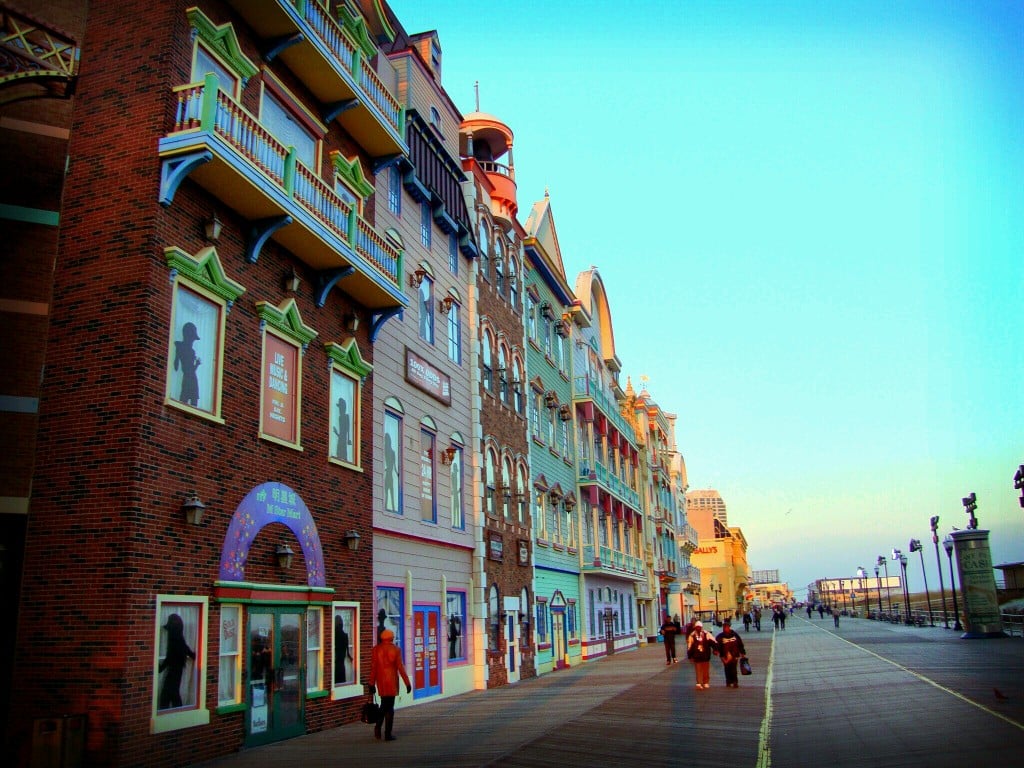 Las Vegas is known for beautiful women who may or may not be partially plastic or silicone, being home to a plethora of casinos, and also having one of the most decadent nightlife scenes in the world. In New Jersey, we don't have to travel too far to get a taste of Vegas. After all, we have Atlantic City.
Tourism All Started With The Boardwalk
New Jersey's boardwalks are known as iconic pieces of local culture and history – and nowhere better represents this fact than Atlantic City. Since 1870, people have been strolling up and down the boardwalk of Atlantic City during the summer months. The fact that it was built so long ago shouldn't be too shocking; it's the oldest boardwalk in US history.
What may surprise you about this boardwalk, though, is the fact that it wasn't meant as a tourist destination at all in the beginning. At the time, Atlantic City hotels had become a posh place to take the family, as well as a popular place for couples to go to for fun. The area, which was known for massive hotels, high quality amenities, and luxurious restaurants, also had a major problem.
The sand from the beach was getting tracked into every single venue – often destroying carpeting and hardwood flooring in the process. Sand was such a problem that even trains were being affected. As a result, people petitioned for a solution, and by 1870, the first boardwalk in America was born.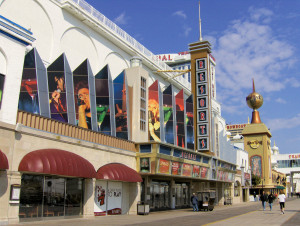 Within a matter of only a decade, the boardwalk was rebuilt and transformed into its own unique little center of commerce. By 1880, Atlantic City was officially opened as both a city and as a resort town – and the boardwalk quickly became its star attraction.
By the 1900's, the population of Atlantic City boomed to over 25,000 people. Along the boardwalk, dozens of theaters, businesses, hotels, and entertainment venues established themselves. Specialized entertainment piers also became de rigueur at the time. Performing in Atlantic City became a bragging right among Vaudeville actors, singers, dancers, and entertainers of all sorts.
Some of the more well known AC entertainment acts at the time included the following:
• Dr. Coney's Premature Infant Exhibit – We suppose that everyone satiated their inner ghoul with this place prior to the establishment of Ripley's Believe It Or Not!
• The Diving Horse – This is exactly what it sounds like. Someone trained a horse to dive into a pool of water.
• Various Side Show Acts – These acts ranged from Vaudeville performances to old school freak shows.
• Marathon Activity Competitions – During the turn of the century, well into the 1920's, competitions to see who could do something for the longest time were a popular activity. Marathon dancing and kissing competitions quickly became AC attractions.
AC's future seemed bright, and many people today often liken the spirit of Atlantic City's boardwalk to the same high-entertainment, high-action vibe of Las Vegas's infamous Strip.
The Miss America Pageant
No historical account of Atlantic City would be complete without the inclusion of the Miss America pageant. The pageant originally began in 1920 as the "Fall Frolic" – a way to extend the city's tourism season past labor day. City officials teamed up with newspapers and ran "photography popularity" contests, which in turn, awarded the winners with tickets to the Frolic.
Once they were there, women who attended were put in the very first beauty contest of its time. The ladies were judged on looks as well as personality. The winner of the pageant was crowned the "The Most Beautiful Bathing Girl In America," and was awarded a Golden Mermaid trophy. By 1921, she just became known as Miss America, and the traditional prize of a trophy, a tiara, a sash, and a scepter became sealed in history as classic beauty pageant fare. By 1940, the prize also included scholarships.
Oddly enough, the oldest portion of the pageant is not only the personality portion, but the bathing suit portion as well. Other outfits and portions became added to the mix as a way of getting more footage for media outlets at the time. Talent, for example, was added in 1935. Within a matter of years, the Miss America pageant actually did become a national competition. It also was a competition that quickly gained national recognition and prestige.
Since the 20's, competition quickly became increasingly steep. Some of the competition often came with allegations of "pageant-fixing," as well as discoveries of contestant qualities that had them disqualified. Some of the earliest disqualifications were based on marital status – all Miss America contests have to be single, never married women.
By the 1940's and 1950's, Miss America was viewed as a role model by most people in the US. Miss America wasn't only supposed to be physically beautiful; she was supposed to be kind, caring, a great citizen, and the woman that every woman wanted to be. She was also expected to do volunteer work on behalf of the pageant name, too. Soon, Miss America became a scholarship program as well as a tourist attraction.
In terms of location, the earlier Miss America pageants were set on the boardwalk's Steel Pier. By 1940, the pageant's permanent home became the Convention Hall of Atlantic City. Since the 40's, only a handful of Miss America pageants ever were held outside of the Hall – and the majority of them were held in Las Vegas.
The Beginning Of AC Casinos
If you ask almost anyone why they're going to Atlantic City, it most likely has to do with something related to gambling, or that they want to stay in a luxury hotel that just so happens to house a casino inside it. Believe it or not, the inclusion and addition of casinos to the Atlantic City boardwalk is still a relatively new trend in local tourism.
For almost three decades after WWII, Atlantic City struggled with regaining the booming tourism industry of the 1920's. It quickly turned into a quieter town that was often left in a mild state of disrepair. During the post war era, Atlantic City became less known as a hyper-luxury hangout, and more known as a beach side attraction town that was similar to Point Pleasant.
The lack of Atlantic City's distinction as a luxury beach town did hurt local tourism as well as local businesses. As a result, many businesses suggested that the city offer a gambling section to raise more money and attention to the town's tourism. It took quite a long time for the town's board to agree!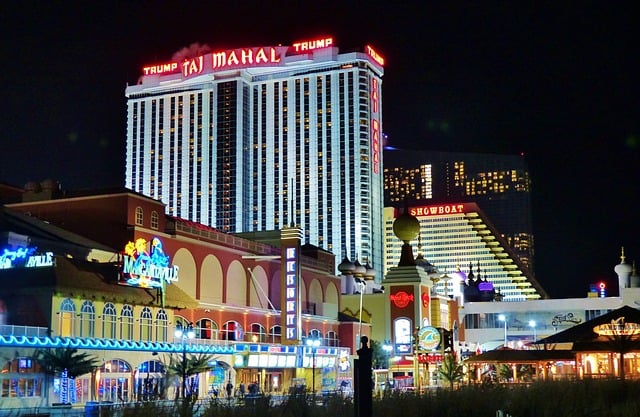 In fact, the first casino to have opened in the city was Resorts in 1978, in the uptown district of the city. Prior to the late 70's, there had been three unsuccessful attempts to bring legalized gambling to Atlantic City. It was only due to the financial push from the owners of Resorts Inc that the town had agreed to allow them a gambling license. When Resorts first opened its doors as a casino, they were only legally allowed to operate for 18 total hours during the week, and 20 hours during the weekends. In spite of the extremely small amount of legally allowed working hours, Resorts flourished, and a slew of other casinos were quick to join in the new gambling district, and laws soon relaxed.
Within a matter of years, several major casinos joined Resorts as neighbors on the AC skyline. In 1979, both Bally's and Ceasars opened in midtown Atlantic City. 1980 saw the birth of Harrah's, Sands and the Atlantic Club. By the mid-80's, the Atlantic City boardwalk saw five more casinos open up. Some of the names that had become established in the area included the Borgata, Playboy Hotel and Casino, Atlantis, and the Golden Nugget.
For decades, New Jersey's Atlantic City was one of the only places on the East Coast to offer gambling legally. This in turn caused the industry to thrive, and further cemented Atlantic City as a major tourist destination.
Atlantic City Scandals
No discussion about Atlantic City's Vegas-like image would be complete without a little bit of controversy and scandal thrown into the mix. As luck would have it, AC has had plenty of controversies throughout its years –legalization of gambling excluded, of course.
As one would expect, there have been a number of scandals associated with Miss America. Suspicions and allegations of crooked behavior by the judges, protests suggesting that it demeans women, as well as allegations of cheating by contestants have occurred throughout the pageant's existence.
Casinos in particular had their fair share of scandal in the past couple of decades. The Borgata, for example, was the spotlight of an illegal gambling book scandal associated with the mafia. Multiple casinos also came under fire for pressuring women to maintain a certain weight or dress size. In more recent years, Ray Rice's domestic abuse scandal happened in an AC casino. In the 1970's, a crucial part of Abscam also happened in Atlantic City.
In other words, there's plenty of scandal, entertainment, and beauty queens to keep Atlantic City as the most glamorous casino town on the East Coast.
See a list of Casinos in NJ.