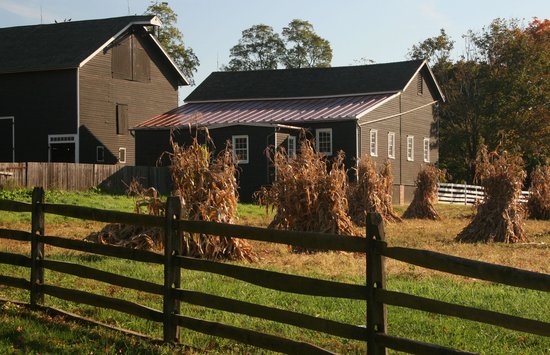 These days, many parents are worried that their children feel detached from nature. With the ever-ongoing urban sprawl, many children throughout New Jersey will likely grow up without much idea of what life on a farm is like. Luckily for people in and around the Monmouth County area, there is one public park that gives kids and parents alike a better look at what it's like to be a farmer…or at least, what it used to be like back in the 1900's.
Longstreet Farm, located in Holmdel, is the perfect fusion of nature and history. As part of the Holmdel Park area, guests have the option of enjoying the massive lake, the myriads of nature trails, the breathtaking arboretum, as well as a number of other amenities. And, if they are looking to get a good history lesson, they'll choose to stroll through the Longstreet Farm museum.
The Longstreet Farm portion of Holmdel Park isn't just a recreation of what historians would say a typical farm looked like at the turn of the century. Rather, it's a real farm that has been preserved and restored to its former glory. For families with young children, this is one of the best places to go to explore history, animal life, and of course, a world of family fun.
At the entrance of the Longstreet Farm museum is a small house holding real life artifacts from the turn of the century, including swimsuits, carriages, and even household items. On most weekends, clothed reenactors will teach students, toddlers, and parents about the history of the farm, as well as the tools that the family used to maintain the farm.
Meet Real Barnyard Animals!
For kids, much of the appeal isn't only the cool history behind the farm – it's the fact that the farm is still active and has real barnyard animals that they can interact with. Kids can see horses, chill out with sheep, milk cows, hang out with piggies, and even feed chickens. In recent years, Longstreet Farm also added a couple of new animals, including peacocks and Guinea fowl. If you or your child has ever wanted to be face-to-face with real animals they otherwise wouldn't get to meet, Longstreet Farm is an amazing place to go.
It's important to note that most of the animals are fenced in. This is for the safety of both young children and for the animals themselves. However, there are special occasions, events, and hosted classes in which guides will open up some of the fences so that kids can have a better look at the animals.
Take A Tour Of The Farm House
For children who love to check out history, taking a tour of the Holmes-Hendrickson House is a great way to go. This house was built in 1754, and has all the traditional furnishings, decorations, and architecture of a home from years past. For historical accuracy purposes, the home has been kept and preserved in the stylings of a home from the 1890s.
Some of the more interesting things that kids might spot in the home itself include…
• An 1890's copy of the Sears-Roebucks catalog.
• A real spinning wheel
• An up close and personal view of the servants' quarters, as well as a the ability to explore the master bedroom.
• A look into an 1890s dining room.
• Real wood burning stoves
There are other buildings that surround the home that are also worth checking out. The horses' stables can provide a good view into equine upkeep during the good ol' days, while the blacksmith shed often hosts regular demonstrations.
Educational Programs
The best part about Longstreet Farm is that there are always educational programs available to families who want to learn more. Here are some of the more frequent classes and programs you might find at Longstreet.
1) Blacksmith Demonstrations – Several times during the summer, a local blacksmith will demonstrate how the tools were used to create items back in the day.
2) Music Demonstrations – Come and enjoy music from the 1890s!
3) Morning Chores Class – Teach your kids about how life was lived in the 1890s with this riveting class. With this program, kids will learn how to milk a cow, how to collect eggs, and how to perform the daily duties that came with farm life back in the day.
4) Harvesting Days – There are multiple events that are dedicated to harvesting at Longstreet Farm. During the potato harvest, kids get to learn about how potatoes are grown and harvested. During the Harvest Festival, kids get to enjoy a full immersion in the culture and celebration traditions of the late 19th century.
It's Very Kid Friendly
The Longstreet Farm museum is a great place to bring kids of all ages, especially if you want to have fun that also can capture the curiosity of parents, too. It's a great place to go during both the summer and fall seasons, so make sure to take a trip today.
Longstreet Farm is open daily year round from 10 a.m.-4 p.m. Visitors may enter at their leisure, free of charge. From Memorial Day through Labor Day the farm is open from 9 a.m.-5 p.m. Pets are not permitted within the farm.
Historic Longstreet Farm
50 Longstreet Rd, Holmdel, NJ 07733
732-946-3758
See other fun farms to visit with kids in New Jersey.