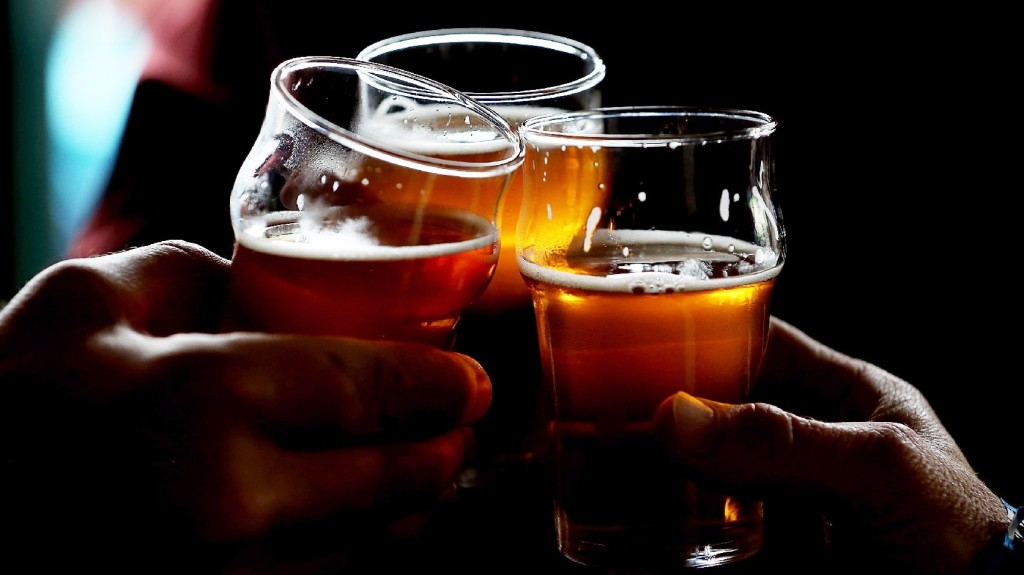 A special shoutout to MetNights magazine for making this possible. Check them out!
North Jersey's unique nightlife scene has become infamous for its hotspots in days past. Even today, driving on 46 means that you're gonna pass at least one or two amazing places to get drinks, eat great food, and dance the night away. Back in the days of the 80s and 90s, one of the hottest places to party was Mother's – a nightclub found in Wayne. One local business owner by the name of Rob Corujo decided to pay homage to his favorite hangout spot with a new restaurant and pub called Mother's Ale House.
A One-Of-A-Kind Venue
The first thing that you'll notice about Mother's Ale House is that it's hard to miss, even though it's not on Route 46 or Highway 23. The venue is a redone inn boasting color-changing luminescent windows, a massive dining hall, a bar with over 100 televisions mounted just about everywhere, and a very eyecatching wooden wall motif highlighted by colorful LED lights. In a nutshell, the venue is a breathtaking "farmhouse meets nightclub" restaurant with ample spacing, comfortable seating, and what may just be one of the most imaginative and surreal decoration themes you'll see in the state.
Even though the restaurant has only been open since July 4th weekend, it's almost always packed. The buzz was naturally generated when they saw the building alone, but when the food and beers began to roll out, it was an even bigger success.
The Incredible Drink Selection
Taking a cue from the original nightclub, Mother's Ale House offers an extremely impressive array of different domestic and imported beers. Boasting 50+ beers at any given time, chances are high that they will have at least one or two beers that will make your tastebuds go "Wow!" As you'd expect, beer is always served cold.
As you would also expect from a pub with a nightlifey background, Mother's Ale House also is about to roll out with some absolutely decadent drinks. Their Mint Chocolate Chip Martini, for example, tastes identical to the ice cream flavor that carries its name, and even comes with a nice cherry on top. Their Strawberry Mojito is also a good option for those who want to really get a light, sweet, and refreshing drink.
Pub Fare The Way It's Meant To Be
One thing that is quite difficult to find is pub fare that actually manages to be what pub fare is supposed to be. Pub fare is often greasy, unsatisfying, "drunchies" food that is often slopped together and served as an afterthought to drinks. Or, it turns into gastropub fare, which, while elegant and tasty, typically doesn't contain the old school deliciousness that true pub fare is supposed to have. Mother's Ale House may just be one of the very few Northern Jersey venues that offers old school pub fare at an exceptionally high level of quality.
For those who really want to sink their teeth into a meaty, satisfying appetizer, we can't help but suggest their BBQ Pulled Pork Sliders. The sliders aren't just the perfect size, but also manage to attain that perfect spicy-sweet flavor that people crave while also giving people the tenderness of a well-cooked pulled pork sandwich. When served with their crispy (but not greasy) onion rings, you have what can only be described as a winning combination.
If you're in the mood for wings, Mother's Ale House will give you a real treat. Their wings aren't the typical greasy chicken wings drowned in sauce, nor are they the "dry as the Sahara" wings that often are difficult to bite into. Instead, they are crispy on the outside, juicy on the inside, and perfectly coated with one of half a dozen sauces. If you love spicy, their traditional Buffalo sauce is great. If you love savory sauces that bring out the flavor of fresh chicken, their Bada Bing sauce is a perfect choice.
However, as good as their traditional pub fare is, what really makes them stand out are the Latin-inspired entrees that they offer. Steve Solano, who heads the kitchen, created these dishes to combine the best of both world – Western traditional pub fare with Latin cuisine influences. The final effect is nothing short of breathtaking.
For example, their Salmon and Asparagus Salad delivers the crispy, flavorful punch of Latin-Caribbean salad while balancing the entire meal with a tangy salad filled with mouthwatering bursts of flavor in every bite. You can taste the nostalgia and love of the Latin cuisine in every single mouthful, and it tastes incredible.
Something For Everyone
What really sets Mother's Ale House apart from most other pubs is that it's not homogenized at all – in terms of food, entertainment, or drinks. There's something for every palate and every age group at Mother's. In fact, they even have a pretty affordable kids' menu, too.
Expect great food, incredible service, and one of the most delightfully unique settings in North Jersey when you go here. FunNewJersey and Metropolis Nights approve!