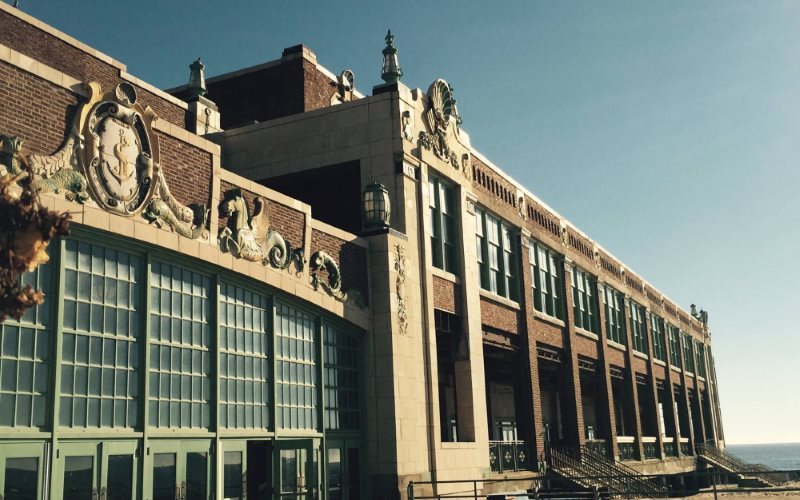 Convention Hall, an iconic Asbury Park landmark, sits at the northern end of the boardwalk.
New Jersey residents who grew up in the Garden State during the 1970s might initially recoil at the prospect of a night out in Asbury Park. Why would anyone voluntarily hang out in a seedy area like Asbury Park?
If you drive down Main Street on a Saturday night, you might be surprised by what you see. Hip young women outfitted in stylish leather jackets and black ankle boots disembark NJ Transit at the Asbury Park Station, headed towards Cookman Avenue. Bearded hipsters sip PBR and Rolling Rock from mason jar mugs at Bond Street Bar, a tableau more reminiscent of Brooklyn than Asbury Park. Hungry teenagers can go for Korean fusion tacos until 3 am at MOGO, while their parents are probably sipping cocktails and enjoying live music at Langosta Lounge. A few blocks away on Ocean Avenue, rock fans are enjoying a show at the legendary Stone Pony.
Asbury Park is one of the most unique places in New Jersey. Its mile-long beach is a regular destination for locals and tourists to enjoy a relaxing day on the Jersey Shore. Sunbathers lay on the edge of Monmouth County's most interesting town, but many of them might not realize how fascinating its history really is. Since its founding in the late 19th century, Asbury Park has experienced a roller coaster of development, decay and rejuvenation.
History
The town was founded in 1871 by James A. Bradley, a manufacturer from New York City. He named the town after Francis Asbury, the first bishop of the Methodist Episcopal Church of America. Bradley's vision was to create a thriving residential resort town. In the beginning, he got his wish. The Asbury Park Boardwalk featured pavilions, public changing rooms and a pier. An orchestra pavilion was also constructed along the waterfront. In 1888, German developer Ernest Schnitzler installed the gorgeously ornate Palace Merry-Go-Round, which would later become the Palace Amusements complex. Locals know it better as the home to the infamous Tillie.
Asbury Park also enjoyed booming infrastructure and real estate development during this era. From the beginning, it featured electric service provided by the Atlantic Coast Electric Company. The Plaza Hotel and the Berkeley-Carteret majestically stood watch over this seaside city. Beautiful Victorian homes sprang up throughout the town in the 1890s.
The Asbury Park Convention Hall was built along the boardwalk in 1930. It housed a grand arcade that connected it to the Paramount Theater. The Casino Arena was another distinct feature of Convention Hall, which provided a space for live music and entertainment. Waves lapped against its wooden support beams as it anchored the southern end of the boardwalk.
Both the oceanfront and downtown area saw bustling retail and commercial activity. People from the tri-state area and beyond flocked down the shore to dine, shop and stroll the boardwalk. By the early 20th century, Asbury Park cemented itself as New Jersey's premier tourist destination, with nearly 600,000 summer visitors annually.
What made this small ocean-side city so desirable?
Besides its burgeoning development, Asbury Park secured its reputation as an exciting tourist destination. On September 9, 1934 the S.S. Morro Castle caught fire and exploded while sailing to New York from Cuba. The still-blazing cruise ship ran ashore merely 200 yards away from Convention Hall. The doomed ship quickly (and morbidly) became a major tourist attraction. This tragedy weirdly brought tens of thousands of curious visitors to Asbury Park. Ocean and Kingsley Avenues were converted into one way streets for the summer, forming a circuit for cars to access viewing to the wreck. This grisly sightseeing event drove commerce and tourism to the city. Asbury Park's reputation was thus solidified as a Jersey Shore tourist destination.
Asbury Park also attracted tourists due to its convenient location. In the late 19th and early 20th century, tourists relied primarily on trains to travel long distances for vacations. The former New York and Long Branch Railroad shuttled vacationers from New York and Northern New Jersey down the Jersey Shore. A popular stop was, of course, Asbury Park. Vacationers from Philadelphia and its surrounding suburbs were able to access Asbury Park via branches of the Pennsylvania and Central Jersey Railroads. Real estate is all about location, location, location, and Asbury Park was situated in a prime spot. The seaside city was closer to New York than Atlantic City. At the time, it was also more developed than Wildwood, which did not enjoy its own commercial boom until the 1950s. It seemed that Asbury Park was poised to take over the Garden State.
The beginning of its decline

As New Jersey marched through the 20th century, it left its crown jewel of the shore behind. When the Garden State Parkway opened in 1947, tourists were no longer constrained to mass transit for summertime amusement. They were free to explore other seaside towns and resorts farther away. As a result, Asbury Park was no longer New Jersey's default summer destination.
Asbury Park fought with numerous rival attractions over the years to maintain New Jersey's attention. The Garden State Plaza opened in 1957 in Paramus. This Northern NJ mall had 90 stores during its first year, including J.C Penny, Gimbals and Bamberger. It drew business away from nearby towns. Not as many Northern New Jersey residents needed to go shopping in Asbury if they had everything they needed in their own backyard. Similarly, the Monmouth Mall opened a mere 10 miles away from Asbury Park in 1960. This shiny new commercial center took retail business away from Asbury. Six Flags Great Adventure, conveniently built near the New Jersey Turnpike and I-195 in 1974, attracted people with its roller coasters and drive-through safari. It appeared as though New Jersey had tired of its once-favorite vacation destination.
When the tourism industry started to shrivel up, the town dried out along with it. Asbury Park was no exception to being a victim of post-war urban sprawl. Many middle-class residents flocked to the suburbs, chasing after fresher air and more spacious backyards. Newly-minted industrial parks and office complexes encouraged residents to move inland for an easier commute. Tourists and residents alike were no longer captivated by the enchanting resort town.
The Riots of 1970

From the beginning, Asbury Park was a diverse town. Much of its tourism industry relied on working-class minority laborers. Like the rest of pre-Civil Rights America, Asbury Park was racially segregated. Its black population experienced exclusion, poverty and the looming presence of the KKK throughout the 1960s. As the area's tourist appeal (and money) dwindled, racially-motivated anger rose.
As with the rest of the nation, race relations were bleak and tension was high. The black community had been advocating for equal civil rights, particularly in the form of education, job training and recreation programs for urban black youth. Most of these needs had been unanswered or refused. Most of Asbury Park's black residents lived on the west side of town, primarily in the area surrounding Springwood Avenue. According to an article published in the Christian Science Monitor later that year, Asbury's black teenagers were frustrated over discrimination in securing summer employment. The majority of the decent summer jobs went to white kids from other towns who were vacationing or commuting for the season, rather than to the city's own young black residents. They were frustrated because many of their parents came to Asbury Park in the first place to work in the hotels and restaurants, and now they couldn't secure employment.
July 4th, 1970 was a scorching Saturday. The West Side Community Center held a youth dance for the holiday weekend. Still frustrated about the systemic inequality and economic discrimination pervading the town, a group of black teenagers had had enough. The incident started with a few broken windows. The vandalism escalated to full-scale rioting. By that Monday, the violence escalated to fire bombs and looting. Most business and apartments on the west side of Asbury Park, especially on Springwood Avenue, went up in flames. However, the worst was yet to come.
On Tuesday, July 7th, Asbury's black community leaders met with the city council to address their demands, including employment opportunities for west side youth and African American representation in local legislature. Later that night, more fighting erupted between the city's black youth and riot police. The angry mob headed towards the railroad tracks, seeking to cross over onto the city's east (white) side. The NJ State police force met them with guns and riot gear. The 150-man police force was able to contain them, but not before inflicting gunshot wounds on 46 people, the youngest being just 14 years old. Rumors also circulated of police brutality towards women and children. The city itself continued to burn.
The chaos and destruction continues
By Wednesday, many black-owned businesses on Springwood Avenue, including a grocery store and a hair salon, had been ransacked by looters and gutted by the flames. State police were still visible, their presence menacing to Asbury citizens. An 8:30 PM curfew was instituted for all, save for the specially-permitted community leaders who were distributing aid and attempting to deescalate the crisis.
On Thursday, July 9th, NJ Governor William T. Cahill toured the embattled town. He urged President Nixon to declare Asbury a major disaster area. Nearby Neptune Township was also placed on curfew. Fifteen miles to the north, potentially violent activity was quelled in Red Bank. Fifteen people were arrested over the course of three nights for minor vandalism disturbances, such as smashed windows on Shrewsbury Avenue. The disturbances were swiftly met by Middletown's Tactical Police Force, and 9 PM curfews were imposed. City officials attributed the incidents as a copycat response to the riots in Asbury Park.
The aftermath: A city in ruins

Although the black community's demands still had not been met after nearly a week's worth of meetings, the rioting died down by Thursday night. Perhaps there was nothing left to destroy. All told, there were 167 arrests and almost as many injured. There was over $4 million in property damage. The entire west side business district was gone, and countless families lost their homes. Once a whimsical seaside resort, Asbury Park was now a war zone.
Crime and corruption
Things only got worse for this ruined seaside city. Its middle-class residents fled the east side after the riots.  Those on the west side that could leave, did. The city was trying to find a buyer for the boardwalk, which now laid unwanted and decaying on the sand. Many of the amusement centers and attractions shut down. On the west side, vacant lots sprouted weeds where businesses once stood. The beautiful Victorians were boarded up.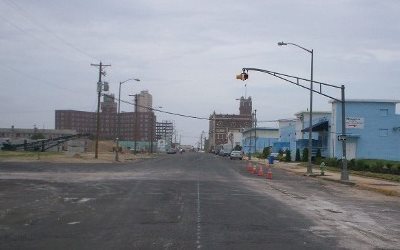 When New Jersey closed many of its state mental hospitals in the mid-1970s, thousands of former patients were left with nowhere to go. So they flocked to the dingy boarding houses and cheap motels of New Jersey's most vulnerable cities, including Asbury Park. Vandalism, prostitution, drugs and gang activity were rampant.
Corrupt politics and inefficient government plagued Asbury Park in the years following the riots. Bribery, drugs, and scandals were the norm until the early 2000s. The Board of Education didn't know how to implement social welfare programs and raise student performance. In the late 80s, an initiative for affordable, low-income housing was put in hold. Atlantic City and Wildwood were growing more popular, drawing industry farther south down the coast. It seemed that everyone had given up on Asbury Park.
That Jersey Shore sound
Despite its sociopolitical turmoil in the mid-20th century, Asbury Park held fast to its music scene. In the 1960s and 70s, the sounds of doo-wop, rock and roll and rhythm and blues drifted out on to the streets from the bars and clubs. Deserted by tourists, this beat-up little city was the perfect stomping ground for misfit musicians who, at the time, had no idea they were shaping the iconic bluesy rock that New Jersey is now famous for. Scrawny, working-class teenagers flocked to Asbury to be part of the scene.
In 1967, a young man from Central New Jersey moved into an old surfboard factory on the outskirts of town and played every dinky bar and club up and down the shoreline. He drew inspiration for his first album in the city and named it Greetings from Asbury Park. Like many well-known musicians, Bruce Springsteen got his start playing at dives in this gritty little town in the late 60s and early 70s. He frequently haunted Springwood Avenue and the numerous rock clubs that sprang up around the time of the riots. Other notable acts, including Bon Jovi and Southside Johnny and the Asbury Jukes, also got their start here. While the streets were near death, rock and roll continued to be Asbury's beating heart.
Asbury Park in the 21st century

Asbury Park attempted to revive itself in the late 1980s. The city adopted a $550 million redevelopment plan, but an economic recession brought construction plans to a screeching halt. The half-finished condo only added to the city's decaying glamour.
After numerous failed redevelopment plans, the 21st century arrived on the winds of change. With the majority of Asbury's current city council taking office in the early 2000s, the city sought to bring drive industry to the area. They worked with development giant Ocean Front Acquisitions to its budget gap and begin construction on a brighter future. Asbury Park was officially registered as an Urban Enterprise Zone. Certain economic policies, such as tax concessions, are offered to companies and developers to attract investment and business to blighted, impoverished areas. This initiative attracted small businesses to Asbury Park.
The LGBTQIA+ community can perhaps take the most credit for Asbury Park's revival. Unfettered by the need for good schools and intrigued by Asbury's multicultural history, gay couples started moving into the area. In 2002, several members of Asbury's gay community hosted a wildly successful event called Sand Blast Weekend. With nothing else to do in the way of nightlife and a gorgeous beach just sitting there, the event organizers threw an amazing beach party- they even managed to convince '80s pop sensation Cyndi Lauper to perform!
Immediately after that weekend, gay individuals flocked to the area and created their own Jersey Shore paradise. Members of the gay community had become involved with the city council, and many more opened up art galleries, restaurants and other small businesses. Their high-spirited economic involvement sparked Asbury Park's new reputation as the place to be on the Jersey Shore.
To accommodate the new arrivals, developers started construction on numerous apartment and condominium projects. The North Beach Asbury Park Condos, Eureka, Waterfront Vive and The Lofts at Asbury Park are among the most sought-after places to live in Asbury. As of 2014, the average condo costs $283,701.
Asbury Park's economy has rebounded and keeps growing. In 2011, the city brought in nearly $2 million from beach utility and parking authority revenue alone. Although construction projects have started and stalled over the years, property values continue to rise and apartments continue to sell out before realtors can list them. Asbury Park has once again become a New Jersey tourist destination. This time, people are staying for good.
What's next?
Asbury Park's intriguing story is far from over. Fifteen years have elapsed since the surge of development, and Asbury Park has never looked better. Once forgotten, tourists and locals make it a point to hang out in Asbury Park. People come from all over to check out the Jersey Shore's answer to Hoboken, Brooklyn and San Francisco. Be part of the revitalization by checking out the best bars, restaurants and things to do in Asbury Park.
Bars, pubs, and clubs
Asbury's nightlife spots are packed on the weekends. If you can only make it there once a month, make sure it is on First Saturday. Asbury's galleries, cafes and shops stay open late the first Saturday night of every month, meaning that visitors can shop and dine while simultaneously hitting the bars and clubs.
An Asbury Park favorite is Johnny Mac's House of Spirits, a quirky Irish pub with free bar pies and a skee-ball machine tucked under the stairs. A favorite among the younger crowd, this bar is packed on the weekends. Eccentric decoration and vintage signage plaster both the interior and exterior walls. This bar also plays the best alternative rock music. They offer special weekly events, including ladies night speed dating the second Wednesday of every month. Come by on Sunday mornings for $3 mimosas and free omlettes. They also have heated outdoor tables and plans to open up a rooftop.
Porta is a trendy pizzeria on Kingsley Street. They make their mozzarella in-house daily, and their ingredients are locally-sourced. On the weekends, the restaurant transforms into a nightclub after dark. With its sister restaurant located in Jersey City, Porta is the Jersey Shore's answer to fun urban nightlife.
Owned by the same company as Langosta Lounge, Asbury Park Yacht Club is the best bar on the boardwalk. The wood-paneled walls and nautical decorations make this a true surf bar. They are known for hosting great local acts on their corner stage. With the lights strung from the low-hanging ceiling beams, it feels like hanging out at someone's garage party.
For a classier affair, stroll to the opposite end of the boardwalk. Watermark is a sophisticated yet comfortable bar and lounge. They have delicious tapas and amazing drinks. Patrons come for cocktails but stay for the amazing ocean views from their rooftop lounge.
Hang out in one of Bruce Springsteen's old haunts, the Wonder Bar. Located across the street from the famous rock venue The Stone Pony, Asbury's iconic mainstay offers great drinks and live music. After the original mural was torn down, the Wonder Bar painted the famous Tillie's smiling face to remind Asbury's residents of its past. The Wonder Bar is an Asbury classic.
Around the world in Asbury Park
Any town can claim to be "multicultural" with an Irish pub, an Italian deli, and maybe a Chinese take-out place. Asbury Park is different because it is home to restaurants and bars with international flair. Experience some of the most authentic foreign cuisine on the Jersey Shore.
Willkommen to the Asbury Park Festhalle and Biergarten. Enjoy the European tradition of dining and drinking at long communal tables. Enjoy European imported beers, as well as a variety of American craft selections. Their kitchen serves up authentic Austro-Hungarian and Bavarian cuisine. Their soft pretzels go great with any of their 60 beers. Enjoy live music inside the 6,000-square foot indoor festival hall, or head up to the rooftop for a view of Asbury Park.
For the most authentic sushi on the Jersey Shore, visit TAKA. Originally located on Mattison Avenue, TAKA is a Cookman Avenue staple. Chef Takahiro Hirai was born in Southern Japan. He came to the US to perfect his English and worked in a number of sushi restaurants before opening his own in 2000. This upscale Japanese restaurant offers sushi and small plates. They also have a full-service bar and lounge area. TAKA is a sophisticated place to experience fine Japanese cuisine.
For a more down-to-earth Asian experience, MOGO offers exciting new fusion food. Korean for "eat,"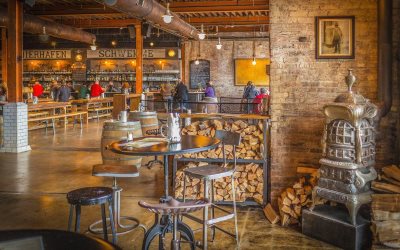 MOGO uses the freshest ingredients in their unique menu selections. Enjoy a Korean twist on Mexican staples. Tacos, burritos and bowls are filled with Korean BBQ meats. They have two locations: a restaurant on Cookman Avenue and a food truck on the boardwalk.
Cascada is an authentic Mexican and Latin American restaurant and nightclub. Their chefs prepare exquisite Latin food representing diverse Hispanic cultures. They spice up traditional dishes with innovative and creative modern touches. At night, guests can experience the best Latin nightlife on the Jersey Shore at this classy, upscale club.
Tamer fare
One of the coolest things that sets Asbury Park apart from towns like Red Bank and Long Branch is its devotion to small business enterprise. Excluding the odd 7-11 or Dunkin Donuts, Asbury Park is almost completely devoid of chain restaurants. For those who are just not fond of international food, but still would like a unique dining experience, Asbury Park offers some of the best American-style dining.
Its name comes from Anne Bonney and Mary Read, the two most fearsome female pirates of the seven seas. The Bonney Read is a classic American chowder house and seafood restaurant located in downtown Asbury Park. Their kitchen employs sustainable practices and locally-sourced seafood, and their raw bar features a rotating selection of freshly shucked mollusks. Their full-service bar offers a selection of wine and rum fit for a pirate queen.
"Peace, Love and Pancakes" is the motto of Toast, an inviting café on Cookman Avenue. Toast serves up standard breakfast and lunch favorites with love and care. This diner also caters to non-carnivores with their extensive vegetarian and vegan menus.
Every town needs a decent place to grab a cup of coffee, and the Asbury Park Roastery proudly fills that role. They have the best selection of organic, fair-trade coffee and tea. Their original roasting location is on Second Avenue, but they also have a boardwalk shop located inside the Grand Arcade of Convention Hall on the boardwalk. Customers can buy gourmet coffee by the bag or by the cup.
The Brickwall Tavern & Dining Room serves classic American tavern food with a gourmet twist. The restaurant is an intimate space. Its signature redbrick walls envelop the dining room, and the glossy black bar always has 24 beers on tap. The Brickwall Tavern regularly feature drink specials and tap takeovers from local breweries. They also has a fresh raw bar. The Brickwall Tavern is the ideal atmosphere for after-work dinner and drinks.
Quirky places

As evidenced by the shipwreck of the SS. Morro Castle in 1934, Asbury Park is no stranger to having unusual things wash up on its shores. In this way, Asbury Park has accumulated its own collection of cultural flotsam. Visitors seeking interesting things to do in Asbury won't be disappointed.
Asbury Park's most unique shop is Paranormal Books & Curiosities. They sell paranormal books and gifts pertaining to ghost hunting, parapsychology, astral projection, reiki, past life regression and mythology. Not only can you find supernatural artifacts, but they also offer ghost hunting classes, séances, lectures and book signings. Owner Kathy Kelly has over 20 years of experience in the paranormal research field and brings her passion for the unknown realms to Asbury Park.
The perfect place to go after a brush with the supernatural is Fetish, a rock-inspired boutique just down the street from Paranormal. Fetish carries edgy, alternative clothing and jewelry for men and women. They have collections inspired by every type of rock music, from punk, grunge, rockabilly and everything in between.
For nostalgia-seekers, the Silver Ball Pinball Museum and Arcade is a great way to spend the afternoon. Silver Ball is home to vintage and modern pinball machines, and is located on the Asbury Park Boardwalk. Guests pay an hourly rate for unlimited play. Kids, parents and even teenagers enjoy hanging out at Silver Ball.
Confections of a Rock Star is Asbury's can't-miss bakery. Literally, its bubblegum-pink paint job turns the heads of everyone walking down Cookman Avenue. Rock music blasts from the speakers. They can whip up the most amazing brownies, cookies, pastries and cupcakes. They also offer custom-made cakes for special occasions. Enjoy sweets, treats and rock n' roll at Confections of a Rock Star.
Events
For the past six years, Asbury Park has hosted the Visionary Arts Tattoo Festival. During this weekend in July, over 150 tattoo artists set up shop in Asbury Park for appointments, expositions, contests, entertainment and after parties.
In October, the living dead roam the boardwalk during the New Jersey Zombie Walk. Thousands of ghouls flock to Asbury Park to participate in a sepulchral stroll at the shore. Last year, the Asbury's Zombie Walk reclaimed its Guinness World Record of being the "largest gathering of zombies!"
Asbury Park is also the host city of Jersey Pride's Annual Festival. Next June will mark this organization's 25th event celebrating New Jersey's vibrant LGBTQIA+ community. Last year's festival featured over 170 artisans, business and caterers. The festival also features live music performances and a legendary pride parade.
The Jersey Shore Running Club has sponsored the Asbury Park Half Marathon since 2000. It has been named one of the best half-marathons in the country. The course is fast and flat, and runners enjoy a scenic view of the Atlantic Ocean. After 13.1 miles is over and done with, there is a giant post-race party held inside Convention Hall.
Closing thoughts

Asbury Park continues to flourish in the salty Atlantic air. Its east side, now referred to as the waterfront, is sustained by luxury real estate, hip restaurants and cute little shops. Venture a few blocks inland, however, and parts of Asbury Park look the same as they did after the rioting in 1970. These are the effects of cities that are still young in their gentrification.
The west side of Asbury Park can be referred to as a "sacrifice zone." In most recently revitalized areas, poverty, crime and violence tend to concentrate in the areas that are not yet redeveloped. In this case, Asbury's west side. Gentrification and investment of the east end, therefore, makes the west end look that much more dangerous and undesirable by comparison.
This affects Asbury Park's disadvantaged residents. Despite its industrial revitalization, about 30% of Asbury Park's residents live below the poverty line, with the median annual income hovering just over $30,000. With so much of the city's resources being pumped into the waterfront, it leaves west end residents, particularly its youth, vulnerable and isolated.
The west end is home to most of Asbury's troubled schools. According to the New York Times, it is the lowest-performing school district in Monmouth County, with only 16% of students reading at grade level. Asbury's students also perform way below the state average on the SAT, and its dropout rate is 11%. According to 2010 US Census data, Asbury Park is 51% black, 25.5% Latino, and 36.5% White. Its city has always struggled to make its minority voices heard in local legislature. Since 2014, two out of three Asbury Park council members are African American, as was its previous mayor. Asbury Park is inching towards inclusivity and representation.
Something to think about…
If towns were like people, then Asbury Park would be an eccentric older woman clad in bangles and wrapped in a shawl, who you know has seen it all, but isn't quite done living yet. The most inspiring thing about Asbury Park is that despite its embattled history, the story is far from over.
Each year, more and more people hear about this seaside town and are eager to experience the designer restaurants and hip bars. However, every town in America has a story to tell, and Asbury Park is no exception. So while you're munching on crepes at the Crepe Shop on the boardwalk, remember that over 80 years ago, a cruise ship burst into flames several hundred yards away. While you're enjoying an upscale dinner at Tim McLoone's Supper Club on the waterfront, efforts still need to be made to revitalize the neighborhoods west of the train tracks.
Asbury Park has always been one of New Jersey's best resort towns. Over the last two centuries, it has been an ocean oasis, a waterfront war zone, and a hipster haven. Now, as more people are discovering what makes Asbury Park so great, it is important to keep in mind the rich history of this city by the sea.
Check out our NJ Beach Guide for all things to do up and down the shore!