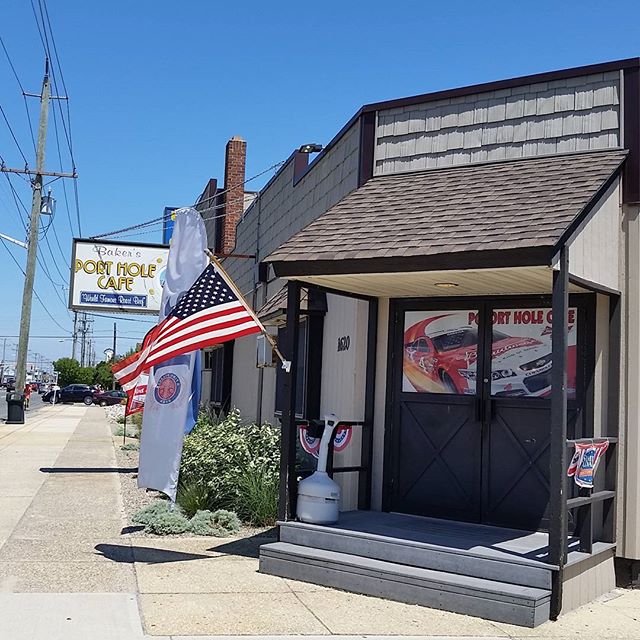 Long Beach Island is one of those towns which you automatically assume has to be the setting of a movie involving surfers. It's a place where good surfing meets insanely beachy atmospheres year-round. While it's definitely most well-known for its surf and sun, LBI also has quite a few great places to get quality food, too. For residents and regular visitors alike, there's very few places that can boast being part of Long Beach Island history like the Port Hole Cafe. This relatively unassuming cafe has managed to withstand three major hurricanes, as well as a number of tropical storms. It has managed to weather through times when Long Beach Island didn't even have many tourists. If ever there was a restaurant that really showed people what the term "survivor" meant, it would be the Port Hole Cafe.
It's easy to understand why the Port Hole Cafe has managed to get such a huge following through the generations it's served. The restaurant itself mimics the relaxed, casual, and surf-ready atmosphere of the town that it is part of. The bartenders and waiters are always friendly, and always ready to offer advice on what to order. Service is prompt. Everyone who goes there seems to become a regular – at least when they're in LBI, anyway. The patrons always have fun, and it seems like the staff do, too. That being said, it is a dive bar, and it is a very nice one at that!
To fully understand what the Port Hole Cafe looks like, you have to imagine a classic dive bar mixed with a hideout for surfers and pirates. It's a place that has surfboards hanging from the ceilings, wooden accents everywhere, and nautical tchotchkes around every little corner of the wall. This place is all about the ocean, and it's proof that the Baker family loves the beach just as much as the rest of the locals do.
Of course, good ambiance alone doesn't keep a restaurant around for so long. In fact, one could even argue that good beer alone can't even keep a restaurant intact for such a long time. The restaurant has plenty of great items on the menu, but their Roast Beef Sandwiches are what keep bringing people back. It's not like the Port Hole Cafe's owners keep it a secret, either. There's even a sign outside their restaurant boasting about being the place that sells the world's best beef. While we aren't sure that it's the world's best roast beef, we are definitely sure that it's the best roast beef LBI has ever seen.
The sandwiches are pretty tasty, and they are always served au jus with a nice, crispy bun. What makes this even more impressive is that most other restaurants really can't copy that tenderness or the juicy flavor of the roast beef in their sandwiches. In fact, it's common knowledge that most restaurants don't serve roast beef sandwiches au jus, simply because of how hard it is to deal with all the potential messes. Along with their Roast Beef Sandwiches, the Port Hole Cafe also offers a bunch of other classic standard bar foods. So, if roast beef isn't your thing, you shouldn't worry. They still will be able to give you something that you can enjoy, and though other offerings aren't quite as famous as their roast beef sandwiches, they're still pretty darn good.