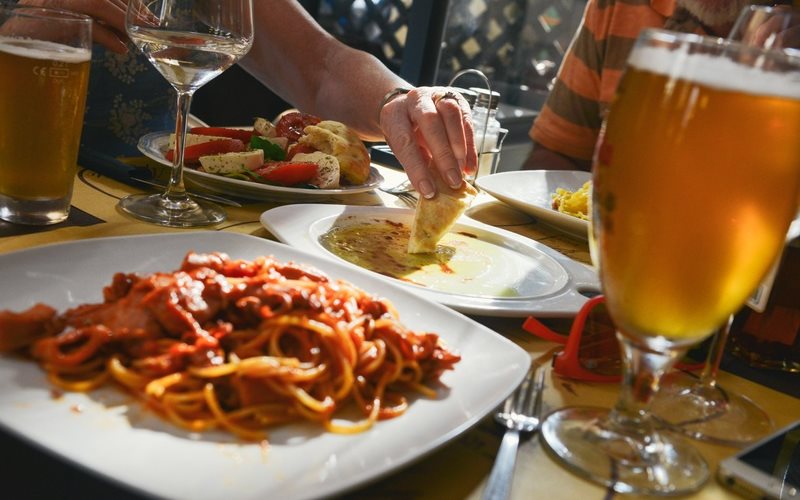 New Jersey is known for its amazing food. The Jersey Shore especially offers some of the best dining options in the state. There are so many causal restaurants, upscale dining establishments, Italian places and seaside bistros to choose from. Every local has their favorite place to eat, while tourists come to the Jersey Shore to try new and exciting restaurants. Dining out and drinking is a huge part of NJ nightlife culture. There's nothing better than enjoying a refreshing glass of wine at a table overlooking the ocean, or having a few beers with friends over authentic, homemade pizza.
Due to the relative scarcity and costly expense of obtaining a liquor license, most restaurants go without, and instead allow their patrons to bring beer and wine from home. This allows restaurant-goers to bring their favorite alcoholic beverages to enjoy with dinner. To help you complement your favorite pale ale or chardonnay with a delicious meal and great atmosphere, we've compiled a list of the best BYOB restaurants on the Jersey Shore.
1. Front Street Trattoria: This authentic Italian restaurant has been a Jersey Shore staple for over 30 years. Located in downtown Red Bank, this cozy trattoria is the perfect place to bring a bottle of wine for either a romantic evening or a family dinner. They off specialty pizzas with unique combinations of ingredients, such as the Roasted Butternut Squash pizza (with spinach, red peppers and balsamic glaze) and The Mexican (Monterrey jack, sharp cheddar, plum tomato, green peppers, onion, hot peppers, roasted chipotle pepper seasoning). Also try their stuffed deep-dish pizza, or any of their delicious entrees.
Front Street Trattoria
31 West Front St., Red Bank, NJ 07701
732-747-9569
2. Nino's Coal Fired Pizza: With several locations throughout Monmouth and Ocean counties, Nino's is a great Jersey Shore BYOB pick! Their pizza is coal fired and cooked individually. They are now offering whole wheat and gluten free pizzas. Their pasta is hand-made on site. Guests can also choose from their selection of salads, sandwiches and desserts.
Nino's Coal Fired Pizza
66 Brick Blvd., Brick, NJ 08723
732-255-7700
1201 Hooper Ave., Toms River, NJ 08753
732-244-6900
1012 Cox Cro Rd., Toms River, NJ 08755
732-505-8400
2105 Rt. 35, Oakhurst, NJ 07755
732-359-8800
3. Denino's South Pizzeria: Get a taste of Staten Island on the Jersey Shore. In 1937, Carlo Denino opened his now-famous tavern in Staten Island. He first introduced his pizza in 1951 – and the rest was history. Throughout the 20th century, the Denino family expanded their restaurant, and gained recognition in publications such as The New York Times, The Daily News and Zagat. In 2010, Denino's brought their famous thin-crust pizza to the Jersey Shore by opening Denino's South in Brick, NJ. This BYOB restaurant on the Shore allows you to enjoy Denino's famous pizza without having to travel to Staten Island.
Denino's South Pizzeria
869 Mantoloking Rd., Brick, NJ 08723
732-262-1313
4. The River Market: The husband-and-wife team John and Lee Malcom invite you to bring your favorite bottle of wine to enjoy with a delicious seafood dinner at The River Market. While the seasonal menu at this Jersey Shore BYOB restaurant is always updated with fresh innovations, one thing that remains the same is the quality of the food. Come by for lunch on your way home from the beach for homemade soups, salads and sandwiches.
The River Market
522 Bay Ave., Point Pleasant Beach, NJ, 08742
732-451-2808
5. Lubrano's Trattoria: Experience authentic Neapolitan cuisine at the Jersey Shore with a visit to Lubrano's. Chef and owner Domenico Lubrano aims to transport customers back to his childhood in Naples by preparing simple and delicious meals with fine ingredients. Come in for their signature rosemary bread, but stay for their delicious brick-fired pizzas, homemade soups and specialty seafood menu.
Lubrano's Trattoria
2439 Rt. 34 South, Manasquan, NJ 08736
732-292-0050
6. Antonio's Trattoria: The DiMeo family welcomes you to experience authentic Italian cooking right here on the Jersey Shore. Try their delicious Sicilian pizza, paninis or wraps for casual dining. For a romantic evening in their gorgeous villa-inspired dining room, uncork a bottle of wine and enjoy the finest pastas, chicken, veal and seafood this side of Italy. Antonio's also offers their dining rooms for dinner parties and special occasions.
Antonio's Trattoria
2420 Rt. 35, Wall Township, NJ 08736
732-223-1933
7. Esposito's Pizza and Pasta: Residents of Matawan, NJ already know how delicious this restaurant is. With their newly-opened location in Manasquan, the Jersey Shore can now experience Esposito's homemade Italian cuisine. They are famous for their award-winning sesame seed pizza, which gives a unique flavor and texture to a beloved classic. Located a few blocks from the beach, this restaurant is a great Jersey Shore BYOB pick.
Esposito's Pizza and Pasta
233 East Main St., Manasquan, NJ 08736
732-528-1111
8. Cielito Lindo: With so many Americanized "Mexican" restaurants on the Jersey Shore, many people don't know how amazing true Mexican food can be. Cielito Lindo brings authentic Mexican cooking to the Northern Jersey Shore. Enjoy homemade sopas, tortas, tacos y tamales, as well as their platillos de la casa, all of which are served with rice and beans. Guests are welcome to bring their own cerveza y vino to complement a real Mexican meal that is a far cry from Taco Bell.
Cielito Lindo
1110 Main St., Belmar, NJ 07719
732-749-3037
99 Taylor Ave., Manasquan, NJ 08736
732-722-7979
9. Spano's Ristorante Italiano: Chef Joe Spano incorporates his knowledge of Italian history and heritage with a love for cooking and fine foods. Inspired by his parents' culinary tradition, Spano's opened in Jackson, NJ in 1989, and later relocated to Point Pleasant, NJ in 2000. After all these years, Spano's has remained a Jersey Shore favorite. Spano's appreciates the diversity of Italian cuisine, and incorporates these differences in their menu offerings. Whether they are rich creamy cheeses from northern Italy, hearty and savory soups and meats from Central Italy, or delicately fragrant seafood from Southern Italy, Spano's offers only the best Italian cooking.
Spano's Ristorante Italiano
719 Arnold Ave., Point Pleasant, NJ 08742
732-701-1600
10. 410 Bank Street Restaurant: Set in an 1840 carriage house, 410 Bank Street is the Jersey Shore's most unique BYOB restaurant. Come experience authentic Creole-Caribbean cooking, such as Cajun shellfish gumbo, mesquite grilled lobster tail, and fresh corn chili. Dine in their tropical garden, on their cozy porch or in the elegant-yet-comfortable dining room. This BYOB restaurant has been recognized by New Jersey Monthly, Zagat and The New York Times.
410 Bank Street Restaurant
410 Bank St., Cape May, NJ 08240
609-884-0366
11. The Black Trumpet: The Black Trumpet is the in-house restaurant of the Grand Victorian, one of the Jersey Shore's most beautiful restaurants. The Black Trumpet is open for lunch and dinner 7 days a week. The Black Trumpet has a seasonal liquor license from May-November. If you are down the shore during the winter, however, this casually elegant restaurant is the perfect place to bring your own drinks to accompany fine dining.
The Black Trumpet
1505 Ocean Ave., Spring Lake, NJ 07762
732-449-5327
12. MonAlyssa Restaurant & Pizzeria: When you walk into MonAlyssa, it looks like an ordinary pizza place. Step through the curtain to their rear dining room, however, and you are treated to a stunning Italian bistro. MonAlyssa serves everything from thin crust pizzas to contemporary Italian comfort food. Visit them during the week for twilight dinner specials. During the warm months, enjoy this delicious cuisine on their outdoor patio.
MonAlyssa Restaurant & Pizzeria
1635 Bay Ave., Point Pleasant Boro, NJ 08742
732-899-1999
13. La Spiaggia: In 1993, the Stragapede brothers created the best casual fine dining experience on the Jersey Shore. Translated to "the beach," La Spiaggia serves the best that Northern Italy has to offer right in LBI. Bring your favorite bottle of wine to enjoy with fresh and delicious seafood offerings.
La Spiaggia
357 West 8th St., Ship Bottom, NJ 08008
609-494-4343
14. Yellowfin: The menu selections at Yellowfin are truly innovative. Highlights include duck and shitake mushroom spring rolls, lobster corn succotash, Thai BBQ shrimp, miso black cod and tuna pizza with wasabi creme fraiche. Yellowfin is a unique departure from your typical Jersey Shore BYOB restaurant.
Yellowfin
104 North 24th St., Surf City, NJ 08008
609-494-7001
15.Red's Lobster Pot: This seasonally-open BYOB restaurant is a Jersey Shore favorite. Enjoy freshly-caught seafood in their dining room or on their outside deck overlooking the water. Red's Lobster Pot has a raw bar, seafood entrees and shellfish that go great with your favorite beers and wines that you bring from home.
Red's Lobster Pot
57 Inlet Dr., Point Pleasant Beach, NJ 08742
732-295-6622
16. Stefano's: An 8-time winner of the LBI Chowderfest for both their New England and Manhattan clam chowders, Stefano's proudly offers fine seafood dining on the Jersey Shore. In addition to chowder, sample their veal, poultry, shellfish and seafood. Stefano's is LBI's destination for BYOB dining.
Stefano's
1814 Long Beach Blvd., Long Beach Township, NJ 08008
609-492-1100
17. Harvest: This newly-opened restaurant offers the best local seasonal cuisine. This farm to table restaurant embodies New Jersey's agricultural heritage by serving meals made with locally-sourced, seasonal ingredients. Bring your favorite local craft beers to this small and cozy establishment to round out the evening.
Harvest
83 Main St., Farmingdale, NJ 07727
732-919-3276
18. Daniel's Bistro: While the location in Avon, NJ has a wine menu, Daniel's Bistro in Point Pleasant is BYOB. This restaurant serves up the best that land and sea have to offer. Whether you are looking to BYOB or not, Daniel's Bistro is a summertime favorite down the shore.
Daniel's Bistro
115 Broadway, Point Pleasant Beach, NJ 08742
848-232-2544
19. Basilico's Ristorante: Basilico's has been family-owned and operated for over 15 years. They welcome you to bring wine and beer to accompany their gourmet menu offerings, such as lobster macaroni and cheese, pollo cavatelli, tilapia con risotto and vitello piccatta, just to name a few. Experience authentic Italian cuisine in Sea Isle City, NJ.
Basilico's Ristorante
27 43rd St., Sea Isle City, NJ 08243
609-263-1010
20. Tisha's: Tisha's has been serving fine food since 1988. Travel all the way down to Cape May NJ for one of the best BYOB restaurants on the Jersey Shore. On Sunday-Thursday, take advantage of their 3 for $30 lunch and dinner special. Sample fresh seafood and gourmet burgers at this Southern Jersey Shore favorite.
Tisha's Fine Dining
322 Washington St., Cape May, NJ 08204
609-884-9119
21. The Blue Rose Inn & Restaurant: Bring your own beer and wine to this beautifully-restored establishment. Their menu is simply enchanting, featuring quaint dishes such as spiced pumpkin bisque, duck confit with sunchoke ravioli and butternut squash agnolotti. This quaint Victorian restaurant is a favorite among the tourists and locals of Cape May, NJ.
The Blue Rose Inn & Restaurant
653 Washington St., Cape May, NJ 08204
609-435-5468
22. Red Room Cafe: "Always homemade, and always fresh," enjoy fresh pasta and pizza at this Jersey Shore BYOB spot. In addition to these house-made offerings, try their veal, chicken, steak and seafood.
Red Room Cafe
141 North Dorset Ave., Ventnor City, NJ 08406
609-822-1067
23. Dish: Dish prides itself on serving "eclectic American cuisine prepared daily in one of the coolest little neighborhoods on the East Coast: Downtown Red Bank." Come to Dish for a fresh take on culinary classics, and make sure to bring your own favorite alcoholic beverages.
Dish
13 White St., Red Bank, NJ 07701
732-345-0707
24. Señor Peppers: Word-of-mouth reviews claim that Señor Peppers cooks up the best Mexican food at the Jersey Shore. Best of all, this restaurant is BYOB! Try authentic Mexican flautas, chimichangas, burritos, tostadas and tacos. Their combo specials are all served with rice and beans. Stop by for either lunch or dinner. Whichever meal you are enjoying, feel free to bring your own cerveza.
Señor Peppers
60 Bridge Ave., Red Bank, NJ 07701
732-741-1211

25. Patrizia's Pizza and Pasta: Nobody does Italian like New Yorkers do. Founded by Giacomo Alaio and Lou Maschi, Patrizia's group of restaurants serve up traditional homemade Italian cooking, just like Sunday dinner at Nonna's house. Their authentic family recipes date back over 150 years. Patrizia's has locations in Brooklyn, Manhattan, Staten Island and the Bronx. Now, enjoy these classics without having to travel to New York. Simply head over to Red Bank with your favorite bottle of wine to experience Patrizia's for yourself!
Patrizia's Pizza and Pasta
28 Broad St., Red Bank, NJ 07701
732-741-5555
There are so many restaurants in New Jersey, it would take a lifetime to visit every single one. The Jersey Shore alone boasts some of the most delicious restaurants. From Italian to Mexican to seafood, nobody does food like NJ. With so many amazing dining options, it can be overwhelming for your budget to eat out all the time. That's why BYOB restaurants are so great. Bringing the beer and wine from home allows you to keep the total bill down while still being able to try new and delicious food.
Did we miss your favorite BYOB restaurant on the Jersey Shore? Let us know! In addition to great BYOB picks, check out our complete restaurant guide for dining in NJ.
Check out our NJ Beach Guide for all things to do by the shore!