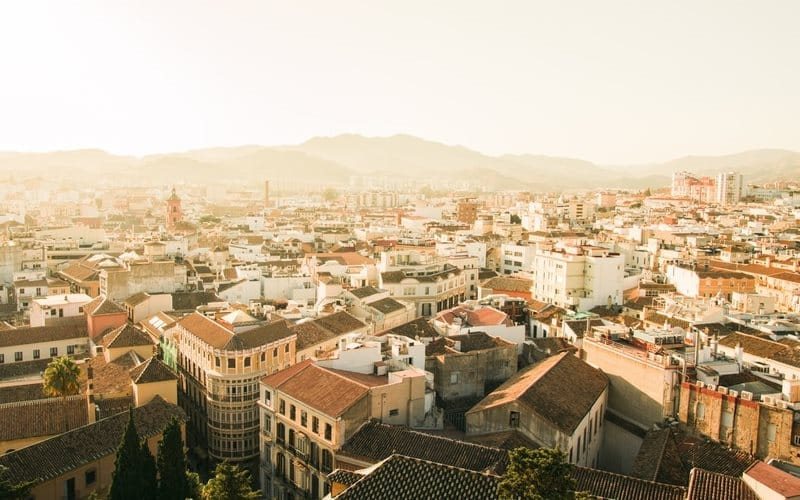 Un nuevo tipo de comida del bar (A new type of bar food)
When we hear "bar food" in the United States, we think of mozzarella sticks, nachos and 50-cent wings. This is standard American pub fare, and it pairs great with the Bud Light drink special or whatever is on tap at your local bar and grill. While ordering potato skins at your neighborhood tavern during Monday Night Football might be your favorite tradition, there are so many unique ways to dine and drink in New Jersey.
Each country has its own customs when it comes to gastro-culture. Those who are feeling adventurous might want to experience a night out with international flavor. Spanish tapas are becoming popular in the United States, and New Jersey is home to some great tapas bars.
¿Qué es una tapa? (What is a tapa?)
Tapas are a staple in many Spanish-speaking countries. This culinary tradition originated in Spain and is almost as old as the country itself. When the Moors invaded Spain in the 8th century, they brought with them olives, almonds, citrus fruits, spices and other agricultural products found in Spanish cuisine today. The word "tapas" comes from the verb tapar, meaning "to cover." A tapa, therefore, is a cover or lid.
El origen de la tapa (The origin of tapas)
So what does the Spanish word for lid have to do with bar appetizers? There are many legends that explain how and why tapas came to be. The most popular explanation is that in the old-fashioned inns and taverns, there would be no way to keep flies and bugs from buzzing around the food and drinks. To keep the pests out of their drinks, bar patrons would place slices of bread or meat over the tops of their glasses, and so these tasty little snacks would serve as lids, or tapas.
A different legend states that when 13th century monarch King Alfonso X grew ill, he ate small dishes accompanied by wine between his meals, in order to build up his strength and recover. Once he regained his health, he decided that inns and bars should start serving small plates along with their beverages. Another variation of this legend refers to the peasants working in the field, who often ate tapas and drank wine to sustain themselves between the long stretches between meals. This is a fair explanation, given that in Spain, dinner is not usually eaten until 9pm the earliest.
Tapas populares (Popular tapas)
There are so many different ways to do tapas, and modern Spanish restaurants are getting creative with their small plate offerings. Traditional tapas include albóndigas (meatballs), croquetas (croquettes), patatas bravas (thick-cut potato slices), chorizo (cured pork sausage) and tortilla espanola (a thick omlette with chunks of onion and potato).
Of course, the availability of tapas also depends on region. Spain has different regions with varying climates. This affects which types of tapas are popular in a given area. Tapas restaurants on the eastern Mediterranean shoreline might rely heavily on fish and seafood, while the central and western plains feature rich, creamy cheeses and hearty, cured meats, called embutidos. Tapas in southern Spain will almost certainly contain olive oil.
I was lucky enough to study abroad in Spain during my junior year of college. For five months, I lived in Salamanca, a small university town in the northwest corner of the country. The city was mostly home to students studying at the famous Universidad de Salamanca, so there was no shortage of things to do when class wasn't in session. I took advantage of the many bars and restaurants serving tapas. As a money-conscious international college student, going out for tapas was popular among my friends. Rather than eating a fancy and expensive dinner, grabbing cheap drinks and an assortment of appetizers was our favorite way to kick off a night at our favorite bars. Appetizers and drinks for less than 10 euro? Sounds great to me!
Las tapas mejores en Nueva Jersey (The best tapas in New Jersey)
You don't have to travel to Europe to find delicious tapas, though. New Jersey has authentic Spanish restaurants serving tapas, as well as other establishments putting their own spin on this Mediterranean classic.
Tapas de España might be NJ's best tapas bar. For over 10 years, they have served authentic Iberian cuisine. They also have a full bar, complete with sangria and wine imported from Spain. When you walk into the restaurant, you might think that you've been transported to an Andalusian tavern. On Friday nights, there is live flamenco music starting at 10:30pm, giving guests a true Spanish experience.
Tapas de España
7909 Bergenline Ave., North Bergen, NJ 07047
201-453-1690
Head to Newark, NJ's Ironbound district for lunch, dinner or even take-out at Vivo Spanish Restaurant & Lounge. In addition to tapas, Vivo has an extensive dinner menu featuring several different types of paella, which is another culinary favorite of southern Spain. Portions of paella are designed for two, so Vivo is the perfect place for date night. The spicy paella diablo looks delicious.
Vivo Spanish Restaurant & Lounge
167 Ferry St., Newark, NJ 07105
973-465-4800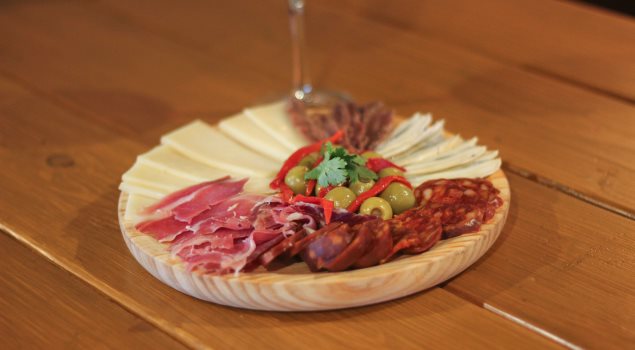 Delicious cheese and cured meats at Casa d'Paco in Newark, NJ
Another authentic tapas bar in Newark's Ironbound is Casa d'Paco. They offer weekly updated menus featuring tapas and entrees prepared with only the freshest ingredients. Pair these menu offerings with Casa d'Paco's exquisite wines, craft beer, liquor and sangria imported from Spain. Where else in New Jersey can you experience both authentic Spanish food and drink?
Casa d'Paco
73 Warwick St., Newark, NJ 07105
862-307-9466
In Spanish, sabor means "flavor." Sabor Latin Bistro is aptly named, because they are always serving up delicious Latin food with their own special twist. From the tapas menu, try the camarones a la plancha (grilled shrimp served with grilled pineapples and sweet chili chutney) or the queso fundido (chorizo, cheddar, goat cheese, roasted peppers and root vegetables). Sabor has recently undergone a massive remodeling, which has doubled their size. In the summer months, dine out on their Havana-style wrap around terrace.
Sabor Latin Bistro
8809 River Rd., North Bergen, NJ 07407
201-943-6366
Born in Spain but revitalized in New Jersey, City Cafe & Bar is proud to present an American spin on a Spanish taverna. Sip wine and enjoy delicious tapas at this Barcelona-style tapas bar. The bar top is decked with Spanish tiles, which will make you feel like you're in the Mediterranean. City Cafe & Bar is a popular nightlife spot, and always has DJs and live music on the weekends.
City Cafe & Bar
47 Easton Ave., New Brunswick, NJ 08901
732-640-1155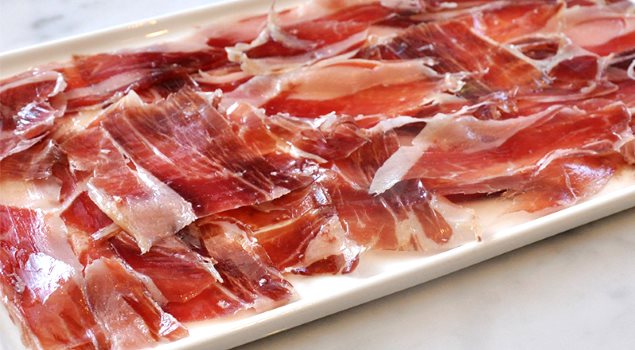 Salty and savory cured meat from Despaña's gourmet market
For gourmet pixtos, bocadillos, tortillas and tapas, Despaña is the best place to go for a Spanish lunch or dinner. Bring your favorite bottle of red or white wine from home and try their sangria mixing bar. Not only is Despaña a restaurant and tapas cafe, it is also a Spanish market. This gourmet boutique offers authentic gourmet food imported from Spain. Their shelves are stocked with the finest olive oils, cheeses and cured meats at this Spanish mercado.
Despaña
235A Nassau St., Princeton, NJ 08540
609-921-2992
Tapeo offers modern Portuguese and Spanish cuisine on the Jersey Shore. Experience a contemporary twist on Iberian staples at this innovative tapas bar. Tapeo boasts extensive tapas, land and seafood menus. Come by on Tuesdays for half-price tapas. Sample anything from their extended selection of over 20 tapas (they're all delicious). Weekend nights feature live entertainment. In true Spanish fashion, this restaurant transforms into a nightlife lounge on Saturday nights until 2am.
Tapeo
2820 Rt. 35, Hazlet, NJ 07730
732-539-2309
Lola's Tapas Bar offers over 80 regional Spanish dishes and 100 wines to choose from. They also have a special sangria menu. After a long day of work, enjoy their new Happy Hour Special. Come in Monday-Thursday from 12pm-11pm for tapas and drinks priced at $4-$6. On Sundays, come to Lola's for their new Flamenco Brunch, featuring live flamenco music and dancing. The atmosphere at Lola's is incredible. You'll feel like you're at a Spanish tavern, and not in the middle of downtown Hoboken, NJ.
Lola's Tapas Bar
153 14th St., Hoboken, NJ 07030
201-420-6062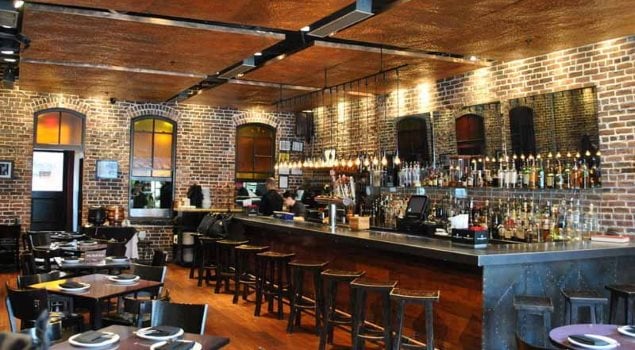 Enjoy Spanish tapas in New Jersey at Mompou
Mompou has raised the simple Spanish tradition of small plate tapas to an art form. This upscale wine bar and lounge is an elegant place to try authentic Spanish tapas in New Jersey. They serve traditional favorites, such as chorizo al vino and pinchos de camarones, as well as innovative offerings of tortilla herminia and piquillo rellenos. The wine bar features a distinguished collections of red and whites from America, Spain and Portugal. Wine lovers will want to attend their monthly wine dinners and wine tastings. Nothing is more Spanish than tapas y vino.
Mompou Tapas, Wine Bar and Lounge
77 Ferry St., Newark, NJ 07105
973-578-8114
Cucharamama puts a South American spin on traditional Spanish tapas cuisine. Operated by the owners of Zafra, another Hoboken, NJ tapas favorite, Cucharamama has an upscale but home-like feel. It is the perfect mix of elegant and unpretentious. Their piqueo menu offers South American-style tapas that are slightly different than the ones mentioned above, but are by no means any less delicious. The chispas de plátano (fried green plantains with cilantro sauce) and pulpo al olivo (octopus in Peruvian black olive and panca pepper sauce) are can't-miss menu items. Come in for dinner or Sunday brunch.
Cucharamama
233 Clinton St., Hoboken NJ 07030
201-420-1700
¡Vamos a Tapear! (Let's go for tapas!)
Not only are tapas Spain's most distinct culinary tradition, they are also an integral part of Spanish social life. Tapas are designed to be quick, light and eaten standing up. This allows bar patrons to easily maneuver around the bar and socialize. These New Jersey tapas bars embody Spain's gastronomic culture, while serving up delicious food and drink. Did we miss you favorite NJ tapas bar? Let us know! Take a trip around the globe and see what other types of international cuisine New Jersey has to offer.