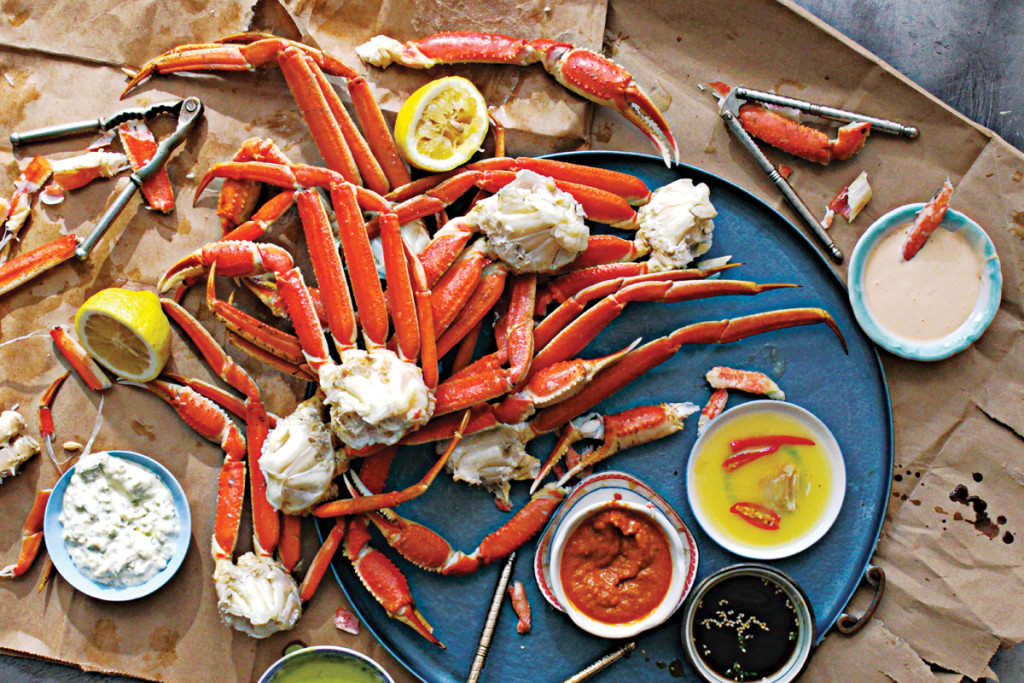 Most people associate crab season with places such as Baltimore's Chesapeake Bay, but the truth is that New Jersey has just as active a crab season as other major hotspots in America. Though it's not as common as fishing, the act of catching one's own crab dinner has become a pastime for many. Crabbing season in NJ, which typically runs mid-March to late November, focuses on peeler crabs, soft shell crabs, hard crabs, and blue claw crabs. Our guide will give you the inside scoop on this fun family activity, and where you can get the best crabs.
How To Go Crabbing: The Supplies
In order to catch your own crabs, you will need a number of things. First, you will need a crabbing license given to you by the state of New Jersey if you choose to use a crab pot or a trot line. They typically cost anywhere from $2 to $10, depending on the circumstances. Buying your license (if you need one) can be done at a shellfish license agent's site.
Next, you will need supplies to catch a crab. Common supplies include traps such as crab pots, trot lines, hand lines, collapsible metal traps, and scoop nets. This are easily obtained at a sporting goods store, or at a fishing rental venue. Depending on where you go crabbing, you might also want to rent a rowboat.
Lastly, you may need to get some bait. Most crabs respond well to random cuts of raw meat, such as chicken necks, cow lips, or even just shredded beef.
How To Go Crabbing: Advice For Newbies
If you've never gone crabbing before, it's generally best to learn the ropes from someone who has. Asking a friend or family member to teach you is a good way to find crabbing partners and also make a group excursion. Seasoned pros can give you good pointers, help you learn how to avoid getting pinched by crab claws, and also offer tips on great locations.
If you can't find a group to go with, don't fret. Crabbing is relatively easy to learn if you need to do so on your own. There are instructional guides available on the subject of crabbing, as well as YouTube how-to's devoted to the subject. That being said, using common sense on the subject of safety is always advisable.
People who want to go out and get all the supplies they need for a successful crabbing trip, as well as get tips from seasoned pros should check out Beaver Dam Boat Rentals. The company offers a crabbing net with every rental, and will even bring you out to popular crabbing hotspots in order for you to get a good catch.
Crabbers also need to remember to follow local laws while they're out scoring a catch. For example, people who choose to go crabbing in New Jersey are limited to a bushel of crabs per day. Female crabs who are laying eggs or spawning have to be released as well. Crabs that don't match the minimum size for a catch also have to be released back into the wild, since they may not be fully mature yet.
How To Go Crabbing: Great Places To Go Crabbing In NJ
Part of any crabber's success will hinge on where they go to actually catch the crabs. Not choosing the right place may result in a day of effort without delicious results. Luckily, there are plenty of great locations in both North and South Jersey to choose from. Here are some of the top parks and locations for crabbers to visit.
• Berkeley Island County Park – This is the perfect place for families to go crabbing. On the opposite end of the park is a patrolled swimming area, and right in the park is a playground for kids to enjoy.
• Somers Point – Somers Point actually holds one of the largest crabbing competitions in NJ, Assault on Patong Creek. There's really no bad part of Somers Point when it comes to crabbing.
• Lakeview Docks – This Cape May locale is known for large amounts of crabs.
• Cape May Wildlife Refuge – It's considered to be the best crabbing spot in South Jersey.
• Beaver Dam Boat Rentals – It's a good place for people in Cumberland county to go to.
• Navesink River – Located in Rumson and Red Bank, the Navesink River has become a favorite place for locals to catch a delicious crab dinner.
Of course, there may be some people who don't exactly like the idea of catching a crab, but do like the idea of possibly eating one, there's plenty of great restaurants that offer a chance to taste a delicious local catch.
The Best Crab Restaurants In New Jersey
Part of New Jersey's awesome gastronomic fare includes locally caught crabs that turn up on menus at local restaurants. If you're ready for a knockout seafood dish, and want to have it be as Jersey-authentic as possible, these restaurants are must-see's.
• Bahr's – This is one of the oldest family owned seafood restaurants in Monmouth County. Known for its savory crab and lobster dinners, it's hard not to adore the menu of this seafood lovers' hotspot. They also host a number of seafood festivals throughout the summer, so always make sure to regularly check their events.
• The Blue Claw Seafood Restaurant & Crab House – Burlington's favorite local crab shack is one that has gotten somewhat famous for their deliciously seasoned crab dishes. If you value a wide selection of sides and love Maryland-style cooking, this is the place to go!
• Crabby's Suds N' Seafood – Located in May's Landing, Crabby's is basically an indoor picnic area that focuses on mouthwatering crab dishes prepared the old fashioned way. They have a nice rotation of different crabs, including snow crab, blue claws, and Dungeness crab.
• PF Market – This fresh fish market in Caldwell doubles as a crab house. Tasty seafood dishes with a gourmet twist have been served here for the past 35 years. It's artisanal, yet local, gourmet, yet down to earth. What's not to love?
• The Crab Trap – Located in New Jersey's biggest crabbing town (Somer's Point), the Crab Trap has become its own standard in quality seafood. Since 1967, it's been offering upscale seafood dining. Yum!
If you still haven't gotten your fill of delicious crab restaurants, why not check out our directory?
Random Crab-Related NJ Trivia

Still need to get more NJ crabbing goodness in your life? Here are some interesting facts about the crab's role in New Jersey history and culture.
• New Jersey is home to a baseball team called the Blue Claws.
• 88% of family households that went crabbing consider it to be a family excursion.
• 1.24 million recreational crabbing trips happen in NJ every year.
• On average, people catch 15.5 crabs per trip. That's a big dinner!
• 19.2 million crabs are caught in NJ every year. This means that there are just as many crabs caught in our waters as striped bass, flounder, scup, bluefish, and seabass combined.
• 6 million of the crabs caught in New Jersey are caught by people who harvest them recreationally.
• Horseshoe crabs, which often dot NJ beaches, have been in existence from prehistoric times. Stranger still, these ancient creatures have blue blood – literally.
• A group of crabs is called a cast, and in New Jersey, casts tend to congregate in the same areas over and over again. That's why so many fishermen have crabbing spots that they swear by.
Feeling crabby yet?