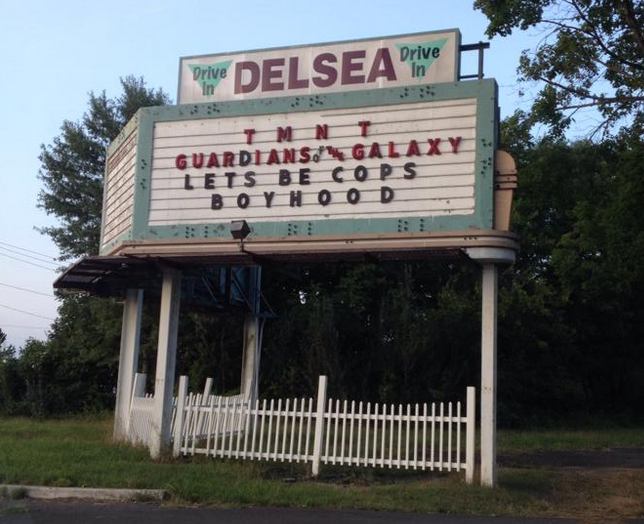 The History of Drive-In Movie Theatres
Richard Hollingshead began crafting his invention in his own backyard on 212 Thomas Avenue in Riverton, NJ. He placed his old Kodak projector on the hood of his car, projecting the movie onto a screen nailed to a tree. Flash forward to June 6, 1933 when the world's first drive-in movie theatre was opened in Camden, NJ. Hollingshead charged cars twenty five cents to pull up and enjoy the show. He first came up with his idea for a drive-in movie theatre when his mother could not fit into the chairs of the sit down theatre. By the end of the 1930's, eighteen drive-in theatres existed and by 1949 over 1,200 drive-ins were operating. The drive-in movie theatre boomed in the 1950's with over 4,000 operational screens.
By the end of the fifties, nearly 5,000 drive-ins were open throughout the country, providing entertainment to Americans of all ages. By 2011, that number fell to a scarce 606 movie screens. In America today, only 357 drive-in movie theatres are open. The Delsea Drive-In Theatre, located in Vineland, NJ is one of those 357. The Delsea Theatre is New Jersey's last operational drive-in movie theatre, making it a state landmark and unique attraction.
New Jersey's Delsea Drive-in Theatre
Delsea Drive-In Theatre, located in Vineland, is New Jersey's last standing drive-in movie theatre. The theatre was built in 1949 and closed in 1987. Reopening in 2004, the theatre offered some healthier food options and an opportunity to recreate old family memories.
Located less than an hour drive away from Atlantic City, NJ, Philadelphia and Delaware, the Delsea Drive-In Theatre is the perfect place to show the little ones how much fun watching a movie from the car can be. This theatre combines the nostalgia of the old fashioned drive in with today's modern technologies, creating the perfect blend of tradition and modern media. During both showtimes, the Delsea Drive-In plays two feature films on two large screens, while simultaneously running a full restaurant.
The Concession Stand
The theatre's concession stand provides classic movie theatre snacks as well as healthier alternatives. However, Delsea Drive-In provides much more than your typical soda and popcorn. The Delsea Drive-In concession stand provides their customers with specialties that include shrimp kabob, eggplant parmesan and egg rolls. Viewers can also get classic snacks such as cheese fries, burgers, sub sandwiches, nachos, pizza and candy.
If you are looking for a healthier option or one that fits your dietary needs, gluten free and Atkins food options are also available. They even sell whole wheat wraps and low carb personal pizzas! If you are looking for kid friendly food, Delsea's concession stand has you covered with peanut butter and Jelly sandwiches, pizza rolls, churros and chicken tenders. The theatre's newest feature also allows customers to order their food directly from the intermissions menu via a smart device. This allows customers to order a full course meal while never leaving their front seat!
Rules and Hours of Operation
The theatre has some rules to ensure that all customers are safe and have fun. When approaching the box office, trunks and hatches must be popped and interior lights must be on. Also, when entering the theatre, only your parking lights should be on. To ensure the safety of all customers, no pets will be allowed. All alcoholic beverages and grilling materials are prohibited and should not be brought to the theatre.
The drive-in theatre is open different days according to the season. During the spring season, the theatre is open on Fridays and Saturdays. The theatre is also open on Fridays and Saturdays during the fall season, which lasts until mid-December. During the summer season, from Memorial Day through Labor Day, the theatre is open on Friday's, Saturdays and Sundays. All first features start around dusk civil twilight time while the second feature begins fifteen to thirty minutes following the first. Customers should arrive early to purchase their tickets from the box office, which opens at 6:00p.m. Ticket prices range from $6-$11 depending on the customer's age. Customers can rent chairs for $2 and a radio for $3. Customers can also bring their own lawn chairs and set them up in front of their vehicle. No chairs should be set up on the side of any vehicle.
Whether you are bored and looking for something different to do on a Saturday night or want to bring the kids to experience one of America's greatest past times, Delsea Drive in Theatre will provide you with a flash from the past that is worth reliving. Reminisce on old times, create new memories and treat the family to an experience that is truly fun for all generations.
Click here to see all the cool things the Delsea Drive-In has to offer
The Delsea Drive-In
2203 South Delsea Drive Vineland, NJ
856-696-0011
The Delsea Drive In is just one of the many rainy day attractions for you to experience in NJ! Take a look at our full list of 182 rain or shine activities.
Have you ever visited the Delsea Drive-In in Vineland NJ? If so share your experience by leaving a comment below.