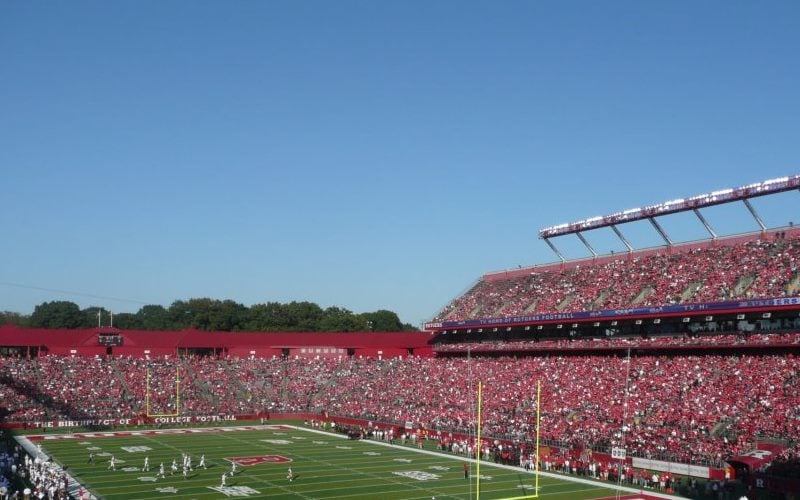 During the college search, parents and students probably have different criteria on what makes for a worthwhile college experience. Mom and Dad might be focused on how many classes you can squeeze into your eight semesters, while incoming freshman are probably more eager to check out the best things to do on and off campus. Both factors are important when figuring out where you'll be spending the next four (or more) academic years. Luckily, New Jersey is known for having some of the top institutions for higher education in the country.
There is so much fascinating information to uncover about New Jersey's colleges, universities and the towns that they call home. We've compiled some little-known facts about some of New Jersey's most prestigious colleges and universities that you might not have heard before.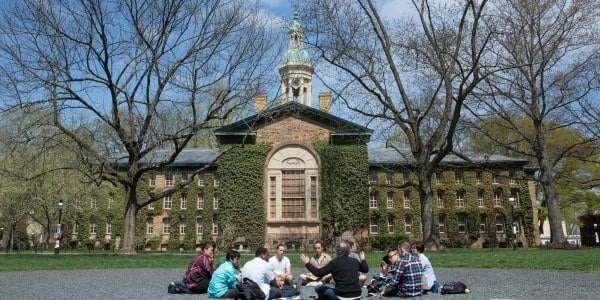 Find the best places to eat at Princeton University

Founded in 1746 as the College of New Jersey (not to be confused with current-day TCNJ in Ewing), Princeton University is the oldest college in the state, and one of the oldest in the country. It is one of nine universities established before the American Revolution, along with Rutgers University. This Ivy League institution has bred notable names across many disciplines, including Woodrow Wilson, F. Scott Fitzgerald, John F. Kennedy, Cornel West and Brook Shields. The best and brightest in the world come to study at the undergraduate, graduate and doctoral levels. For all students, campus life is characterized by a dedication to providing enriching and rewarding experiences for students.
What distinguishes Princeton from many other universities in the state is their eating clubs. Originally established in the 19th century, these so-called eating clubs were created in response to the extermination of fraternities and lack of edible meal options on campus (not much has changed among college dining halls, even in recent years – ed.).
At their inception, eating clubs were designed to give students the opportunity to socialize and get a decent bite to eat. Certain clubs operated on a selective membership process, called a "bicker," while others began offering an open admission process. Today, eating clubs still function as a combination dining hall and social club for students. The majority of Princeton's eating clubs are located on "The Street," known to everyone else as Prospect Avenue. There's no shortage of delicious dining options in the local area, even if you're not a member of one of these prestigious clubs at Princeton University. Whether you're a Princeton Tiger or not, check out Hoagie Haven, PJ's Pancake House, and The Bent Spoon.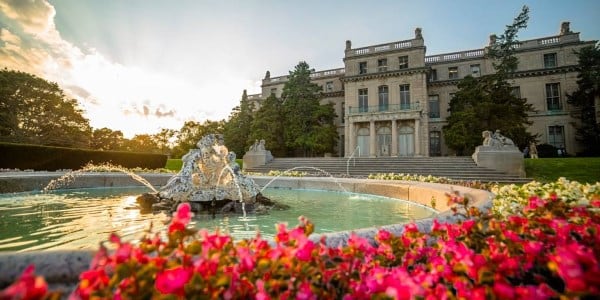 Study by the Shore at Monmouth University

Monmouth University bills itself as "The Coastal University" for two reasons:
1) Located within walking distance from the beach, students can easily bring their textbooks and study for exams in the sand while also taking advantage of fun Jersey Shore destinations like Pier Village, Belmar, and Asbury Park.
2) Due to its shoreline location, Monmouth University is poised to be a leader in marine biological research. It is home to the Urban Coast Institute, which serves as a forum for research, lectures, and programming that promote environmental education. This mid-size research university is known for their Marine and Environmental Biology and Policy program, where students gain an understanding of the issues and processes related to terrestrial and marine ecosystems. Dr. John Tiedemann is the Interim Dean and Director of this program.
Each year, extremely lucky students in Tiedemann's Tropical Island Ecology course culminate the fall semester by doing hands-on field research at the Cape Eleuthera Institute and The Cape Eluethera Island School in the Bahamas. Those enrolled in the class have the opportunity to study, attend lectures and perform applied research during the winter recess in January. Not only do students get to conduct hands-on research, they have an educational escape during the dreary New Jersey winter.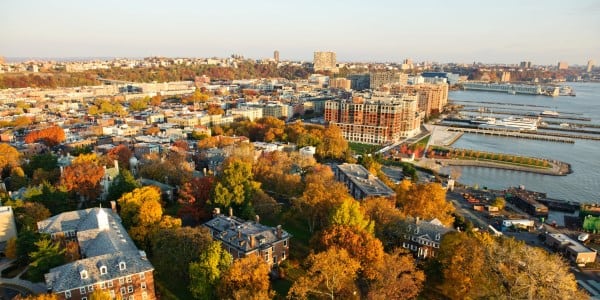 Attend school in one of New Jersey's most desirable real estate markets

Stevens Institute of Technology in Hoboken, NJ is where techy meets trendy. With their prime real-estate in one of the state's most bustling cities and award-winning programs, Stevens is an attractive option for undergraduate and graduate students. Stevens offers programs in engineering, chemistry, computer science, business, entrepreneurship, and the humanities. By putting in hard work, Stevens Institute of Technology grads earn massive bragging rights and bright futures along with their degree. Stevens boasts impressive rankings and recognition for career placement, salary potential, and overall value. Bottom line: if you're going to shell out money for your diploma, Stevens offers a pretty high ROI.
That spells good news for those who want to live in the city after graduating. Market trends show that both rents and property values in Hoboken are skyrocketing, a projection that shows no sign of slowing down. Hoboken is so desirable due to its proximity to Manhattan and its own reputation as a bustling hot spot. The younger crowds know that Washington Street is the city's nightlife hub, with bars such as Maxwell's Tavern, Bin 14, Madison Bar and Grill and Louise and Jerry's Tavern populating the strip. With Hoboken's rapid expansion and ten-minute PATH commute to the city, it's a young urbanite's dream location.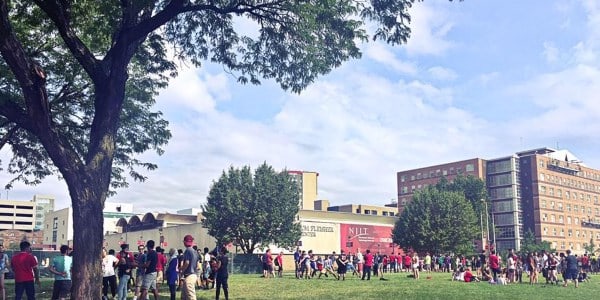 Experience a Taste of Portugal in Newark

Like many of its cohorts on this list, the New Jersey Institute of Technology is a solid choice for higher education. The school offers 128 programs, multiple research opportunities, and D1 athletics. Students enjoy a rich campus life by participating in clubs, organizations and leadership programs. Located in the University Heights section of Newark, NJIT students are actively encouraged to explore the state's largest city.
Newark is more than just the next-door neighbor of more fashionable cities like Hoboken and Jersey City. Like most cities, Newark has sub-sections that each tell a story of the city's past, present and future; in particular, its Ironbound District. The Ironbound District is a 4-mile enclave whose identity is tied to the rail companies that made Newark a centralized transportation hub on the East Coast. It got its name from the looming elevated iron bridges constructed by the Central Railroad of New Jersey at the dawn of the 20th century. Newark, thus bound in iron, was a major manufacturing hub during the Industrial Revolution. It attracted investors and immigrants alike, which allowed the growing city to flourish.
While laboring Irish, Italians and Germans were the neighborhood's original residents, Ironbound truly gets its cultural identity from the Portuguese. Ferry Street is Ironbound's beating heart, where buildings are adorned with Portuguese flags and rich Iberian cuisine is the culinary standard. In recent years, many upscale tapas bars and restaurants have opened their doors, such as Vivo, Casa d'Paco and Mompou. If the best way to acquaint yourself with a culture is through food, then a visit to any of these restaurants will give NJIT students a glimpse into Newark's local community. Adventurous eaters may want to check out one of these tapas bars and restaurants after an event or concert at the Prudential Center or NJ PAC.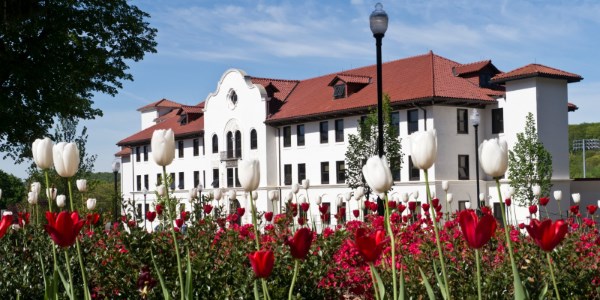 Study in the Hometown of a Baseball Legend

Montclair State University consists of 252 acres spanning over three small towns in Northern NJ. The university makes the most of that space by offering 300 programs, nine schools, and just over 20,000 students. One notable part of campus is the Yogi Berra Museum and Learning Center, which provides education and youth enrichment based on perseverance, respect, teamwork, and excellence – all values that were important to the baseball legend.
What better place than Montclair to honor Berra's legacy, as he spent half of a century residing in the town while taking Major League Baseball by storm in the 20th century. During his career, he played for minor league team the Newark Bears, before going on to become one of history's most beloved Yankees. Continuing his tradition, the museum offers camps, exhibits, programs, and events that empower K-12 students through sports education.
The university crowd can also benefit from Berra's legacy. The state-of-the-art Yogi Berra Stadium is the home of Can-Am Association of Professional Baseball team the New Jersey Jackals. Ticket pricing starts as low as $10, which makes it an attractive option for college kids who are short on cash and looking for something to do. Although baseball season starts just as the semester is winding down, students who live in apartments year-round or are doing a summer study program can take advantage of the minor league baseball games and promotional events happening right on campus.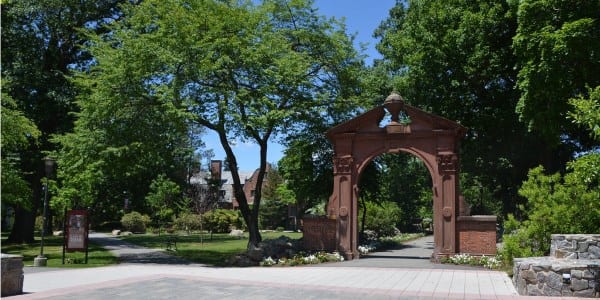 Experience the Great Outdoors at Ramapo College

If real estate is all about "location, location, location," then New Jersey has the best of both worlds. It offers natural beauty in its farms, forests, and beaches, as well as rapid transit to Manhattan. Of all the institutions represented on this list, Ramapo College embodies this dichotomy the best.
Mahwah, NJ, where Ramapo College is located, is close to many state forests, preserves and nature centers. During the mild weather months, students can hike, bike and explore the beautiful New Jersey Skylands Region. Palisades Interstate Park, Norvin Green State Forest, Long Pond Ironworks State Park and Ramapo Mountain State Forest are all tantalizingly close to campus for students who love the outdoors. For students who want to take advantage of Ramapo's scenic location, the college offers several student groups devoted to the outdoors, such as rock climbing, ski and snowboarding, geocaching and, of course, the "outdoors" club.
Luckily, students who are looking to explore a more urban jungle have New York City at their fingertips. Just across the Hudson River and practically visible from the highest points on campus, Manhattan is a popular destination for students on the weekends.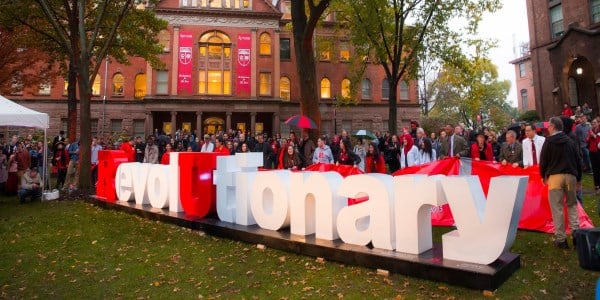 Learn about Rutgers University's Reputation for Social Justice

No list of NJ colleges would be complete without a nod to Rutgers University, the official State University of New Jersey. Rutgers seemingly has it all: 31 schools and colleges, over 200 graduate programs, 100 undergraduate majors and 300 research centers. It is known as being both an athletic and academic powerhouse, with enough awards, accolades, and recognition to fill High Point Solutions Stadium, where none other than President Barack Obama gave the commencement address in 2015.
Rutgers often gets a reputation for being a raucous party school. If you live in New Jersey, chances are that you or someone you know has spent time at an RU party, tailgate or campus event. Rutgers consistently earns placement on many "top party schools" lists. However, that doesn't mean that the only things Rutgers students do is spend their Saturdays drinking on College Ave. A 2012 report by Business Insider named Rutgers in their round-up of "work-hard, play-hard schools." Rutgers fits this bill because its students are more than capable of managing a never-ending social life with a fulfilling course load.
As a leading academic institution, Rutgers also has a rich history of social and political activism. Rutgers students have demonstrated against numerous causes throughout the years. The bright and engaged student body has protested against financial cutbacks at the state legislature in 1957, against the Vietnam War in the 60s and 70s and rallied against apartheid in South Africa by staging a combination sit-in and hunger strike in 1985. Rutgers was also one of the first colleges to have a national LGBTQ organization represented on campus.
Today, the spirit of social justice still rings on at Rutgers. The university literally has dozens of organizations that allow students to become engaged with causes that matter to them. Global organizations like UNICEF, Amnesty International, and Greenpeace all have a place on campus. Rutgers also has its own grassroots organizations run by students, such as RU Choice, Students for Environmental Awareness and Democracy Matters, to name a few of many. Students can also participate groups that focus on issues facing the local NJ community, such as New Jersey for Health Care and the New Jersey Immigration Policy Network. That is when they're not hanging out at Kelly's Korner or The Scarlet Pub.
A Word of Advice for Incoming Students

One of the best things about attending college is moving to a new place and experiencing all of the challenges that come with it. New Jersey's rising students can't make a wrong choice when deciding where to go to school. Beyond those mentioned above, NJ is home to other notable and esteemed colleges, like Rider University, St. Peter's University, William Paterson University and many others, all with vibrant communities on campus and in the surrounding areas. In New Jersey, students of all types are sure to find their perfect fit to call home for the next four years. Be sure to take a break from studying once in a while and find fun, awesome things to do in NJ.
Did you attend college in the Garden State? Show your school spirit for your alma mater in the comments below.