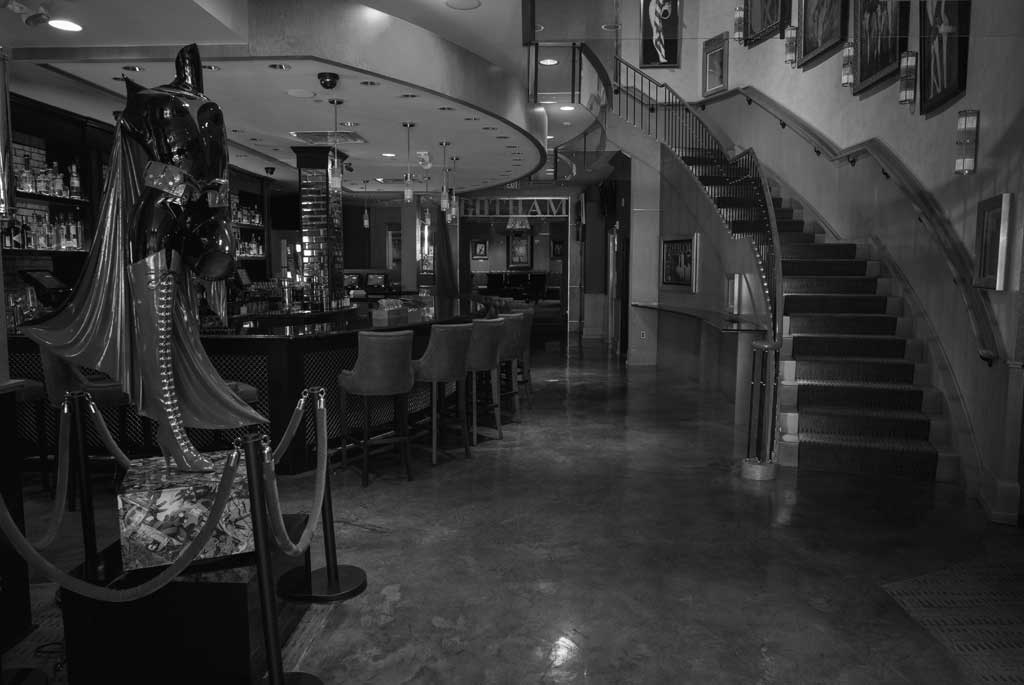 There are some restaurants and lounges that are easy to define. They might be the classic lounges that you might see in schmaltzy movies filled with romantic drama. They might be the lounges and restaurants that are so trendy that they don't make much sense. Or, they might be the classic "Jersey" lounge-restaurant fusions that always seem to dot main streets in almost any town in the state.
Then, there are restaurant-lounges like Gotham, which are really unique and exceptionally hard to fit into any one category. A relatively new establishment in Red Bank, Gotham quickly managed to attain a clientele of the hyper-trendy, the food-fanatical, and the mildly geeky. As comic book aficionados may have gleaned from the name of the restaurant, there's a good reason why both geeks and fashionistas alike love the new hotspot.
Though subtly done, Gotham is a Batman-themed lounge.
The décor is done up to resemble Bruce Wayne's mansion, and in a glass case, you can actually see some Batman gear placed on display. However, the owners of the restaurant took care not to take it to a level of tackiness by carefully balancing out the Gotham and Batman themes with artwork done by both local and classic artists. Shapley statues line both walls and floors, while more modern paintings can be viewed upstairs. In other words, Gotham was decorated in what can only be called a perfect blend of geek and chic. It's hard not to feel like you're partying at Bruce Wayne's mansion simply because of the place's decadent décor.
While there has been a lot of talk about their excellent dance nights, at Fun New Jersey, we were more impressed with their happy hour. Taking a cue from some of the more popular gastropubs in North Jersey and NYC, Gotham makes a point of it to supply a nice variety of craft beers and local brews, as well as some of the most decadent shareable snacks in town. And, at happy hour, those delicious drinks are discounted. And, at Gotham in Red Bank, NYC-style price gouging doesn't happen.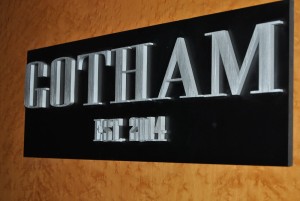 At happy hour, their already generous menus grow even more, allowing groups and couples to indulge in surprisingly affordable, shockingly gourmet treats, burgers, and tidbits. You can get a nicely portioned plate of fries or onion rings for about $6 to $8, and if you want to really eat like a king, their lamb rack dish is an amazing bargain at $15. Better still, between the fine fare and the discounted drinks, you also are able to enjoy a very lively, surprisingly friendly atmosphere.
Gotham is a particularly rare gem among bar, restaurant, and lounge fusion locations. It's posh, yet not snooty. It's boasts a menu filled with delicious food, but it's not a typical gastropub. It's an art gallery, yet it's lively all the time. It's geek-themed, yet it's not awkward, tacky, or immature in nature. It's a nightlife hotspot that plays house music on a regular basis, but it is by no means a hackneyed club you'd find watching Jersey Shore. It's Gotham, and in all honesty, that's the only way to describe it. And, in order to understand what Gotham's really like, you have to experience it – and it's definitely an experience worth having.
Gotham Lounge
9 Broad St, Red Bank, NJ 07701
732-268-8543