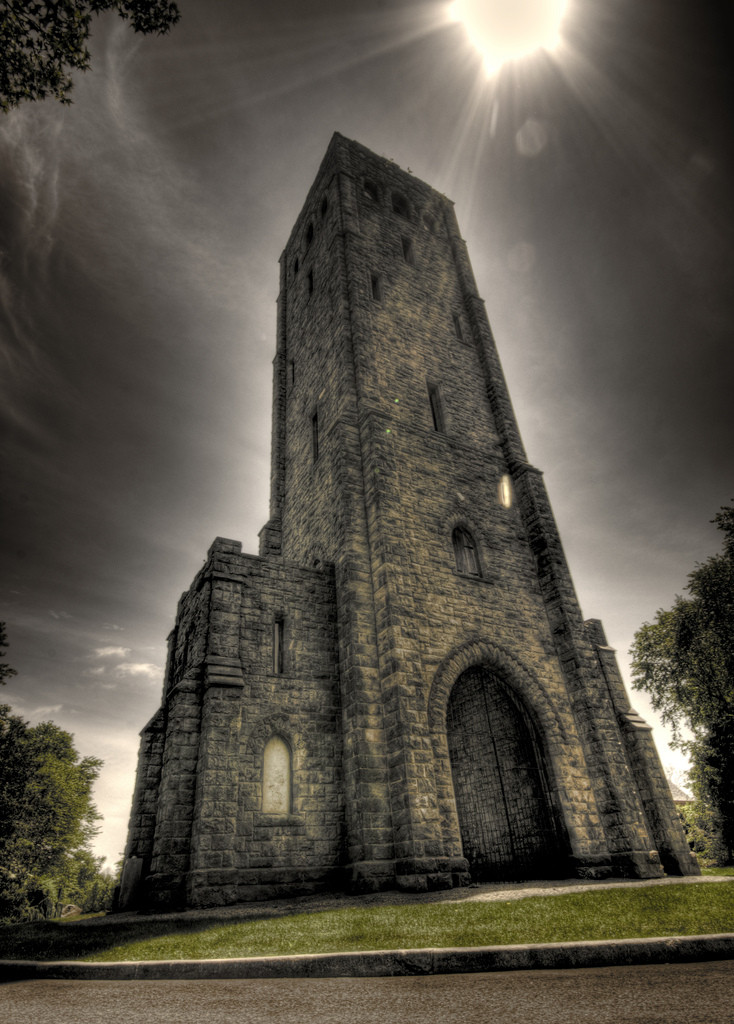 Image courtesy of TripVoid.com
Alpine, NJ is one of the most well-to-do towns in all of the United States according to Forbes. Known for being home to a number of celebrities and music producer, it's hard to imagine that this town would have any sort of terrifying venue that didn't simply scare people away with expensive prices. However, almost anyone you ask in the local area will tell you that this tiny town is home to one of the most terrifying historical sites in the entire state: Devil's Tower.
The Beginning Of The Devil's Tower Saga
It seems only suiting that the Devil's Tower would be found in a town as rich as Alpine. Back in the turn of last century, a man by the name of Manuel Rionda had owned what is now known as Rio Vista, where the tower is located. Rionda was married to a wealthy socialite wife by the name of Harriet, and decided to prove his love by erecting a classically built tower that would give her the ability to get incredible views of the town and the New York City skyline.
In many ways, the marriage that Manuel had with his wife was a lot like many Hollywood marriages you would see today in the sense that infidelity was an issue While his wife may have suspected it for years, it was only when she saw him with another woman while up in her tower that it truly sank in. Saying that it devastated her is an understatement.
Distraught to the point of insanity, she jumped from the highest window of the tower that night. A couple of hours later into the night, her husband noticed that he hadn't hear from her recently and set out to search for her. After finding her broken body splayed out at the bottom of the tower, he quickly began to put two and two together as to what happened.
The Haunting Begins
Call it guilt, or call it spirit activity, but it didn't take too long for Manuel to notice that something seemed "off" about the Tower. He kept hearing footsteps following him when he'd enter the tower. Unexplained noises echoed through the hallways. Sometimes, he even swore that he heard his wife sobbing or screaming in agony. At times, he swore he was pushed by an angry, cold, unseen person. Manuel quickly began to believe that the high strangeness of the activity was his wife haunting him from the grave.
After a couple of years, he decided that it was of no good to keep the tower open. He closed it down, removed the elevator, and filled in its adjoining tunnel in hopes that "Nobody would ever go up there again."
People Took Notice
Word of the socialite's death and the ensuring haunting spread through Alpine society like wildfire. Those who would visit the area would often agree that they've heard strange noises coming from the tower, and would go as far as to say that they could smell perfume that could never be explained by logical circumstances. It was around this time that people began calling it the Devil's Tower, citing that it was clearly cursed by a woman who's scorn was greater than Satan's.
After Manuel died in the 1950's, the town had to decide what to do with the deserted tower. The story behind the tower was a scandal, and the upper crust never liked a scandal in those days. So, they tried to demolish it. Multiple construction workers who were in charge of destroying the cursed tower fell or were pushed to their deaths, and the project was abandoned.
The Haunting Continues
After the project was cancelled, the Devil's Tower was left to decay – but people still decide to visit it. As in years passed, people continue to hear the Mrs. Rionda scream in rage. They continue to report being pushed or shoved by unseen forces. According to at least one paranormal investigator, the tower also has an apparition that regularly darts in and out of the main gate.
There's a longterm rumor that says that if you walk backwards around the tower six times, the ghost of Harriet Rionda will appear before you. Since cars became more popular, the rumor has expanded to include driving as part of the ritual as well.
But Is It Really Haunted?
Historical records show that Harriet Rionda died of natural causes in 1922, and many have asserted that the Devil's Tower was really supposed to be a water tower that was built to house pressurized water for the Riondas' water fountains.
In the 80s, rumors began to surface about Satanists using the tower for dark masses and black rites. These rumors have been unsubstantiated, but people still insist that it's happened.
The Legacy Is Real
Though it's hard for anyone to know if it's really haunted or just a strange spooky tower, the legacy that the Devil's Tower has is real. It's been repeatedly called one of the most haunted sites in New Jersey by a number of different publications. Needless to say, it's considered to be a hotspot for paranormal fans.
That being said, it's not wise to try to enter Devil's Tower. Aside from the fact that you might get hurt, police also regularly patrol the area. The area is considered private property, which means that you may also risk arrest if you enter without permission.