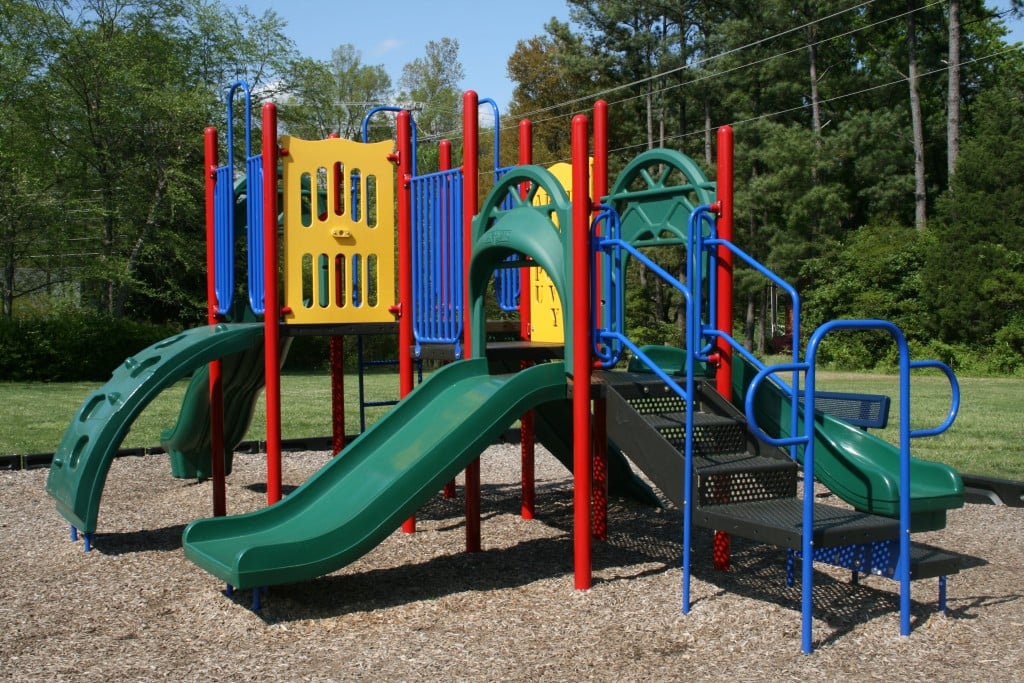 10 Awesome Playgrounds Throughout NJ
Everyone, whether young or old, loves to play on an outdoor playground. Sliding down the slides, trying to touch the sky while soaring as high as you can over the swings and embracing your inner monkey on the monkey bars. Every activity at the park or school, wherever the playground is located in your neighborhood, is beyond fun and guaranteed to bring out the child in every visitor.
If you are in hunt for a playground, but not just any playground, the best playground in NJ, that could be difficult. Because New Jersey is a kid-centric state and there are countless fun things to do, unexpectedly there are hundreds of playgrounds.
As such, finding the ABSOLUTE BEST PLAYGROUND is nearly impossible, but we have narrowed your search down to the top ten playgrounds in NJ. At these jungle gyms, you and your children will be able to discover, or in the parent's case, rediscover, the joys of letting loose and playing on the slides, swings and monkey bars for an afternoon.
1. Imagination Kingdom:
Topping off the list of best playgrounds in the state is Imagination Kingdom in Pemberton. This Burlington County playground is one out of the dreams of every child.
It is just so much more than a sandy or bark chip surface with slides and swings. Imagination Kingdom features a large castle-themed play area where every little boy or girl can be the king or queen, letting their imagination soar and their games to continue for hours on end.
Additionally, children of any age can enjoy themselves at Imagination Kingdom because alongside the castle play area, this top playground in Pemberton also has seesaws, tire swings, sway tables, numerous rock climbing walls, climbing ropes, toddler and regular swings, spinning dizzy chairs, musical equipment, educational play equipment and, of course, the traditional selection of monkey bars, tunnels and slides.
With so many fun options to choose from, it is no wonder why Imagination Kingdom is one of the most loved and desired playgrounds in all of New Jersey
Imagination Kingdom
500 Pemberton Browns Mills Rd. Pemberton, NJ 08068
Open Mon – Fri: 9:00 am – 5:00 pm
2. Van Saun County Park:

Another awesome playground and park that you can visit with your children is Van Saun County Park in Paramus. Unique to this playground is a train that runs through the entire property and can be ridden for only a small fee. Since this playground has numerous jungle gyms with equipment appropriate for both very young and older children, the entire family will be able to enjoy themselves at Van Saun County Park.
These playgrounds are located on 146 acres of land in the beautiful Bergen County area and is filled to the brim with fun activities, attractions and more. In addition to the awesome train ride that cannot be found at any other playground and the jungle gyms featuring swings, slides and other recreation equipment, Van Saun County Park has a zoological park, the Historic Washington Spring Garden and a carousel.
If your children enjoy fishing, pony rides, sports or even sledding, this NJ playground also offers those activities, weather and seasonally permitting.
Van Saun County Park
216 Forest Ave., Paramus and Continental Ave., River Edge, NJ 07652
Open seasonally 10am – 4pm daily
3. Community Playground of Montville, NJ:

If you are located in Northern NJ, near Morris County, you should definitely check out Community Playground of Montville. This playground, landing a spot in the top 10 playgrounds throughout New Jersey, features attractions that any young child would love. Children and parents alike will stand for a moment in awe as they examine the sheer size of the playground.
With a ginormous slide, one that will likely make the passenger scream in excitement, tire swings, a net obstacle course and even a small-scale rock climbing wall, this playground gears itself towards a younger, pre-school-aged, demographic.While older children can have fun at Community Playground of Montville, NJ, it is the younger children that will enjoy this playground the most.
All of the equipment is child-friendly and, with the supervision of a parent or guardian, kids can explore and have the most fun they've had in their life.
Another great feature of Community Playground of Montville is that it is a handicap accessible playground in NJ. This NJ playground has various ramps leading up to the recreational equipment as well as two wheelchair accessible swings. It is certainly true that anyone can have an afternoon of fun at this jungle gym!
Community Playground of Montville, NJ
127 Changebridge Rd., Montville, NJ 07045
4. Castle Playground:

Where many playgrounds feature recreational play equipment that could be boring to older children, quite the opposite is true for Castle Playground in Chatham, NJ. While they do have a traditional jungle gym, designed with a castle theme so children can utilize their imagination, swings and rocking horses, these are not the highlights of this playground. Making it one of the top 10 in NJ are the attractions appropriate for children over the age of 7.This Chatham, NJ playground has rock equipment, not a rock wall, but actual rocks, that children who are fearless can climb. They also have a spider-web net obstacle course that is fun to maneuver, a basketball court, tire swings and so much more!
Castle Playground
Shunpike Rd., Chatham Township, NJ 07928
5. Kidstreet Playground:

Yet another playground designed with a child's dreams in mind, Kidstreet Playground in Bridgewater, is one of the more modern playgrounds in the state. With traditional jungle gym equipment featuring slides, bridges, rope swings and a few interactive play areas, many people may think that Kidstreet Playground is just another playground in NJ. However, that is not the case.
The one thing that makes Kidstreet Playground one of the best in the entire state of NJ is the dedication of its owners to keep it fun, interesting, modern and maintained.
When the owners of the playground feel as though an area of their land could be utilized for fun rather than empty space, they attempt to add new play areas. This is how the playground has come to have so many cool pieces of equipment, including a castle themed jungle gym, partially covered slides, cabins, tractor-themed play equipment and, added in 2014, spinner bowls and playground equipment suitable for toddlers and young children.
Kidstreet Playground
700 Garretson Rd., Bridgewater, NJ 08807
Always open
6. Imagination Station:
This Morris County playground has made the top ten list of playgrounds throughout the state for a number of reasons.
This well-known playground located in the Northern NJ area has play equipment that will excite children of any age. Younger kids will absolutely glow when parents let them speed like lightning down one of the large slides, push them towards the sky on the swings or let them play in one of the many club houses on playground property.
Older children, can test their climbing abilities by scaling Imagination Station's rock wall, explore the highest point of the jungle gym or even jump off higher points in the park. The entire family can have fun at this playground and the best part about it is that by the time you choose to head home, the kids will be overly happy…and exhausted!
Imagination Station
72 Eyland Ave., Succasunna, NJ 07876
7. Esposito Park Playground:
Located in the small 4 square mile town of Clark, the playground at Esposito Park is definitely one of the best in the state. With a spongy floor and fenced in play area, parents and guardians can relax knowing that their children are protected from common injuries at this Union County Esposito Park also has something that everyone in the family can enjoy.
Children can enjoy themselves as they swing across monkey bars, climb the rock wall and, of course, soar down the slides while parents can take a short stroll on the drawn-out pathway or workout in the fitness area.If you have a daredevil kid on your hands who loves to skate, this playground even has a skate park on premises!
Simply suit them up in elbow pads, knee pads and a helmet and send them off to the designated skate area so they can practice their tricks and fine tune their skills. Whether your children are younger or older, they can certainly enjoy themselves at this playground, offering a local NJ community feel, but offering a variety of awesome attractions.
Esposito Park Playground
659 Madison Hill Rd., Clark, NJ 07066
8. Dorbrook Recreation Center:
This Monmouth County NJ playground, Dorbrook Recreation Area, is one of the best in the state because it is more than just a playground, it is also a spraypark! With quite a few water attractions, including sprinklers, a water table and sanded areas, this is a great spot to visit in Colts Neck, NJ during the muggy, hot summer days.In addition to the vastly popular sprayground, the Dorbrook Recreation Center has one of the all-time best playgrounds in NJ. This playground has numerous giant slides, sand digging equipment, cool balance beam equipment and much more!
Dorbrook Recreation Center
209 County Route 537, Colts Neck, NJ 07722
732-842-4000 ext. 4312
Open seasonally
9. Tony's Place:

Located in Long Branch, Tony's Place is a universally accessible and award-winning playground. It has an open-air design, giving every visitor the opportunity to take in the beautiful scenery, play on the humongous jungle gym and enjoy the day outside. Their traditional playground is sure to take you back to a time of simple enjoyment and your children will recognize that they do not need video games to have fun, just a slide and their imagination!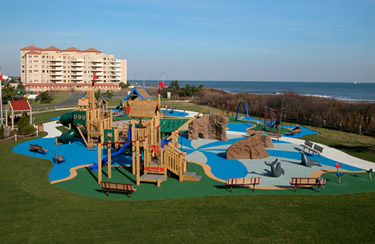 During the summer months, families with special needs children can utilize the "Summer Fun at Tony's Place" program. This program provides children with special needs, and their families, free access to the playground. All that is needed for parents to make use of this awesome NJ playground program is a free permit obtained by calling 732-842-4000, ext. 1.
Tony's Place
221 Ocean Ave. North, Long Branch, NJ 07740
732-842-4000 ext. 1
Open year-round 8am – dusk
10. Castle Park II:
This cool playground located in Toms River, features some of the best play equipment for kids. Split into two play areas, one for toddlers ages 2 – 5 and one for children 5 – 10, this playground has it all. While younger children can enjoy the swings, rocking horses, small slides and cool castle themed play houses built into the jungle gym, older kids will have more age-appropriate equipment to entertain themselves.Highlighted in the school-aged children's play area are larger slides, bridges and everything castle and playground themed.
If you have a child who is a slight daredevil, bring them over to the fireman's pole and let them slide down it full speed or assist them as they try their hand at climbing atop the jungle-gym rocks, conquering their fear in the process!
With so many playgrounds and parks located throughout NJ, choosing the top 10 was no easy task. These jungle gyms stand out among the crowd because they are truly unique. Offering everything from interactive play equipment, large spider-web style obstacle courses, mobile train rides around the property and even humungous slides, you are guaranteed to see the excitement sprawl across your child's face as you bring them to the coolest NJ playground near you.
Castle Park II
Oak Ave. and North Bay Ave., Toms River, NJ 08735