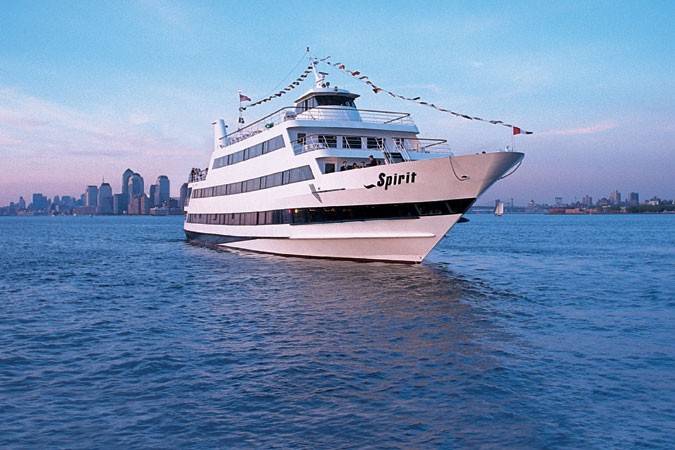 When most people consider going on a cruise, the state of New Jersey never really pops up in their itinerary. Truth be told, most cruises that depart off the East Coast tend to do so from other states like New York and Florida. However, that's not to say that cruise ships don't have New Jersey starting points, either. In fact, the New Jersey cruise industry is booming more than ever before. Here's what every New Jerseyan should know about the cruises they can take, right from their home state.
The One And Only Major New Jersey Cruise Port
All cruises that are taken in the state will begin and end their journeys at a port in New Jersey. The only port in the state is the Cape Liberty Cruise Port, located in Bayonne. You may have also heard of it being called Port Liberty, or the New Jersey Cruise Port.
As one of the only three trans-Atlantic cruise ports in the Ports of New York and New Jersey, it sees its fair amount of use during both winter and summer months. Since its opening in 2004, Cape Liberty has seen over 320,000 passengers enjoy cruise excursions.
It's important to note that both cruise companies and the port itself carry information on cruise ship schedules, where to buy tickets, and what one should expect. Make sure to check Port Liberty's website before you head out!
Cruises You Can Expect At Cape Liberty
Most major cruise lines have at least one ship that has done a tour through Port Liberty, and much of what you can expect from your cruise tour will depend on what time of year it is.
• During the summer, you can typically find cruises that are headed to the Caribbean and Bermuda. Most of these summertime cruises will take any time between 5 to 9 nights to complete.
• Throughout the year, you can also get round trips to the Eastern and Southern parts of the Caribbean.
• In February, March, April, November and December, you can also take a 7- or 8-night cruise to the Bahamas.
• August through October also heralds the season in which Port Liberty offers tours through Canada and the UK.
Because of the fact that Cape Liberty is a small port, only a select few boats will dock every year. More often than not, the cruise ships that dock at Port Liberty are the best, the newest, and often the fanciest. The two current major cruise companies using Port Liberty are Celebrity Cruises and Royal Caribbean. Here's what you need to know about each major boat.
• Quantum of the Seas – One of Royal Caribbean's best boats has finally hit Port Liberty. This massive cruise ship boasts an indoor skydiving facility, a slick bumper car ride, a breathtaking 270 degree view room, and transformative venues that regularly hold awesome performances. The Quantum of the Seas is one of the most elegant cruise ships in history, making it a must for any seafarer.
• Liberty of the Seas – This is a sister ship to the Quantum of the Seas, and also belongs to the Royal Caribbean fleet. The Liberty is a ship that is geared towards couples and spagoers, thanks to over 100 different pools, 100 different spa treatments, and a number of top rated cruise restaurants. There are also plenty of activities to try out, including golf, ice skating, rock climbing and The Dreamworks Experience tour for kids. Overall, it's still a very family-friendly boat.
• Serenade of the Seas – The third in the Seas trifecta from Caribbean, the Serenade of the Seas proudly flaunts 16 bars, clubs, and lounges on ship. Along with a fully stocked Vitality spa, saunas, and whirlpools, the Serenade also offers guests the added luxury of a plethora of dining options – many of which are gourmet in nature.
• The Summit – This is Celebrity Cruises's pride and joy. The ship regularly hosts amazing talent and performances for everyone to enjoy. It also has a fully stocked martini bar, a spa club, and Qisine, a one-of-a-kind boating restaurant.
• The Anthem of the Seas – To be debuted in November of 2015, the Anthem of the Seas is going to be the cruise ship to end all cruise ships. Royal Caribbean has already leaked out information saying that the Anthem will have all the amenities of the Quantum, and then some. We expect to see a more evolved waterpark, a larger skating rink, and a full panoramic viewing station for those who just want to gaze at the open seas.
Dinner Cruises In New Jersey
If a week-long voyage isn't your cup of tea, don't fret. There are other minor ports that have you covered. New Jersey currently has two companies that specialize in dinner cruises. These cruises, as the name suggests, only circle around a port for a couple of hours, and serve dinner. They are elegant, can be rented for a private party, and also can be a venue for a corporate event. Here's what you should know about each dinner cruise company.
• Cornucopia Dinner Cruises – These dinner cruises have ample seating, old world charm, and a decadent menu. Public dinners run 2 to 3 times per month, always according to their calendar. This company has two ports, a public one and a private one. The public port is located in Perth Amboy, which the private port is in Hoboken. Dinner cruises last a grand total of 4 hours, while their brunch cruises last 2 ½. You do need to buy a ticket in advance, and tickets begin at $59 per person.
• The Spirit Of New Jersey – Spirit cruise ships are much more modern in terms of style than Cornucopia cruises. The cruises are docked at Weehawken, and take a tour through the Hudson as people dine, drink, and dance the night away. They also have a number of popular theme nights, including Hot Latin Night, Saturday Gospel Brunch, and an Eat, Drink & B. Mary Event. Prices vary from cruise to cruise.
Cruisin' In New Jersey
While it is true that New Jersey isn't a "major player" in the cruise industry quite yet, there's plenty of proof that shows that there's a lot of tourism going on. This is expected to increase in future years, and that's a great thing. In the meanwhile, if you want to check out cruises and book them, you can hit up some of these sites below…
Looking for a different type of trip you can take from New Jersey? Check out our picks for the top 8 bus trips to Niagara Falls from NJ.
Check out our NJ Beach Guide for all things to do up and down the shore!