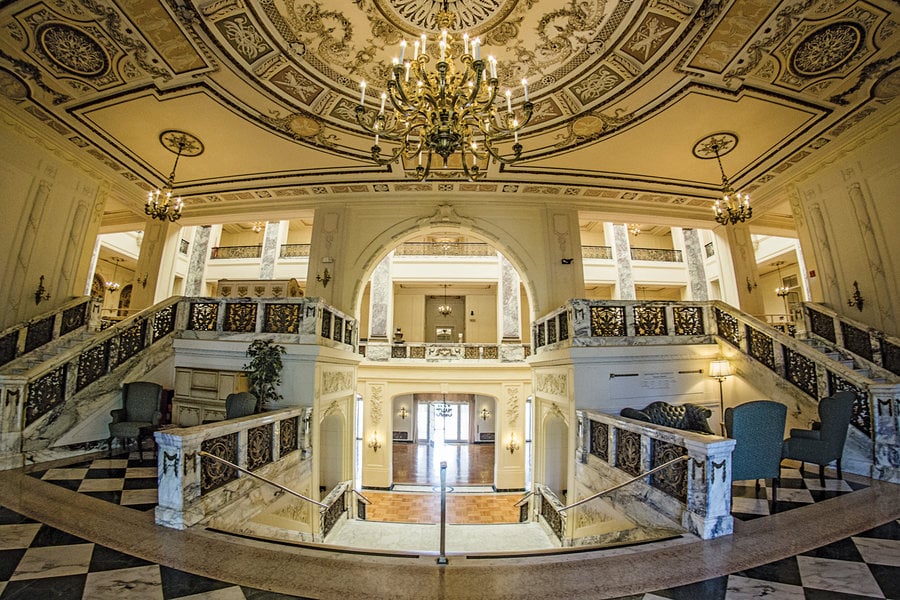 The Haunted Estate of Woodrow Wilson
In Monmouth University, there exists one massive, imposing building that resembles a bizarre cross between a castle and the White House. Inside it is the interior of a 15th century church from Europe, a bathroom featured in Annie, and three stories of architecture that epitomizes the nouveau riche of Gilded Age America. This one-of-a-kind mansion is known on campus as Wilson Hall, and as its name suggests, it was the former home of Woodrow Wilson. As any student of Monmouth can tell you, there also is a very unique history to Wilson Hall outside of its presidential past. Some even say that it's haunted. Here's what everyone should know about this New Jersey landmark nestled on one of the most manicured college campuses in the state.
Shadow Lawn's First Owner: John A. McCall
Shadow Lawn was the name of the original mansion that stood at what would later be called Wilson Hall. The sprawling Colonial Revival house was a work of art created in 1902 by architect Henry Creiger for John A. McCall, the first president of the New York Life insurance company. Unfortunately for McCall, it was his love of everything garishly expensive that would prove to be his undoing, as well as the reason why he had to sell Shadow Lawn.
McCall, like many members of the upper crust of America, loved to work business ties through social events such as balls and brunches. Resorting to decadent balls hosted by his family, over-the-top décor, and extensive displays of wealth, McCall became known for his love of wealth as much as his insurance company. Sadly, getting business to sustain that lifestyle proved to be difficult – especially when it came to getting the favor of the old rich who ran the majority of financial deals.
His key hopeful customer and hopeful future business partner was a man by the name of James Hazen Hyde, the heir to the Equitable Life Assurance Society. The young heir and playboy was known for being a fan of decadent balls, parties, and fine drink. As a way to celebrate his father's insurance company's excellent performance, he threw one of the most opulent balls in New York society history at his home, the Sherry's Estate. The party, which cost a grand total of $200,000 (approximately $5.8 million in today's money) sparked outrage among investors, many of whom immediately called for an industry-wide investigation on squandered insurance premiums.
McCall and Hyde were both caught in scandal, and of the two, McCall handled it worse. He spiraled into an intense alcoholic state, and died of cirrhosis five months after the scandal unfurled in 1906. Almost immediately, the estate was sold off to another speculator and buyer by the name of Abraham White.
The Next Two Residents
Both of the next people known as owners of Shadow Lawn were reputed as being sketchy. White was known as both a gambler and a speculator who had little issue with being unethical if it meant making a dollar. Unfortunately for White, he did not have the money to actually afford the home, which he had renamed to White Park. As a result of his lack of funds, he defaulted, and the home went into foreclosure in 1908.
A speculator by the name of Robert Smith was the next to buy the home, and unlike its two previous owners, he actually saw the home as a business opportunity. He actually made plans to turn the decadent residence into a country club. Due to unknown reasons, the plans for the country club fell through. Smith sold the home in 1909 to Joseph Benedict Greenhut. Shadow Lawn of Long Branch soon became a little more ominous, just because of the way that it was mysteriously sold off.
The Greenhut Years
The next owner was much less sketchy than the two speculators before him. Joseph Greenhut was known as a prominent member of both New York and New Jersey high society. He also was known as the proud owner of the Siegel-Cooper Company, one of the most popular department stores in the nation.
During this time period, the mansion was used for decadent (yet affordable) balls, and in 1916, Greenhut offered the mansion to President Woodrow Wilson as a summer home. Wilson accepted, and even delivered a speech on the lawn that year.
Surprisingly enough, Greenhut's company went bankrupt that year as well. Woodrow Wilson, though he had plenty of time and amenities to enjoy while planning his next run for president, also did not win. Neighbors began to wonder if the home had a bad luck streak associated with it.
In spite of the financial tragedy that he incurred, Greenhut was able to continue living in the home for a couple of years afterwards. He even continued to pour money into home improvements after his company had been declared insolvent, believing that he may be able to sell a home for a profit. Sadly, he died unexpectedly before he was able to accomplish his goal. After his untimely death in 1918, his family had little choice but to sell it in hopes of recovering at least some of the money that they once had.
Rumors began to spread that the home was linked to tragedy.
Irony: The Parsons Years
Hubert Parsons was one of Greenhut's biggest competitors. As the right hand man of the founder of Woolworth's, his company soared in both fame and profits during the years that Greenhut's company declined. As a gesture of goodwill, and possibly as a way to rub Greenhut's failures in his surviving family's faces, Parsons bought the home for a total of $950,000.
Much like other former owners of Shadow Lawn, Hubert Parsons saw a window of opportunity with the home. It was indeed beautiful, and investing in real estate was just as hot in the 1920's as it is now. In order to get a high premium price on the property, Parsons did what just about anyone else would have done with his budget: he spent over $1 million in home improvements.
In a shockingly ironic twist of events, almost immediately after the improvements were finished, the house burned to the ground. Rumor has it that there were deaths associated with this fire – including that of a firefighter who was trapped in the basement and burned alive.
Not one to give up after having spent slightly under $2 million on home improvements, and definitely not one to be put off by tales of tragedy, Parsons immediately erected yet another home on top of the land that once housed Wilson's summer home.
The New Estate's Tragedy: Social And Financial Failure
Hubert Parsons spared no expense when his new building was being designed and built. The sprawling mansion had 130 rooms, custom-made moldings with Baroque accents, Rococo furnishings, a music room, indoor fountains, an indoor pool, breathtaking marble staircases and flooring reminiscent of Grecian landmarks, as well as a fully-functional 15th century chapel that was imported from Europe. If grandeur had a building named after it, it was the new Shadow Lawn.
Maysie, Hubert's wife of over 30 years, had much say when it came to the design and maintenance of the new Shadow Lawn. She had visited other millionaires' mansions for inspiration, and even made an effort to hire France's top landscaper to keep the mansion pristine. 50 different kinds of marble, 17 bedroom suites, a couple of floors solely for servants, and a 125-foot long ballroom were only some of the "minor" touches that she insisted upon.
Simply judging by the expansive design of the mansion, one would assume that both Hubert and Maysie were the talk of the town. However, the truth was quite the opposite. They were both alone, very alone. They had no children, no family, and their most successful party had a grand total of only 18 guests. For all their effort, the Parsons could not get anyone to be friends with them.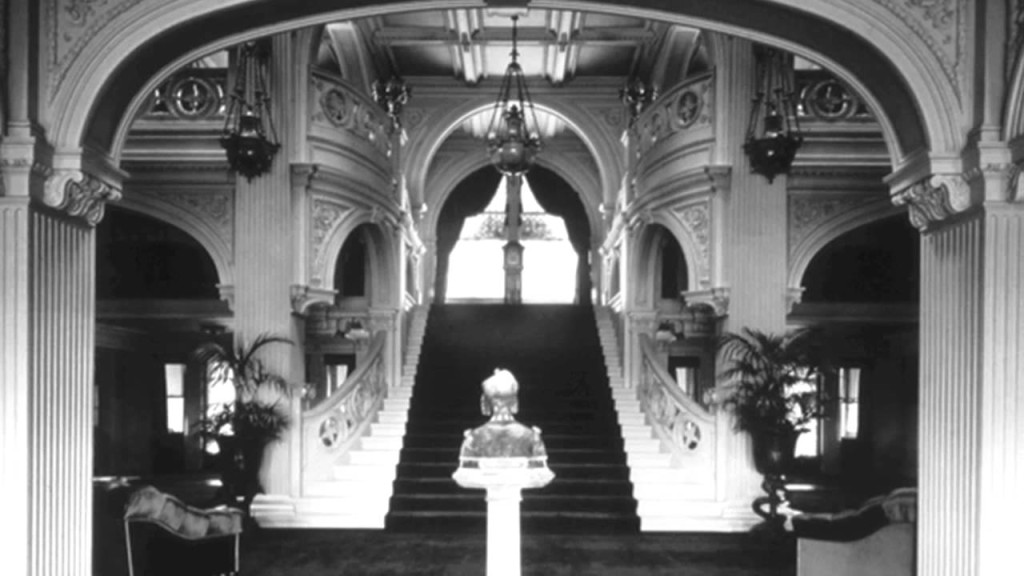 Much of the reason for this lack of friendship dealt with both Hubert and Maysie's backgrounds. Unlike their neighbors, the Guggenheims or
anyone else in the circles of the old rich, Hubert and Maysie didn't come from famous bloodlines. Hubert was 100% self-made, and worked his way up into the upper echelons of one of the largest companies in America. He met his wife, Maysie, while she was working as a seamstress. Absolutely nothing of their wealth was inherited.
Though modern groups would adore the fact that they're self-made, prior to the Great Depression, a blue blood background was basically considered to be a necessity in order to become a member of high society. When their blue collar background was combined with their insane obsession with proving to the rich that they were one of them, the result was a pathetically devastating social failure – even his neighbors refused to visit.
Rumors soon began to circulate about Maysie's desperate pleas for attention and acceptance. Every week, she would send out invitations to other wealthy locals offering them a place at their weekend dinner party. Every week, Maysie and her servants would work together to plan an elaborate, beautiful party. Every week, the silverware and plates would be arranged on the table and music would be readied. And, every week, the Parsons would open up their home only to find that everyone had once again refused to attend their party.
What makes this particularly sad is that both Parsons worked tirelessly to make Shadow Lawn a social hotspot among the wealthy and famous of the times. The main parlor was named the "social room." The basement held twin Paramount screen projectors for private movie viewings. Musical instruments and automated music players of all sorts were present in the home. They even had their own private bowling alley that they had tried to use for parties. And yet, the Parsons remained all alone in their wealth.
Life took a turn for the worse in when the Great Depression hit. Woolworth's, which was one of the biggest companies in the country, took a serious financial nosedive almost immediately. As the years marched on from the crash in 1929, Woolworth's began losing more and more money. In 1939, Woolworth's and Hubert Parsons were both bankrupt. The entire mansion of Shadow Lawn, which at one point cost $10.5 million to erect, was sold to the government for a pathetic sum of $100.
School's In Session
Due to its rumor of being a cursed property, no one had really wanted to reside in Shadow Lawn. After seeing so many former owners go bankrupt, many superstitious people who survived the Depression just didn't want to take their chances.
So, it was left to rot…for a while, at least.
After a number of years of being neglected, Shadow Lawn became the site of a private all-girl's school. No tragedies occurred while the girls studied. People began to see value in the mansion once more, but the concept of it being a school setting stuck – even after the girl's school folded. It was then acquired by Monmouth College (soon to be known as Monmouth University) in 1956. It has belonged to the university ever since, offering its gorgeous setting as a campus centerpiece. After it was bought by the university, Shadow Lawn became known as Wilson Hall.
Since it became a school, no one died there, no one went bankrupt, and parties were well-attended, suggesting that the curse of Shadow Lawn had finally been lifted by offering students the generous gift of education.
Historical Significance
Shadow Lawn, at one point, personified exactly what the Gilded Age was all about, as well as the class division between the old and the new rich. It was a perfect example of both money run wild, and the cripplingly isolating, delusion-inducing, and depressing effects of living in a golden cage. Its gilded halls, ostentatious shows of wealth, and stories of tragedy made the place the setting of multiple real-life Great Gatsby-esque novellas.
Since it was the home of multiple major company moguls, top speculators, and some of the biggest figures in turn of the century high society, Shadow Lawn was nominated and inducted into the National Register of Historic Places in 1976. In the early 80's, producers also chose Wilson Hall as the home of Daddy Warbucks in Annie.
In 1985, the US Department of the Interior declared it a National Historic Landmark, sealing its reputation as one of the most historical buildings in all of New Jersey. Students of Monmouth University also paid homage to the building in a documentary named Shadows of Shadow Lawn, which detailed the history of the building as well as supposed ghostly sightings.
The Unofficial History Of Shadow Lawn
Shadow Lawn's tragedy-filled history sounds like the beginning of a great ghost story – and perhaps that's why so many people believe the place to be haunted. Several specific ghosts have earned a bit of notoriety among Monmouth University's students.
Fire is a common element in many of the ghost stories. A malfunctioning elevator, which oddly enough, smells like it's been burnt, is supposedly haunted by the fireman who died while trying to put out the house fire of the first home. There have also been rumors of servants who died in the first fire that chose to stay home in the afterlife. Many people have said that they hear footsteps and hushed voices coming from the mezzanine area of the home – and often suggest that it's servants who at one point lived in the house.
Another common theme that people have associated with ghostly happenings in Wilson Hall is the theme of partying. Rumor has it that when people begin discussing invitations to parties, or begin party planning, that they'll feel an icy chill drift through the room. Could it be Maysie trying to add two cents? Similarly, there has been at least one occasion when ghostly music has been caught on tape by students filming in Wilson Hall. Perhaps it's the Parsons, trying to entertain guests from beyond the grave.
No one can say for sure whether or not Wilson Hall is haunted, but what we can say is that its history is one that few other houses will ever be able to rival.