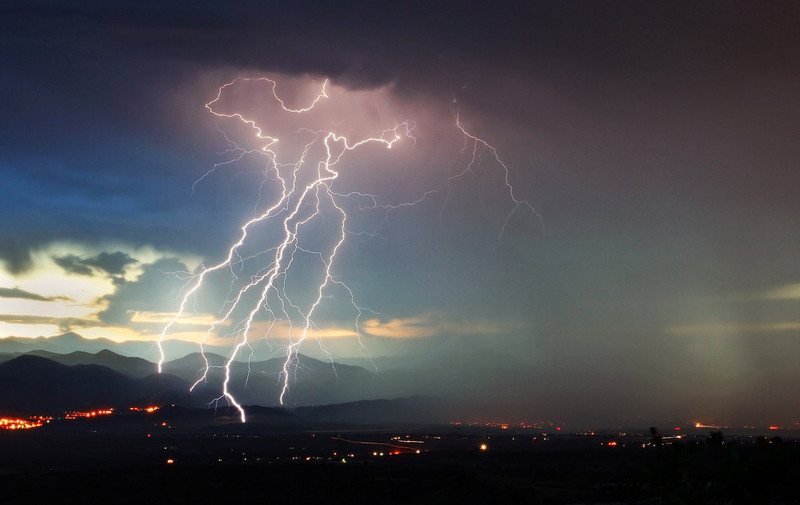 We all remember Hurricane Sandy, and the damage that it caused throughout the Jersey Shore. As great as our state may be, it has been privy to quite a few incidences of pretty awful weather. Sandy isn't the worst storm to hit the shore. Here are some of the others that have caused major damage in years past – in no particular order.
10. Hurricane Irene, 2011
While Superstorm Sandy was mostly damaging because of the high winds, Hurricane Irene wreaked havoc due to the sheer amount of flooding that ensued. During this massive hurricane, Governor Chris Christie had declared a state of emergency and enacted a mandatory evacuation of all Cape May County and Atlantic County shore towns. However, that alone was not enough to save everyone. In some towns in the Central Jersey region such as Manville and Bound Brook, massive flooding had completely destroyed homes.
Flooding was definitely what this storm was remembered by. In fact, photos of Manville, which had managed to accrue over 20 feet of water thanks to the storm, had gone viral due to the extreme damage, devastation, and apocalyptic mess that they portrayed. Almost every home in Manville was destroyed beyond repair.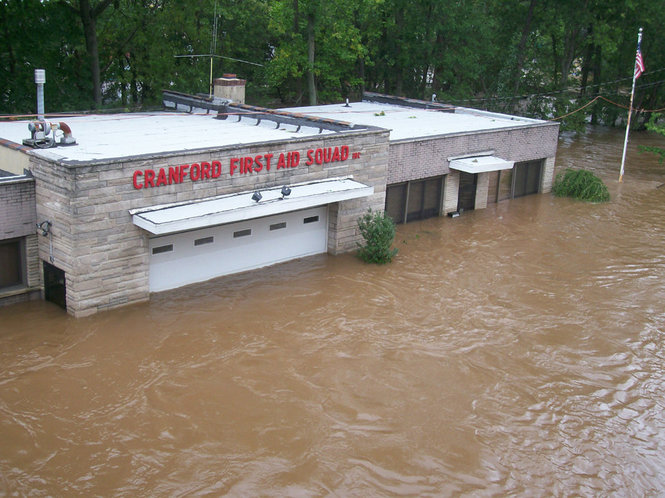 The National Guard had to be called out due to the chaos that ensued, and many people had died due to the flooding alone. Hurricane Irene was one of the worst storms to hit New Jersey, and also was declared the 7th costliest storm to ever hit the United States. It even managed to shut down toll services on the Garden State Parkway. Yikes.
9. The Norfolk And Long Island Hurricane, 1821
Granted, none of us were around when this hurricane took place, but it still managed to make history books as one of the worst storms to have ever landed in New Jersey. The storm was recorded to be a Category 4 Hurricane – one of the only Cat 4's to actually make it so far North. Some sources even suggest that it may have had winds as high as 150 miles per hour in certain locations, yet those are only alleged. We don't really have the historical records that can confirm it.
With winds topping 135 miles per hour, and a storm surge that topped five feet, the Norfolk and Long Island Hurricane most heavily hit the Cape May region of New Jersey. We don't really have much information on the devastation it caused to Cape May, since there were only 4,000 citizens in the area at the time. However, records show that people as far as Philadelphia felt the storm winds. In New York City, flooding had also occurred through the streets of Manhattan as a direct result of the storm. Scary!
8. The Great Blizzard, 1888
Nor'Easters are no laughing matter, and when one of these major snowstorms happens, New Jerseyans know to batten down the hatches. The Great Blizzard of 1888 mostly affected Northern New Jersey and New York City. This terrifying storm had freezing winds, over 2 feet of snow, and some of the iciest conditions in recent history. The frigid cold was so bad, it had snapped elevator lines, telephone lines, and other major links. In New York City alone, 200 people had died as a direct result of the storm.
Since there were fewer elevators, and less busy streets, Northern Jersey fared slightly better in terms of death rates. However, an estimate 200 people still froze to death during the Great Blizzard of 1888, and many more had found themselves without any means to contact relatives for help if they had run low on food.
7. The Storm Of The Century, 1950
This was a Nor'Easter that really lived up to its name! As one of the largest, costliest storms in American history, the Storm of the Century had hit over 24 different states throughout the country. In Ohio, people experienced over 3 feet of snow. In West Virginia, over 5 feet of snow had dropped over the course of the storm. New Jersey experienced both heavy winds and heavy flooding as a result of this massive megastorm, and it had managed to cripple the Northeast section of the United States for weeks.
For most people, they never saw this one coming. Weathermen didn't see it coming. As a result, no one was really prepared for it. By the end of the megastorm, over 300 people were dead. The storm caused a national damage toll of over $70 million, which would be equal to approximately $700,000,000 in today's prices. It happened in 1950, and was considered to be the original "Storm of the Century" as rated by newscasters. Those who remember it remember the difficulty they had just trying to reach out to friends and family – and shudder at the thought.
6. The Hurricane Of 1944
The Hurricane of 1944 was odd in the sense that it actually had never touched down in New Jersey. Despite this, it still caused considerable damage to the Jersey Shore region, and the fact is that most major Southern Jersey resort towns had been dealt massive damage. In Harvey Cedars, entire cottages had disappeared into the sea. Atlantic City had many major inns and restaurants destroyed. Long Beach Island, though, was the worst hit, with flooding destroying the majority of homes in the area.
Though it may not be as big as some of the other hurricanes on this list, the Hurricane of 1944 did cause a huge dip in the newfound interest in beach tourism during the time. As a result, it dealt a big punch to the local economies, and it's a punch that took many years to correct.
5. Hurriane Sandy, 2012
We had to put this on the list of the ten worst storms to have happened in New Jersey. We just had to. As you may remember, Superstorm Sandy had annihilated Belmar as well as a number of other popular Jersey Shore towns. During this massive storm, multiple towns were evacuated, some parts of New Jersey were completely cut off from Parkway and Turnpike exits, roads were flooded, and cellphone service dropped.
Hurricane Sandy also dealt a huge blow to NJ Transit and the NJ PATH systems, with subways heading in and out of New Jersey completely cut off. It took years to restore fully operational services, and in the end, Sandy ended up costing the state of New Jersey over $1 billion in damage. Some people are still homeless after the storm, 3 years later. To date, it is one of the costliest storms in American history, and it's the worst hurricane that New Jersey ever faced.
Because of the damage that had happened to New Jersey's infrastructure, New Jersey resort towns, and just about every aspect of living near the Jersey Shore, Hurricane Sandy sparked one of the biggest activist movements in recent years. You might have heard of it – "Restore the Shore." The movement is still quite active, and is still helping families get their homes back after all these years.
4. The Storm Of The Century, 1993
This massive blizzard was also known as the "Blizzard of '93" by New Jersey locals who remember it, and it was the intersection of three different warm/cold fronts that just basically exploded into a massive megastorm. New Jersey locals who were there may remember having to deal with over 3 feet of snow, power outages, flooding, and icy winds. There were a number of people who supposedly froze to death in this storm, however, we weren't able to find any in our research.
Much like other storms on this list, 1993's Storm of the Century affected multiple states, and spanned from the Southern parts of Florida all the way up to the Northern areas of Massachusetts. New Jersey was right in the middle of it, and bore a huge portion of the damage. In total,  this superstorm amassed $6 billion in damages, and left millions up and down the East Coast without power for weeks.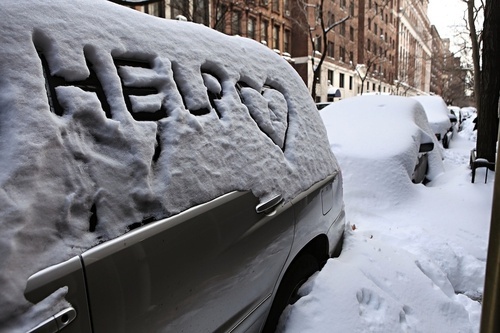 To give readers a better idea of how big this superstorm really was, the only time that all airports on the East Coast has been shut down due to weather was during this major snowstorm. Thousands of people were stranded in airports during this time, and many wondered how they were going to get home.
3. The Great Hurricane Of 1903
To date, we're pretty sure that this is the only hurricane that had managed to rip railroads out of the ground in New Jersey. This hurricane has been both described as a Category 3 and Category 4 hurricane, and was noted as the reason why the railroad bridge to Brigantine was destroyed. Over 60 homes had their roofs ripped clean off, and every resort town from Cape May to Asbury Park had retained significant damage.
This storm also caused particular damage to the fishing communities of New Jersey, since almost all the fishing piers that were regularly used by locals had been destroyed since the storm had hit. As a result, it took almost a decade for shore towns to actually get back to their old shape. On a random note, this also was one of the storms that destroyed one of the many incarnations of the Atlantic City boardwalk. Amazingly, another hurricane had happened almost exactly 100 years prior – with equally damaging winds.
2. The Unnamed Thunderstorm, 2015
Earlier this summer, a major thunderstorm had swept through Glassboro and the surrounding towns in Burlington, Camden, Salem, and Gloucester counties. Though it has not gotten much media attention, the damages were staggering. Winds alone topped 70 miles per hour, with heavy rains and electricity outages being reported from a wide span of different townships. During the six-hour span of the storm, over 400 calls were placed to emergency workers per hour.
The thunderstorm's strong winds had ended up wreaking havoc on Southwestern New Jersey's power grid, with many power lines having been knocked down during the strongest moments of the storm. This unnamed thunderstorm left a whopping 280,000 people without power. No estimates were initially given as to when power would be restored, leaving many businesses to take a huge loss. Along with power outages being reported throughout the area, homes had incurred extreme damages thanks to fallen trees and flooding.
The storm's devastation actually exceeded that of what they experienced in Hurricane Sandy, and as a result, the American Red Cross had to open up help centers for those who were left without food, water, or power. Additionally, postal services were also altered due to the storm's wind damage and road damage. Amazingly, this storm hasn't gotten the same amount of press as other storms on this list, making it a terrible storm that will most likely fade out of the public's memory within a matter of weeks.
1. The April 2007 Nor'Easter
To date, we haven't heard of a single storm that managed to convince the IRS to allow a months-long extension aside from this massive Nor'Easter that happened in 2007. During this unseasonably late Nor'Easter, the states of New Jersey, New York, and New Hampshire were slammed with high winds, massive amounts of flooding, and freezing cold snow. The storm itself lasted only four days, but measured a jawdropping 800 miles wide.
The damage it caused in New Jersey was absolutely undeniable. Many Northern Jersey businesses and homes were damaged by heavy flooding – with many damaged beyond repair. Families were quickly made homeless, and traveling alone became too treacherous to risk for several days. Almost all commerce had stopped.
The Nor'Easter also had major effects outside of Jersey, including the hindrance of rescue efforts during the Virginia Tech shooting. The change in pressure that the Nor'Easter made also caused tornadoes in Florida, and a spiraling storm in the Carolinas. Needless to say, it's one of the most damaging storms to have partly occurred in our state.
New Jersey Storms Keep Hitting Us
Truth be told, New Jersey has kind of a reputation for being affected by major storms, and some of the worst storms in NJ history were pretty terrible. Whether the storm that's hitting us is a massive thunderstorm, a massive hurricane, or a terrifying Nor'Easter, we always seem to find a way to endure and thrive. After all, we live in New Jersey – and this is a place where only the really strong will survive. Do you remember any of these superstorms? If so, which ones?