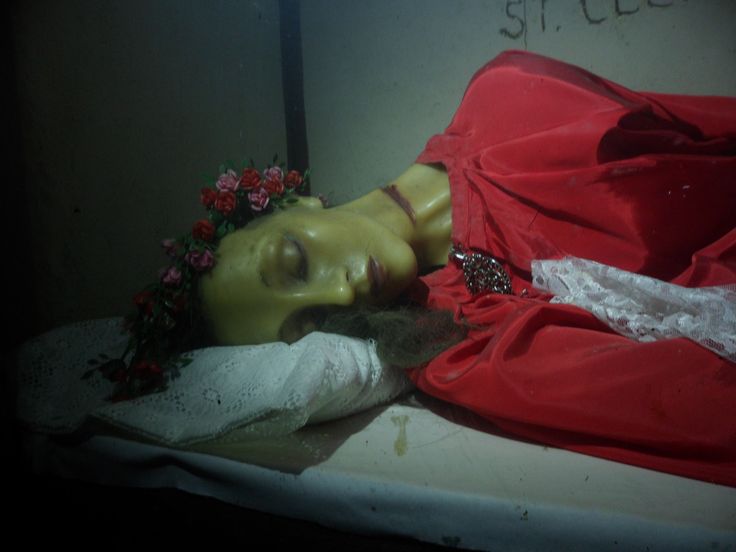 If you're one of the lucky chaps who have gotten a chance to stroll through the Atlantic City boardwalk, you may have actually already been to at least one major wax museum chains in the US. Generally speaking, people associate wax museums with lifelike statues of celebrities and historical figures, often seen posed as if they are "in action." Wax museums, generally, are considered to be fun for the whole family – even if they're from the Ripley's Believe It Or Not museum.
Of course, most wax museums aren't like the hidden wax museum you can visit in Newark. Most wax museums work hard to make their sculptures look as alive as possible. This is not, and was not, the case with St. Joseph's Catacombs.
Catacombs? In New Jersey? It's More Likely Than You Think!
The first American wax museum definitely could give Ripley's most grotesque sculptures a run for their money. Nestled underneath the bustling city streets of Newark, New Jersey is the first wax museum in American history, and unlike most other wax museums you can visit, the entire point of this museum was to show what the deceased bodies of various patron saints were supposed to look like as they were interred in graves throughout Europe.
Located right underneath St. Joseph's Church in Newark lies the little-known St. Joseph's Catacombs. Just as the name suggests, the entire museum is modeled after the catacombs in Europe, where thousands upon thousands of people were interred during the dark ages through the Renaissance period.
A centuries-strong symbol of the underground growth of Christianity, as well as a longtime attraction that was viewed as almost completely exclusive to Europe, catacombs are generally regarded as a morbid reminder of times long past – of plagues, struggles within Christian sects, as well as the generally high mortality rate of yore. It seems very unlikely to most people that a metropolitan city located in the United States, then, would have its very own catacombs.
If it seems really unrealistic to have catacombs like the ones found in Paris in the US, you're right. There were never any centuries-old catacombs systems in the United States of America. It wouldn't make sense for us to have ancient catacombs, anyway.
However, that doesn't mean that there aren't any catacombs in America. In fact, Newark has had them since the late 1930's thanks to a lone, slightly obsessed priest by the name of Father Amoros.
Amoros's Inspiration
Every artist has his own reason or inspiration that gets him to create his or her own masterpieces. For some, it may be found in the bottom of a bottle. For others, it's a particular muse who just ignites an unseen spark in their creativity. For Amoros, it was a trip to some older (real) catacombs in Montreal that made him realize that he wanted Newark to have its own catacombs that people could, erm, enjoy.
Inspired though he may have been, Father Amoros did recognize that there would be one major hurdle that would make having catacombs in Newark impossible in the traditional sense of the word. There was no way that any Newark politician in their right mind would agree to shove decaying bodies in giant, newly built catacombs underneath a popular local church. He knew that he had to make his dream come true somehow – even if it meant sacrificing realism for the catacombs to exist.
Realizing that he would not be able to convince the local mayor or city council to allow bodies to be interred in the catacombs, Amoros had decided to add an artistic twist to the catacombs that he was going to build. Instead of regular dead bodies, Amoros began to make wax sculptures of his favorite Catholic martyrs, patron saints, and figureheads resting in peace.
The Works Of Art (And Their Historical Impact)
The overall endeavor took the priest almost 10 years to complete. From 1937 to 1945, Father Amoros worked tirelessly to create statue after statue for his mock-catacombs. Since this was before Madame Toussaud's, and before Ripley's became a chain of offbeat wax museums, the St. Joseph's Catacombs became part of the very first wax museum in all of America.
Amoros spared no minute detail, nor any bit of gore, when he made his wax sculptures. Figures in Christian history that were martyred for their cause are presented with cuts to their necks if they were decapitated, as well as body wounds if they were struck down in battle. A deathly pallor coats the skin tones of every martyr and saint found in the catacombs – just in case people might have had the mistaken idea that the figures were supposed to look alive.
As a final, thoughtful finishing touch, Amoros made sure to include a bilingual biographical plaque honoring each of the people "interred" in Newark's art catacombs. The biographies detail each hero's feats and good deeds in both Spanish and English.
Some of the martyrs who are interred include the following folks…
Tarsicio, who was brutally beaten to death for refusing to give up his Eucharist. He was allegedly only 12 years old when he died.
Ines, who was raped and murdered in a Roman brothel, because she felt that she was married to God and therefore refused to marry a pagan.
Cecilia, who was steamed to the verge of death, then beheaded for refusing to give up her religion.
If the ways that they died seems pretty intense, you're absolutely right. A casual walk through the catacombs makes it clear that Amoros wanted people to recognize and learn about individuals who paid the ultimate price for adhering to the Christian religion.
In 1984, the catacombs received even more care through the loving hands of local artist Nina Tamburro. During a period of several years, Nina painted religious murals featuring famous scenes from the Bible on a large number of catacomb walls. Perhaps the most striking detail in every mural she painted is the deep olive-brown skin tone of the Biblical characters she depicted – a far cry from the ghostly white hues of the sculptures.
To a point, Nina's work adds even more symbolism and meaning to the catacombs – to the point that many locals make a point of noting the stark difference the pale Caucasian faces of the interred martyrs and the rich olivine skin tones of the people featured in the mural. Taking into account Newark's history, the difference in skin tone is often viewed as an unspoken symbol in the shifting face of Catholicism and local culture throughout the city.
The Overall Effect Of The Catacombs
Visitors who have gone to the catacombs often admit that it is a creepy experience. While visiting the catacombs, it's common enough to hear noise from people traveling upstairs echo through the sickly yellow-painted hallways. Elegant yet oddly stark, the catacombs of St. Joseph's church manage to maintain a solemn, yet terrifying undertone regardless of how many people are visiting at the time.  Unlike regular catacombs, which are often purported to be haunted by the people who are interred there, the Catacombs of St. Joseph's are devoid of any ghosts of martyrs that can be "visited" there.
Most people who live in Newark and Newark's suburbs are completely and totally unaware of the catacombs' existence. That doesn't mean, though, that the Catholic church didn't notice. A framed photo of Pope John XXIII, signed by his holiness himself, is proof that folks at the Vatican definitely appreciated all the hard work that had to be done by Amoros in order to make the catacombs exist. After all, how often do you hear of the Pope sending gear to a priest signaling approval of his hard work?
The Newark Catacombs Now
Newark has gone through several major incarnations since Father Amoros left the church in the mid 40's. It has seen its time as an affluent white city, a city fraught by race riots, a city that was devastated by social and economic problems through the early aughts, as well as a city that is now slowly being revived into an upscale, highly active town filled with artistic opportunities and local color. Newark is a city that has definitely seen many buildings, amenities, and works of art come and go throughout the years.
Despite all the changes in the city, the Catacombs are still visitable at St. Joseph's church. You can visit them from Monday through Saturday, from 10 to 12, or from 2 to 4. Though there is no entry fee, you do have to ask for permission at the rectory and call ahead of time.
The Immaculate Heart Of Mary Church
144 Prospect Street, Newark NJ
Call 973-589-8249 for an appointment
If you need more stuff to do around Newark, check here!